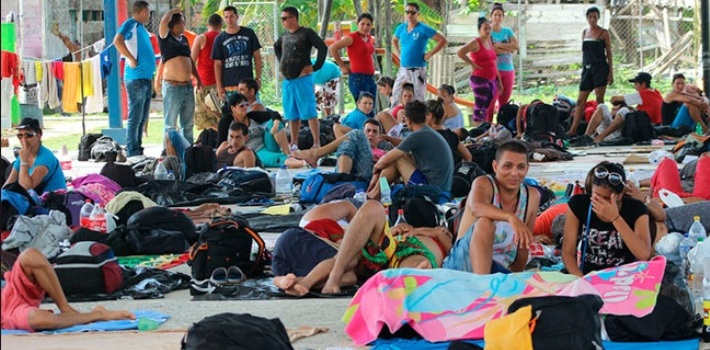 EspañolOn Thursday, April 14, at least 700 Cuban immigrants started a hunger strike to put pressure on the Costa Rican government, who will not allow them to cross the Panamanian border on their way to the United States.
The protesters are stranded in Paso Canoas, Panama, after the Costa Rican government announced police reinforcement of the border and warned that any Cuban who crosses would be deported.
"We criticized Costa Rica because it complained Nicaragua had closed its borders when that country had Cubans who could not cross over, but now they are doing the same to us," said a Cuban spokeswoman for the protesters, Yailin Álvarez.
The Costa Rican newspaper La Nación reported a group of about a 100 Cubans staging a demonstration near the Panama border post in Paso Canoas, demanding to let them cross Costa Rica to go to the United States.
[adrotate group="7″]The newspaper reported that police officers arrested a bus carrying 39 African and Cuban migrants trying to enter the country illegally through the southern border.
On Wednesday, April 13 at least 1,300 Cubans had attempted to forcibly cross the border at Paso Canoas.
"This is becoming an affront to the Costa Rican people," said Costa Rican President Luis Solís in a statement.
Costa Rica has given humanitarian assistance within its territory to almost 8,000 Cubans, the statement also noted, when Nicaragua decided last November to cut immigrants off at their border.
Source : Martí Noticias; La Prensa.