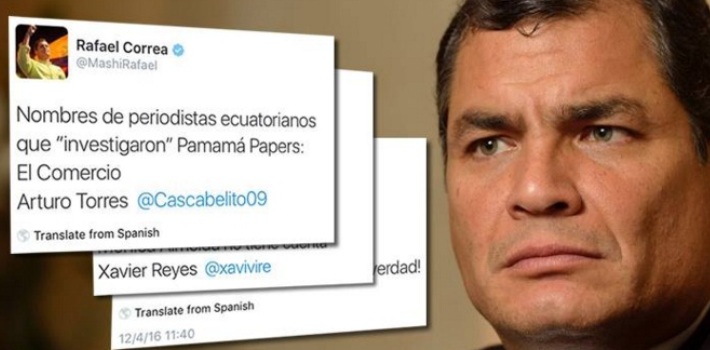 EspañolEcuadorian President Rafael Correa has launched a smear campaign against journalists who participated in the Panama Papers investigation.
On April 12, Rafael Correa published on his official Twitter account the names of journalists, media workers, and Twitter users involved in the journalistic project, and then asked his supporters to harass them.
…
Paul Mena @paulmenam
¡A exigirles que revelen TODA la verdad!

— Rafael Correa (@MashiRafael) April 12, 2016
Nombres de periodistas ecuatorianos que "investigaron" Pamamá Papers:
El Comercio
Arturo Torres @Cascabelito09

— Rafael Correa (@MashiRafael) April 12, 2016
…
Andrés Jaramillo @andresgaj
Alberto Araujo @Vividisimo

El Universo
Mónica Almeida no tiene cuenta
Xavier Reyes @xavivire
…

— Rafael Correa (@MashiRafael) April 12, 2016
Government supporters then disseminated the journalists' private information and photos, even ones where their children appear.
Ecuador's Fundamedios, an organization that defends freedom of speech and press, said the Panama Papers journalists have "repeatedly been harassed and stigmatized in a real harassment campaign that must end immediately."
Fundamedios described the situation as "very serious," considering that the president of Ecuador urged his supporters to persecute and defame those who spread information about Ecuadorian officials and businessmen setting up "offshore" tax havens.
The agency also explained that several comments on Facebook called the journalists "mercenaries," "rats", "corrupt press," and "lackeys of the empire."
[adrotate group="7″] "Fundamedios rejects and repudiates these actions that demonstrate the harassment and stigmatization coming from power. By revealing the names of the journalists involved in the investigation, they make them more vulnerable. This could have dire consequences, both for the journalists' integrity and to freedom of expression," the organization said.
On April 6, the President of the Citizen Participation and Social Control Council, Yolanda González, announced at a press conference that five journalists who were part of the Panama Papers investigation have been identified, and demanded they hand over information.
Fundamedios repudiated those statements as undermining freedom of speech and journalism ethics.
Source: Clases de Periodismo.