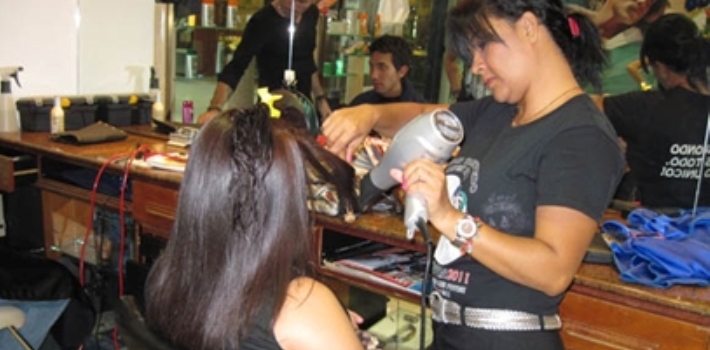 EspañolFaced with a worsening energy crisis, Venezuelan President Nicolás Maduro has asked women to save electricity by not using appliances. Not even hair dryers.
During the program Con el Mazo Dando "The Hammer," led by congressman Diosdado Cabello, Maduro explained his rationing plan to save energy across the country.
"During this 60-days period the hairdryer should have minimum use. Do you think you can do it, women? The clothes dryer and the hairdryer are high energy-consumers. The iron too. We must raise awareness about this," he said.
"I think a woman looks more beautiful when she combs her hair with her fingers and then lets it dry naturally," he said.
The energy-saving plan will apply to all public administration, including governorships and local mayors offices, who will not work on Fridays during April and May.
The Venezuelan president urged both electrical inspectors and National Armed Forces (FANB) officials to "immediately" ensure the expansion of the self-generated energy plan.
This implies that industries, businesses, and shopping centers shall acquire their own power sources. They will be put to work for nine hours instead of the four hours previously agreed upon.
Part of the energy shortage comes from problems at the Guri dam, where water levels are dangerously low.
The Electric Power Minister, Luis Motta Dominguez, made a report on the Guri dam's current situation, claiming that the water level has dropped about 30 meters. Some experts say the South American country is on the brink of a national blackout.
[adrotate group="7″]
The Guri artificial lake is the fourth largest in the world and part of the Simon Bolivar Hydroelectric system. The Venezuelan government blames the weather phenomenon El Niño, but engineers say that the crisis is due to three factors: mismanagement of water resources, the unavailability of electric generation in the thermal park, and drought.
The Simon Bolivar Hydroelectric Plant is the second-largest in the world in electricity production, but its water level was recorded at 3.56 meters starting from the beginning of collapse.
Source: El Nacional.