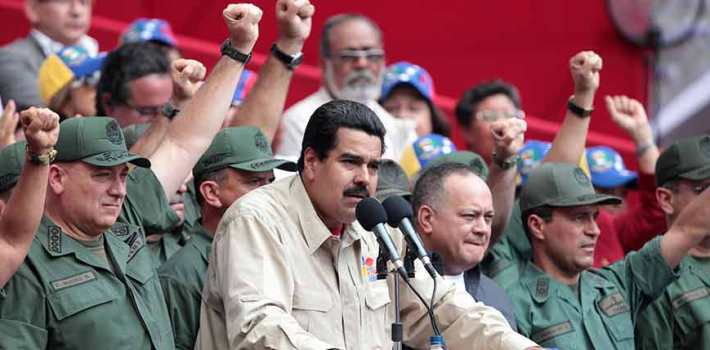 EspañolFrom clandestine offices located in Caracas, Nicolás Maduro's Government Homeland Protection and Strategic Security Center spies Venezuelan dissidents, according to Vértice News.
A report entitled "An Uprecedented Invasion of Privacy" explains in detail how the Venezuelan government interrupts telephone conversations to spy on opposition leaders as well as senior officials.
Miranda State governor and former presidential candidate Henrique Capriles is one of the victims of such privacy violation, in addition to opponents Henry Ramos, Maria Corina Machado and Julio Borges.
Ocando also mentions that journalists and human rights defenders in the country have their phone conversations tapped by President Nicolas Maduro's government.
According to the publication, espionage is in the hands of military and civilian hackers who follow the president's direct orders. They have two main tasks: "massive monitoring of social networks and interception of emails and conversations of opponents to the Maduro regime."
Interceptions are made using a combination of advanced electronic listening devices as well as viruses designed by Russian and Chinese specialists. The enormous amount of data these operators amass is later analyzed through a sophisticated artificial intelligence system created by IBM. The whole process is controlled by a centralized office set up by Maduro in 2013: the Homeland Security and Strategic Protection Center (Cesppa).
According to Ocando, the Government recorded "thousands of conversations" and used IBM's "Watson" to establish a complex map of actions that allow the government to stay informed of all activities undertaken by the people spied on.
The publication said those responsible for intelligence work must deliver daily reports to the Presidency's office and Chavista leaders, such as Diosdado Cabello. Reports include intimate conversations and discussions.
[adrotate group="8″]
Vértice's research says that Army, Navy, Air Force, National Guard and Navy Guard Officers received special training in technological intelligence and counterintelligence with the help of Russian, Chinese and Cuban advisers. Gustavo González López, current Interior and Justice Minister, is in command of these operations.
The research mentions the interception of a "highly suspicious" text between Deputy Julio Borges and Miguel Pizarro. It was allegedly written in "traditional Chinese" characters with these clue words: soldiers, blow, lake, water, bowl and the phrase "'pushing up.'"
The report referred to the interception of a highly suspicious text in Borges' Movistar phone records. Vértice asked for a comment from Borges, but he declined to comment. Vértice also made several phone calls to Pizarro, but never received an answer.
In addition to organizing and storing the data obtained in phone calls, Blackberry chats, emails and recorded conversations (by the traditional use of microphones and information provided by thousands of "cooperating patriots"), Cesppa experts also tracked and analyzed thousands of internet portals and social networks like Twitter and Facebook to detect possible opposition patterns of behavior.
Social networks Control
It is not the first time that this government control and manipulation of private communications of thousands of Venezuelans was denounced.
In 2015, PanAm Post editor Thabata Molina received warnings on Twitter regarding the spread of information. She said restricting the use of the social network is also done from the military base on La Orchila Island.
The alleged social networking blocking is also used to the regime's favor. The objective is that in the Falcon, Barinas, Apure, Portuguesa and Monagas states (inhabited by a population of approximately four million people), citizens are prevented from becoming aware of what is happening in other parts of the country. In these areas, the State has the absolute control of the media and Twitter is really the only tool through which people express their disagreements, despite not being the states with the largest number of users of the social network.