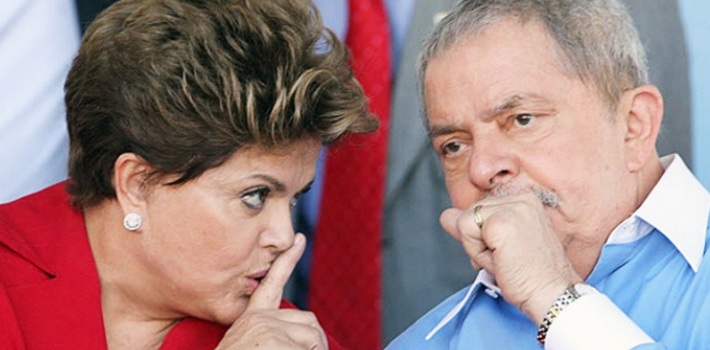 EspañolA series of recordings involving top-ranking Brazilian officials and former President Lula da Silva have accelerated the country's crisis, threatening political stability.
On Wednesday, March 17, federal judge Sergio Moro released dozens of recordings taped by the police which suggest that President Dilma Rousseff appointed former President Lula da Silva as minister to hamper ongoing criminal investigations.
"I observe that, in some dialogues they talk about, apparently, trying to influence or obtain assistance from prosecutors or the courts in favor of the former president," Moro wrote in a filing.
Local media focused on a phone conversation between Lula and Rousseff recorded on Wednesday afternoon at the request of Moro, who is in charge of investigating the Petrobras corruption scheme.
In the recording, the president can be heard telling Lula that she will send over the appointment papers and instructs him to use them "if necessary," presumably to avoid being arrested by the police.
In Brazil, ministers have immunity from prosecutors, who had charged Lula with money laundering and fraud and requested his arrest on March 10.
The recordings came after Rousseff announced earlier on Wednesday that she would be appointing Lula da Silva as the new minister of the Civil House, a post similar to a chief of staff.
This meant that only Brazil's Supreme Court would be allowed to investigate Lula, effectively delaying judicial actions against him.
After the announcement, thousands of anti-government protesters gathered in major cities across the country to protest against Lula's appointment and clashed with ruling party supporters.
Protestos em Brasília.#OcupaBrasil #OcupaBrasilia pic.twitter.com/OGBvnX8ICU

— tinhago (@Thienques) March 16, 2016
On Wednesday evening, opposition lawmakers in Congress demanded that President Dilma Rousseff step down.
Multidão ocupa Paulista pelo impeachment e contra nomeação de Lula https://t.co/cd3Zeve81Z pic.twitter.com/aF7wtq5wFQ

— Época (@RevistaEpoca) March 16, 2016
In a statement, Rousseff strongly condemned the wiretaps "as a violation of the Constitution" and announced measures against judge Moro.
For his part, Moro defended the wiretaps and argued that not even the president is immune to investigation, citing the Watergate scandal that eventually ended Richard Nixon's presidency in the United States.
Botched Ceremony
On Thursday morning, Lula appeared at the presidential palace in Brasília to be sworn in.
However, minutes after the ceremony ended, a federal judge issued a precautionary ruling blocking Lula's appointment, forbidding him from holding "any posts that could grant him immunity" from prosecution.
The Rousseff administration has announced it will appeal the decision.
Impeachment Green-lighted
Brazil's congressmen resumed on Wednesday impeachment proceedings against President Rousseff for alleged misuse of public funds, which had been suspended pending a ruling by the Supreme Court.
Opposition House Speaker Eduardo Cunha put up to a vote a list of congressmen from all parties to make up the commission that will study the impeachment request.
In the afternoon, after much deliberation and insults between government allies and opposition, the Lower House passed the list with 443 votes to one.
Daniel Duarte contributed to this article.