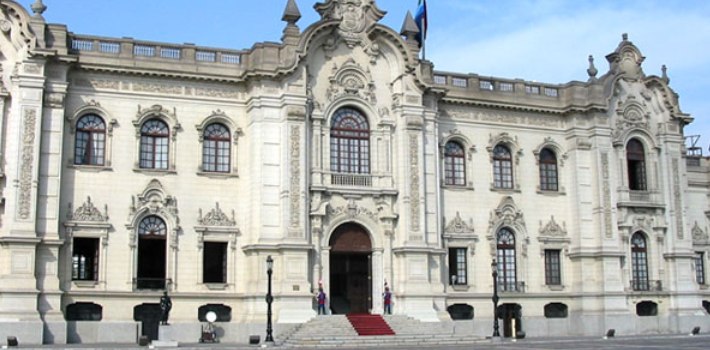 EspañolWith Julio Guzmán and César Acuña disqualified from Peru's presidential race, conservative congresswoman Keiko Fujimori is comfortably leading in the polls, followed by businessman Pedro Pablo Kuczynski.
According to a survey conducted by polling firm Datum, Fujimori's support grew from 33 to 37 percent. Pedro Pablo Kuczynski rose from 10 to 14 percent, while Alfredo Barnechea came in third place with 9 percent.
Progressive congresswoman Verónika Mendoza obtained three points, pushing former President Alan García to a distant fourth place.
The poll covered the entire Peruvian territory and polled 1,200 individuals of all economic backgrounds in both rural and urban areas.
The change in voter preference comes after the national electoral authority barred both Julio Guzmán, a former prime minister who climbed to second in the polls, and César Acuña, a centrist former mayor of Trujillo and governor of La Libertad.
General elections with a two-round system will take place on April 10.
Controversial Candidacies
The political earthquake caused by Guzmán and Acuña dropping out brought new contenders to challenge the front-runner Fujimori: Kuczynski and Barnechea.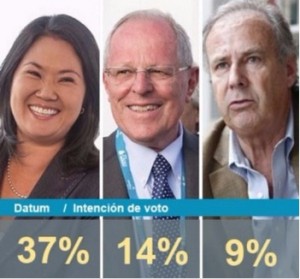 Keiko Fujimori is the daughter of former Peruvian strongman President Alberto Fujimori, who is currently serving time in prison for crimes against humanity and corruption.
She made it to the second round with Ollanta Humala in the 2011 presidential election, losing by a small margin.
Fujimori and her Popular Force party, however, are under investigation for alleged wrongdoings in campaign financing and for giving away money and food during events.
Pedro Pablo Kuczynski is an economist who served as Energy and Mines minister during the second Fernando Belaúnde Terry administration and as Economy minister and premier during Alejandro Toledo's administration.
He also ran for president in 2011 but came in third place, behind Keiko Fujimori.
On March 11, the Anti-Corruption Prosecutor's Office launched an investigation into both Toledo and Kuczynski over alleged favors in Peru to the construction firm Odebrecht, which is involved in one of the world's largest corruption scandals in Brazil.
Barnachea is a progressive writer, journalist, and politician running for the nationalist Popular Action Party. He kept a low profile until the two contenders dropped out of the race.
On March 10, Barnachea accused Fujimori's party of attacking his supporters in Cusco. So far, unlike the other candidates, his bid for the presidency has received no objections or formal complaints at the electoral authority.