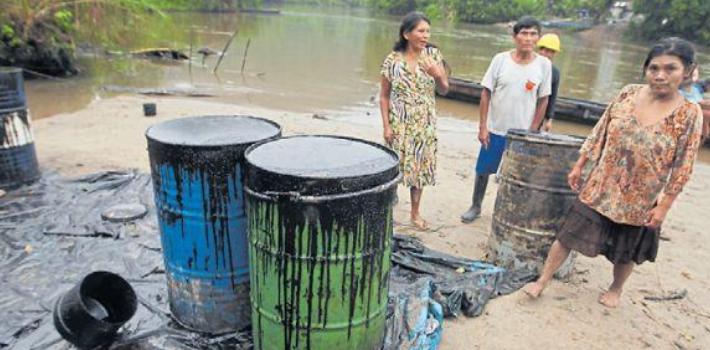 EspañolOn Sunday a group of indigenous people affected by oil spills in the Peruvian Amazon seized a group of eight members of the Peruvian Air Force who came to assess the area in a military helicopter. The natives demanded compensation for the oil spills' pollution.
In an official statement, the Peruvian Air Force (FAP) reported that both the helicopter and its crew are in perfect condition.
The head of communications of the Interethnic Association for the Development of the Peruvian Rainforest (AIDESEP), Segundo Chuquipiondo, said the helicopter was taken so that an emergency would be declared in the 20 communities affected by the spill and not just in 16.
"The men from the Air Force are not being held captive. They are simply being prevented from raising flight. The situation is fully under control, "said Chuquipiondo after requesting that the Government accelerate the cleanup of more than 2,000 barrels of oil spilled left more than 5,000 people affected and 243 wounded in the Amazonas and Loreto region of Peru.
[adrotate group="7"]On the other hand, Germán Velásquez, the President of Petroperu, the state oil company, reported that the tribesmen also detained three oil company officials, four environmental care workers employed by the state and a representative of the Energy and Mines Ministry.
In February, the government declared a state of emergency in the affected areas, while the state oil company investigates the old pipeline's condition.
The oil spilled by a broken pipeline contaminated the Chiriaco and Morona rivers in the northwest of the country, affecting the water supply of several native communities.
The state-owned PetroPerú hired the Finnish company Larsen Marine Oil Recovery (Lamor) to speed up the environmental recovery and clean the affected areas.
PetroPerú received a US $ 3.6 million fine for breaching the conditions of the Norperuano Pipeline maintenance program. The pipeline carries crude to the coastal region of Piura.
Sources: El Espectador; Reuters