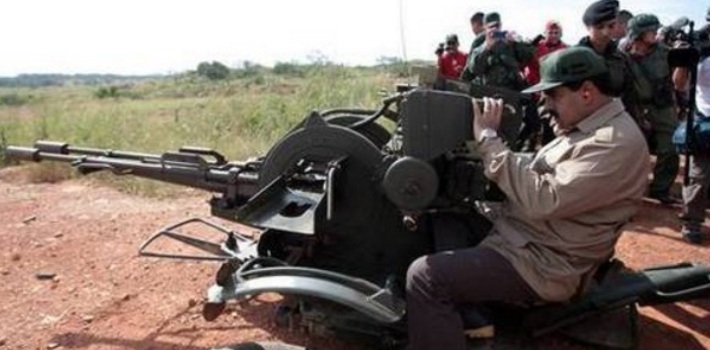 EspañolVenezuela's leaders are seemingly more concerned with the remote possibility of war than with the country's severe economic depression and very real social unrest. According to the Stockholm Institute of Peace Research Investigations, Venezuela was Latin America's top buyer of weapons in 2015.
President Nicolás Maduro's government, the report concludes, spent US$162 million on weaponry last year alone.
Instead of tackling the severe shortages of food and medicine, President Maduro decided to purchase armored vehicles, artillery, war planes and ships from China (US$147 million), the United States (US$6 million), Austria (US$5 million), and the Netherlands (US$4 million).
The report ranks Venezuela as the world's 18th largest buyer of weapons. Between 2011 and 2015, spent more on arms than any other Latin American country.
As for the rest of Latin America and the Caribbean, military spending virtually remained constant compared with 2013. Brazil, the regional leader, has cut down expenses on weapons due to economic hardships.
According to the Stockholm Institute, the international arms trade saw a 14-percent increase between 2011 and 2015 compared to the period between 2006 and 2010. The world's main exporters of weapons remain the United States, Russia, China, France, and Germany.
Venezuela, "War Economy"
Oil accounts for 96 percent of Venezuela's exports. As oil prices plunge, the Venezuelan government is getting less and less foreign currency to meet obligations and import basic goods.
Data from the Ministry of Oil and Mining shows that, in 2015, crude barrels were sold for an average of US$44.65, significantly lower than the US$66.42 average in 2014. Due to sinking international oil prices, the nation saw a 68-percent drop in revenues from exports last year.
Venezuela's economy is in a similar condition to countries at war, experts assure. It has the highest inflation rate in the world, and estimates suggest that GDP could sink as low as 8 percent in 2016.
[adrotate group="8″]Shortages of food and medicine have become the norm, and some speak of an imminent humanitarian crisis. Venezuelans wait in lines every day hoping to find basic products at supermarkets and pharmacies.
In conversation with the PanAm Post, Venezuelan economist Luis Oliveros said the Venezuelan government's military spending was a "lack of respect." He called out President Nicolás Maduro for telling Congress that the state had to make do with less money due to oil prices while he "wasted" US$162 million in weapons.
Oliveros argued that Venezuela's title as Latin America's top military spender "is a slap in the face of the many people who cannot find medicine or food."
"Venezuela is a country that has no international threats to justify the spending of millions of dollars in war weapons. Its economy is in a critical condition as never before in its history, with a deficit of approximately US$28 billion," he explained.
Oliveros also claimed that this shows the Venezuelan government's true priorities. "We are all asking ourselves where the government is getting all those dollars to buy weapons, and why it wasn't used to address shortages and low productivity," he said.
Based on unofficial information, Oliveros assured that the government's system of foreign exchange controls allocated 80 percent less dollars to Venezuelan firms in January. This means that the shortages will get worse as the capacity to import products decreases.
"The government should have used that money to improve the availability of medicine and food, and invest in national production and raw materials for Venezuelan firms," he argued. "It seems that Maduro is buying guns only to repress the Venezuelan people even more once the crisis worsens."