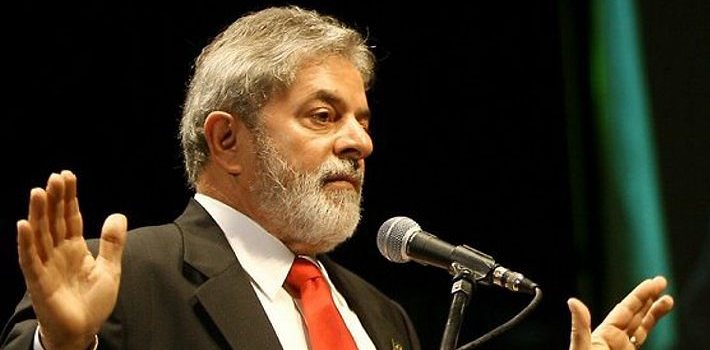 EspañolBrazilian Federal Police is investigating whether former President Luiz Inácio da Silva (2003-2010), best known as Lula, committed crimes related to the Petrobras scandal, the largest corruption scheme in Brazil's history.
Investigators suspect that Odebrecht, a Brazilian construction firm indicted for paying bribes to secure contracts, built the headquarters of the President Lula Institute (IL) run by the former head of state.
Federal police chief Filipe Hille highlighted in a report that a message seized from the Odebrecht CEO's phone contained the phrase "Building (IL)" and the figure BR$12 million (US$2.9 million).
[adrotate group="7″]"If 'Building (IL)' refers to the Lula Institue, the most plausible conclusion would be that the Odebrecht group paid for the construction of the headquarters and other buildings in other properties belonging to Luiz Inácio Lula da Silva," wrote Hille.
The line of investigation will determine whether Odebrecht built the Lula Institute headquarters in São Paulo.
For its part, the Lula Institute assured that it was founded in 2011 and began operating in the same headquarters that formerly belonged to the Citizenship Institute and before that to the Workers' Studies and Reasearch Institute. It claimed it has "never built any building in the area."
Police Arrest Campaign Advisor to Lula, Rousseff, Maduro, and Chávez
On Tuesday, February 23, the federal police arrested Joao Santana, Lula's former campaign manager, for his alleged involvement in the Petrobras scheme. He had also worked in the presidential campaigns of current Brazilian leader Dilma Rousseff and of Venezuelan presidents Nicolás Maduro and Hugo Chávez.
Santana was in Punta Cana, Dominican Republic, advising President Danilo Medina's reelection campaign when the Brazilian federal police ordered his arrest and that of his seventh wife and business partner, Mónica Moura, on Monday.
Brazilian prosecutors believe that Joao Santana received US$7.5 million in bribes from Odebrecht and a former Petrobras lobbyist, Zwi Skornicki.
The police claims that, between April 2012 and March 2013, Odebrecht transferred around US$3 million to an undeclared foreign bank account belonging to Santana and his wife. Likewise, Skornicki allegedly deposited at least US$4.5 million between September 2013 and November 2014.
During that time, Santana and his wife coordinated campaign efforts for the ruling Workers' Party (PT).
Santana's lawyers have argued that the money in foreign accounts comes from legitimate services performed outside Brazil.
The Petrobras corruption scheme involves some of Brazil's largest companies, which paid bribes to officials and politicians in the form of campaign contributions and construction works in return for inflated contracts with the state oil firm.
Sources: El Comercio, Página Siete.