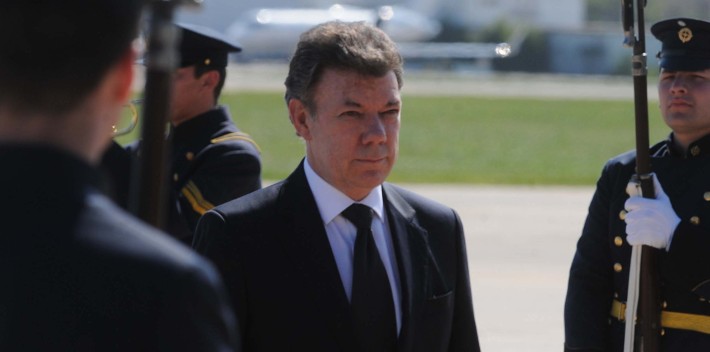 EspañolCertain countries with little democratic credentials and others torn by war are among the main supporters and monitors of the peace process between the Colombian government and the extreme left FARC guerrilla.
On January 25, the United Nations Security Council unanimously agreed to verify the bilateral ceasefire that, according to President Juan Manuel Santos, will mark the end of Colombia's decades-long internal conflict.
The Santos administration and the mainstream media in Colombia presented this decision as a triumph for the peace process. However, they failed to explain which 15 countries make up the UN Security Council, the only UN body whose decisions "all Member States are obligated to comply with."
Among them are Egypt, which has become a military dictatorship just a few years after a popular uprising ousted former President Hosni Mubarak. The Sisi regime has all but decimated the opposition.
Angola, another Security Council member, has been ruled by José Eduardo Dos Santos's iron fist since 1979. International press and several NGOs have reported widespread corruption and violation of human rights during his ruling.
Another member is Venezuela, whose authoritarian regime has committed numerous human-rights violations according to the opposition and several international organizations. "Under the leadership of President Hugo Chávez and now President Nicolás Maduro, the accumulation of power in the executive branch and erosion of human rights guarantees have enabled the government to intimidate, censor, and prosecute its critics," reports Human Rights Watch (HRW).
HRW also decries the arbitrary arrests of political opponents, police brutality, and the impunity with which officials can commit crimes against citizens. In 2015, the United Nations High Commissioner for Human Rights even denounced the Venezuelan government over gross violations.
Russia and China, not exactly prime examples of nations that respect human-rights, have permanent seats at the Security Council.
In 2014, Russia invaded Crimea and backed separatist groups in eastern Ukraine, which is also a Security Council member. In other words, nations that are not in peace will be in charge of monitoring the Colombian peace process.
At the moment, the flux of migrants fleeing Russia-backed violence in Ukraine continues to rise. According to the United Nations itself, over 9,000 people have lost their lives as a result of the conflict which Russian President Vladimir Putin set off. Furthermore, the Russian government has cracked down on civil society, the media, and internet freedom, according to HRW.
As for the regime in Beijing, China Human Rights Defenders (CHRD), an NGO, argues that President Xi Jinping is leading the "worst crack down on human-rights activists" in recent history. Furthermore, the Chinese Communist Party has decided to push for an aggressive strategy instead of peace. In December 2015, party officials confirmed that the Chinese army is building a second aircraft carrier to strengthen its military presence in the Pacific, raising tensions with its neighbors.
It should be pointed out that the peace talks between the Colombian government and FARC leaders take place in Cuba, an authoritarian regime presided by Raúl Castro that, until May 2015, appeared on the US List of State Sponsors of Terrorism.
[adrotate group="8″]
"FARC Does Not Deserve the Label of Terrorist"
Ahead of his meeting with US President Barack Obama, Santos told the Associated Press that he would like to see the oldest Marxist insurgent group off the list of terrorist organizations.
The Colombian president said that if his administration strikes a deal with FARC for disarmament, the US Department of State should stop considering the FARC as a terrorist group.
"Any effort by the United States to allow us to apply transitional justice, for example by suspending their arrest warrants, would help us tremendously," he said. Santos added that, "if they sign, it's because we have a timetable for their disarmament and they have committed themselves to lay down their arms and make a transition to legal life."
The Colombian armed conflict has left over 6.8 million victims, many of them having fallen at the FARC's hands.
According to Paula Gaviria Betancur, director of the Special Administrative Unit for the Attention and Integral Reparation of Victims of the Armed Conflict, 86 percent of victims were forcefully displaced from their homes and 14 percent were threatened, murdered, or forcefully disappeared. The remaining were victims of kidnappings, sexual abuse, theft, wounds, torture, bombings, and the forcible recruitment of children.