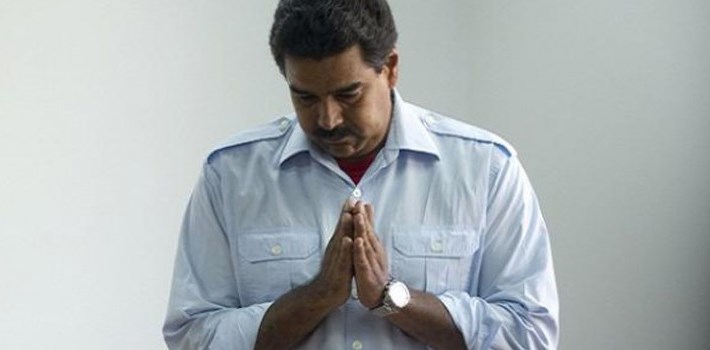 EspañolAfter a year of extreme economic recession and tanking oil prices, Venezuela may no longer be able to service its debts in 2016.
According to Forbes, the stage is now set in the South American nation for default, considering the steep declines in GDP, oil prices, and trust in the Venezuelan government's ability to weather the crisis.
Alejandro Arreaza, a financial analyst with Barclays, told Forbes that both the state-run oil company PDVSA and the Venezuelan government are going bankrupt. President Maduro will have to spend around 90 percent of the country's dwindling revenues from oil sales to pay off domestic and foreign debts, according to Arreaza.
Venezuela's reserves are at an all-time low. Forbes notes that they went from US$20 billion in the third quarter of 2015 to just $14 billion in November, according to figures from Venezuela's Central Bank. Likewise, $10 billion in net assets have disappeared in one year.
This puts the Chavista regime in a tight spot: it either pays off the country's debts, or it keeps the social programs that maintain their remaining public support.
Venezuelan economist Luis Oliveros tells the PanAm Post that Venezuela will enter default once its fails to pay off treasury or PDVSA bonds.
"If the government has foreign debt obligations, it must meet them. From the moment it fails to do so, it's a default," he explains.
No Plan
Oliveros argues that Venezuela is going through "the severest crisis in history, and it could get worse." He says this is happening as a result of the government not putting in place a saving mechanism to strengthen its reserves during the oil bonanza years.
He warns that Venezuela must face a difficult scenario this year, with oil sinking below $30 per barrel, and the government's need to collect $30 billion to cover imports. Furthermore, Venezuela's foreign obligations have ballooned to $10.5 billion, or around 70 percent of the country's reserves, Oliveros explains.
Economist Ronald Balza says that Venezuela's looming default is at least two years in the making. He tells the PanAm Post that back then, however, the situation with reserves and oil prices was not as dire, and the people still expected the government to change course.
"[Today], the likelihood of the government defaulting is very high, and the cost of borrowing money will skyrocket," he says. "Distrust in the government is just too high."
If President Maduro fails to pay off the country's debts, Venezuela may be cut off from international markets and face potential lawsuits. Importing goods would become even more difficult, deepening the crisis.
Holders of Venezuelan bonds could "file suit to demand the embargo of some Venezuelan ship abroad, or the shipment of food or medicine," Balza explains.
The expert argues that the Maduro administration needs to sit down with creditors and negotiate a way out, as well as take drastic measures in the oil industry, adjust the price of gasoline, and slash public spending. The president, Balza says, also needs to understand that reaching out to the Interanational Monetary Fund (IMF) "isn't necessarily a bad move."
"It seems that the Venezuelan government doesn't want to improve the country's situation. If it did, it wouldn't have appointed such economically illiterate people to run the economy. To think that Luis Salas, Pérez Abad, or Jesus Farías would ease the crisis is utopian thinking," he says.
Balza believes things will only get worse in Venezuela, since the government has previously failed to adopt adequate measures.
Ministers Refuse to Cooperate
On January 15, after President Maduro penned an Economic Emergency Decree that authorized him to seize goods to "protect the people," the opposition-controlled Congress summoned the country's economic ministers for an explanation and discussion of the country's crisis.
[adrotate group="8″]
However, on January 21, the ministers refused to appear before the National Assembly, saying they would not accept the presence of reporters during the meeting.
National Assembly Speaker Henry Ramos Allup said their failure to show up amounts to contempt. "It was about answering written questions in a very formal and serious setting. We deeply regret that Venezuelans have been deprived of knowing, from the mouths of their own ministers, what the country's reality is," he said during a press conference.
The Venezuelan Congress has until Friday to approve or reject Maduro's decree.