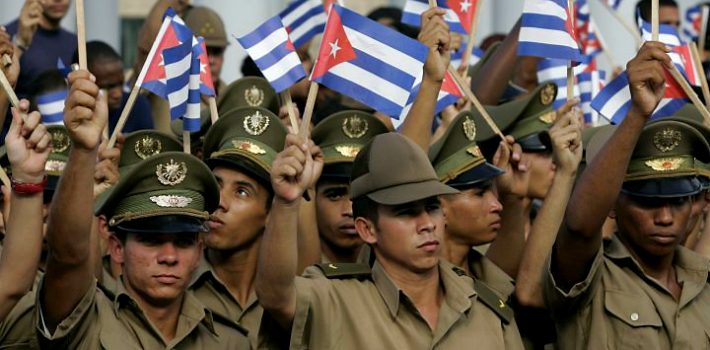 EspañolAs the United States lifts restrictions and eyes investment opportunities in Cuba, Foresight Cuba is taking a look at the architecture of island's economy.
On January 7, the organization published a report detailing the army's monopoly on virtually all sectors of the economy, including the tourism industry, which the Cuban regime has previously claimed is the best way for ordinary residents of the island to gain economic independence.
Foresight Cuba offers independent measurements of the island's economy, population, environmental issues, and other related issues. The group aims to contrast the picture presented by the Cuban government with data and analysis from experts.
Cimex Corporation and Business Administration Group (Gaesa), which control foreign-exchange operations and remittances on the island, are in the hands of the Ministry of the Revolutionary Armed Forces (MINFAR). Both enjoy state funding and privileges that are unavailable to other Cuban entities.
Gaesa is a conglomerate with 18 corporations, each of which runs companies that dominate ports, tourist attractions, restaurants, hotels, real estate, and even transportation.
As for Cimex, it operates several departments that control wholesale commerce in beverages, communications, technology, and maritime shipping, as well as several retail businesses like coffee shops, jewelry stores, post offices, and photo and advertising services, among others.
Not one of these state-run firms offers any information regarding revenues, profits, investments, or a payments record. The only publicly available information is that foreign funds enter a single account at the Cuban National Bank, which also does not disclose any details of its operations.
Foresight Cuba representative Jorge Calaforra tells the PanAm Post that the report is a summary of information available in several books about the Cuban army, as well as a document on the Cuban economy released by the Spanish Institute for Foreign Trade.
Calaforra says that the army runs every aspect of daily life in Cuba, and that ordinary citizens do not receive any benefits from these military-run businesses.
In order to establish a firm, a Cuban citizen would need a permit from the same government entity that has already granted privileges to MINFAR corporations in vast areas, such as tourism, remittances, and transportation, Calaforra explains.
"In Cuba, the production of goods and services does not benefit the common citizen, because he can only work for those companies through an employment agency that pays salaries in Cuban pesos, at a lower exchange rate," he says.
Calaforra adds that ever since Fidel Castro took power, the Cuban state has focused on eliminating private enterprise and economic independence on the island. "If the Cuban government allowed citizens to advance economically, then they would lose political control. That's why they keep the monopolies," he says.
[adrotate group="8″]
However, Calaforra sees the restoration of diplomatic ties between the United States and Cuba as a positive move, as long as there are opportunities for private entrepreneurship and the regime allows for an economic revival.
Truth in Data
Jorge Calaforra is a Cuban exile who has lived in Poland for the last 20 years. Three years ago, he joined a team of four individuals to launch the online venture Foresight Cuba, with the goal of providing data, numbers, statistics, and infographics about the communist state.
Recently, the organization has started providing information on Venezuela as well.
Calaforra says it is necessary to advance projects like these that operate "outside of Castroism," in order to deliver fact-based solutions to Cuba's problems.
"I think we need to measure things, and that's why the first phase of this project is to publish all the statistics we find on Cuba and Venezuela. The idea is to measure certain parameters and show them to experts, so they can recommend policies," he says.
Foresight Cuba decided to expand their coverage to Venezuela, because the South American country "is going through what Cuba experienced in the beginning with the Castro brothers, who polarized society," Calaforra says.
"Venezuela needs to leave this conflict behind and focus on real problems." Calaforra adds that Foresight may have even greater potential in Venezuela than in Cuba, given the limited internet access on the island.