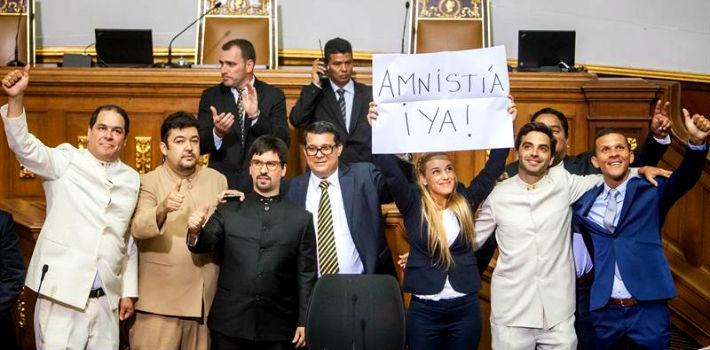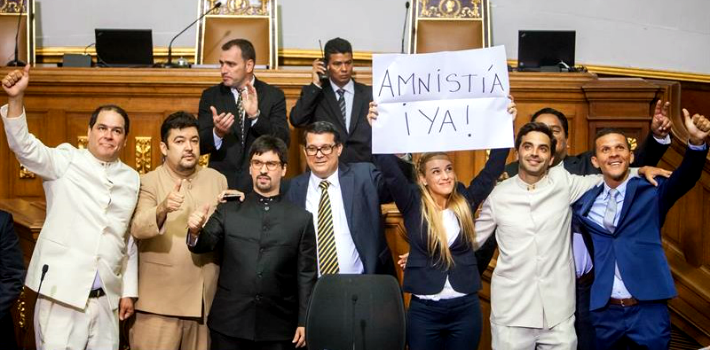 EspañolThe Venezuelan opposition is pressing ahead with its promise to free political prisoners. On Monday, January 11, the Venezuelan Penal Forum (FPV) introduced the preliminary draft of the Amnesty Law that opposition lawmakers had announced would soon be put forth when they took office last week.
However, legal experts are taking issue with the bill's implicit strategy: leaving it up to the Chavista-controlled judiciary whether or not to release the political prisoners.
The FPV's draft includes two alternatives for lawmakers to choose from: an Amnesty Law, which requires President Nicolás Maduro's approval, or a Legislative Decree, which does not. Both are binding decisions that would, in theory, force all state institutions to release the prisoners.
Alfredo Romero, FPV executive director, tells the PanAm Post that he favors the decree, since it would provide a more immediate path toward releasing "76 political prisoners, exiles, and persecuted individuals."
He explains that, according to Venezuelan law, a court must inevitably order the release of any prisoner. Regarding the possibility that a judge may refuse to comply, Romero says this would amount to a denial of justice, and a direct violation of human rights.
"I don't think they are willing to commit human-rights violations," Romero argues. "I'm not operating on the assumption that [a judge] will refuse to obey, because that would prove that the judiciary is a dictatorship."
"If they don't comply, they would be showing that they make arbitrary decisions that violate human rights, and they would be in violation of international treaties," he explains.
Others, however, such as José Vicente Haro, have criticized the draft's vague language, which could lend itself to potential delays and arbitrary interpretations.
[adrotate group="7″]
Haro, a professor of constitutional law at the Central University of Venezuela, tells the PanAm Post that leaving the decision in the hands of the judiciary once again is a contradiction, even more so when the FPV and the opposition have denounced the lack of separation of powers in Venezuela.

The professor explains that his concern lies in that the draft does not, in fact, grant amnesty to the prisoners. Instead, he says it sets up "a complex judicial procedure that involves the very prosecutors and judges who are responsible for there being political prisoners in Venezuela."
"[Amnesty] will depend on the courts, which as we know, are almost 100 percent dominated by handpicked regime supporters. Even if Congress goes through all the trouble of passing a law, freedom won't be achieved. I have no confidence in this judiciary and the executive's grasp on the system," he warns.
Instead, the opposition majority in Congress should "seek a constitutional and practical law that is also realistic from the point of view of politics, so as to ensure the fastest possible release of political prisoners, without obstructions from the judiciary."
Naming Names
Haro tells the PanAm Post that the Venezuelan Constitution grants Congress the power to unilaterally enact an amnesty for political prisoners. Opposition legislators should pass a law decreeing the dismissal of all the charges against these prisoners, exiles, and targeted activists, he argues.
He also notes that "the text must be well-written to explicitly and specifically order the release of said individuals, with name and surname."
Haro warns that the current draft is so vague that it leaves it up to the courts to judge whether any political prisoner falls into the criteria set by the amnesty law, and notes that 2,000 other individuals have pending cases that have not been decided.
Haro says he will present the newly elected congressmen his concerns, so that they can reform their bill.
Maduro Government: No Way
The ruling party has not reacted well to the opposition's initiative to free political prisoners. Former National Assembly Speaker Diosdado Cabello has called the Amnesty Law "absurd," claiming that the passage of such a law could lead to criminals and leaders of criminal gangs being freed.
https://www.youtube.com/watch?v=uxP-kB9XtMA
Romero, however, claims that Cabello's assertions are incorrect, and says the amnesty would exclude any human-rights violators and torturers. He further clarified that Article 17 of the proposed law establishes limitations that ensure that no one accused of crimes against humanity over the past several years remain unpunished.