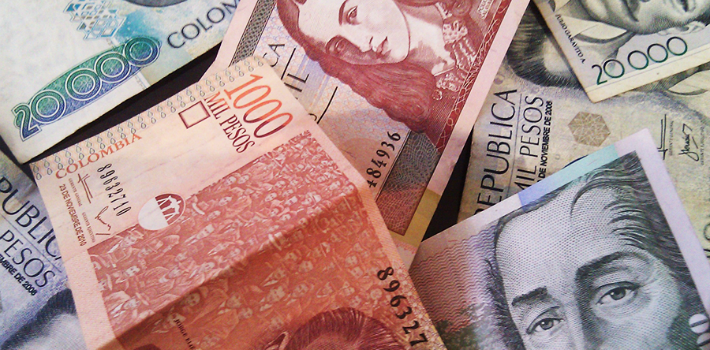 EspañolColombia's Central Bank set its inflation target for 2015 at 3 percent, but the year closed with inflation levels of 6.77 percent. This is the highest inflation level registered since 2008.
This has hit poorer Colombians the hardest since the price of food increased by 7.26 percent, with a consumer price index (CPI) of 10.85 percent.
The Colombian state is blaming inflation on the weather and El Niño. According to the National Statistics Department (Dane), the cost of vegetables increased 41.53 percent, while fruit prices rose 24.78 percent and potato and plantain prices increased 17.46 percent.
Others point to the growing devaluation of the Colombian peso against the US dollar as a main source of inflation. This is related to the rapidly decreasing price of oil, which was Colombia's main export during the past year.
José Darío Uribe, head of the Colombian Central Bank, said on January 6 that devaluation has affected "imported goods, including basic foodstuffs." He also predicted that inflation would decrease during the second semester of 2016.
[adrotate group="8″]
The Central Bank also stated that it will continue to raise interest rates in order to stabilize inflation, a process that will take at least two years.
Luis Guillermo Vélez, economics professor at Medellín's Eafit university, said that the Central Bank should have raised interest rates sooner last year in order to counter inflation. "It's true that nobody has a crystal ball that predicts the future accurately," he told the PanAm Post, "but monetary contraction could have been applied sooner."
Nonetheless, he stated that the Central Bank "has responded properly to the situation, which is worrying but controllable within 18 months as long as the bank resists external pressure."
Colombian Economy Set to Grow at 3%
According to the United Nations' Economic Commission for Latin America and the Caribbean (Cepal), the Colombian economy is set to grow by 3 percent in 2016.
And Colombia's National Association of Businessmen (ANDI) anticipates that foreign investment and free trade agreements can help the economy. They also think that public works can lead to growth and employment.
Still, the ANDI mentioned low global growth — particularly in China, Russia, Venezuela, Brazil, and Argentina — as a factor that could further slow down the Colombian economy.
Low oil prices, moreover, can continue to hurt the Colombian hydrocarbon industry, which could lead to falling tax revenues.
Financial consultant Jorge Eduardo Castro states that this can be countered by strengthening the non-oil sectors of the Colombian economy.