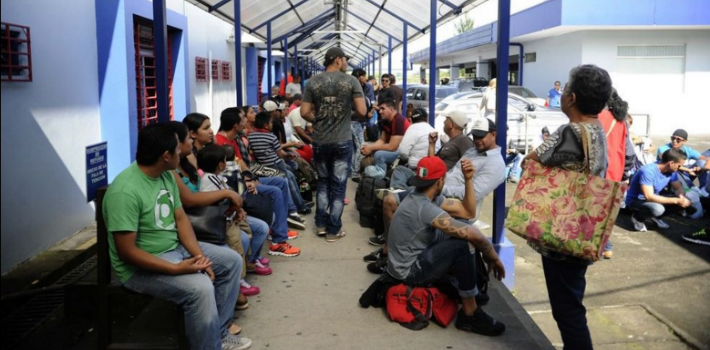 Español The wave of Cuban migrants crossing from Central America on foot to reach the United States has created a serious crisis in Costa Rica and Nicaragua, where thousands remain stranded. To address the situation with local governments, Cuban Foreign Relations Minister Bruno Rodríguez visited Nicaragua to meet President Daniel Ortega.
Rodríguez also visited President Rafael Correa in Ecuador, the starting point for many migrants' journeys since this is the only Latin American country that allows Cubans to enter without a visa.
On November 19 and 20, the presidents discussed what to do with the Cuban migrants who, after traveling across Costa Rica, are not allowed to cross the Nicaraguan border.
The exodus turned into an international crisis on November 15, when Nicaragua shut down its border and violently deported hundreds of migrants who had managed to cross into its territory. Cubans are in a hurry to arrive in the United States because they believe the Cuban Adjustment Act, which grants them permanent residence and benefits, could undergo changes following the normalization of relations between Washington and Havana.
After Nicaragua shut down and militarized its southern border, Costa Rica accused Ortega of creating a "humanitarian" crisis. Nicaragua responded by accusing its neighbor of "breaching its national sovereignty."
In the meantime, Costa Rican migration authorities issued 3,037 temporary visas to those Cubans who arrived by land, most of them from Ecuador. Some 2,000 migrants are temporarily living in Costa Rican shelters.
Costa Rican authorities have proposed that Latin American nations create a humanitarian corridor from Ecuador to Mexico to guarantee the safe transit of Cuban migrants. In the meantime, they have set up 11 shelters, donated books, and organized concerts so that the Cuban travelers can "leave behind some of the stress that they endured throughout their continental journey."
Costa Rican Migration Director Kathy Rodríguez stated that, on average, 250 Cubans arrive from Panama every day.
According to the US Customs and Border Protection office, 31,000 Cuban migrants have left the island between October 2014 and September 30, 2015. This marks a  30-percent increase compared to the same period between 2013 and 2014.
Meanwhile, the Mexican National Migration Institute reported that some 9,100 Cubans have transited through Mexico in 2015.
In Costa Rica, authorities cracked down on a human-trafficking ring that helped Cubans cross the country after a long journey from Ecuador via Colombia and Panama. According to local media, each migrant must pay between US$7,000 and $10,000 in order to reach the United States, making it a lucrative business for criminal groups.
Cubans stranded in Costa Rica claim that smugglers charged them the most in Colombia, where they had to pay police officers $100 at several checkpoints so they could proceed on their odyssey.
Eleven Countries to Debate Crisis
The foreign ministers of 11 Latin American countries will gather today in El Salvador to address the humanitarian crisis.
Representatives from Costa Rica, El Salvador, Guatemala, Honduras, Nicaragua, Panama, and Dominican Republic are expected to attend, as well as the foreign ministers of Cuba, Mexico, Colombia, and Ecuador.
On Friday, November 20, US ambassador to Nicaragua, Laura Dogu downplayed the rumors about the Cuban Adjustment Act. She claimed that the US government "won't change" the migration law that allows Cubans a fast track to residency in the United States.