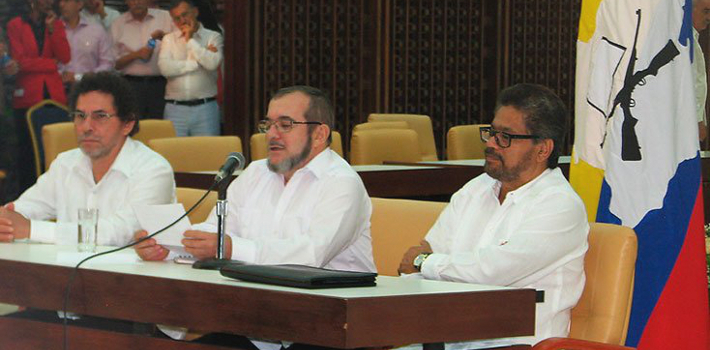 EspañolThe Colombian guerrilla group Revolutionary Armed Forces of Colombia (FARC) intend to avoid extradition and to be given seats in Congress without being elected. The FARC made these demands to the Colombian government on Saturday, November 7, in a press release in which they emphasize that they won't sign a peace agreement after 50 years of conflict unless the government yields on both points.
The FARC demanded that the government directly appoint guerrilla members to seats in Congress, local Councils, and municipal assemblies during at least two four-year terms. They also called for the state to finance the political movement that will emerge after the peace process with 10 percent more public funds than those available to other parties.
Interior Minister Juan Fernando Cristo said that the "government believes that FARC members' political participation is crucial; that is the ultimate goal of this negotiation."
Opposition Senator Alfredo Rangel of the Democratic Center, former President Álvaro Uribe's party, told the PanAm Post that the FARC's involvement in politics would be "unacceptable," because they are "a criminal organization that has recruited kids and is responsible for slavery, massacres, forced displacements, and kidnappings."
He lashed out at the idea of gifting congressional seats to convicted FARC members like Timochenko and Iván Márquez, who have been sentenced to serve over 800 years in jail.
The FARC "are trying to impose a Castro-Chavista communist regime in Colombia," because, "some 50 years ago, they decided to be part of the armed wing of the Communist Party," he says.
Senator Rangel's opinions are shared by a majority of Colombians according to a poll published on November 5. The pollster Cifras y Conceptos reported that some 71 percent of Colombians reject the FARC's participation in politics, and 80 percent oppose the FARC's proposal of congressional seats being directly awarded to guerrilla members.
"The Policy of Peace Leads Nowhere"
The FARC also revealed that they will launch 10 initiatives for the government to analyze during the final stage of the peace negotiations. The final agreement, the government has announced, is expected to be reached by March 2016.
Rangel deems the peace process as a "false truce." He believes the FARC, which had agreed to cease attacks on security forces and infrastructure, continues to commit crimes, blackmail the population, and carry out illegal drug activities. "They are the world's largest cocaine cartel," Rangel says.
"The truce is a sham, because, despite the FARC's announcements, crime is on the rise, coca-leaf production has increased by 50 percent, and the guerrillas are using the profits to rearm," he says.
Lawyer Ricardo Urdaneta tells the PanAm Post that, in his view, the FARC won't sign a final agreement, because they have no real interest in ceasing the armed struggle.
"The peace process is not leading anywhere," he says. "Even if the FARC were acting in good faith, they don't have the ability to bring peace to Colombia, not only because they don't really want to, but especially because they don't have real control over all their people, so they can't force them to give up crime."
Urdaneta adds that "the FARC are not the only armed group in the country."
Urdaneta says that the peace negotiations are mere political stagecraft, because they won't bring about any significant changes. "Every time the Santos administration announces that they are about to reach an agreement, FARC leaders come up with new demands." Extending the negotiations, he says, allows the FARC to buy time.
Urdaneta believes that it's unlikely that the government and the FARC will reach an agreement in March. "It's even less likely," he says, "that the FARC will give up their weapons."
He adds that, to this date, no significant agreement has been reached, and that after three years of negotiations, the main points are still a source of contention.
"What kind of sentences will FARC members receive?" he asks. "Who will impart those sentences if FARC leaders are indeed prosecuted? None of this is clear. Every single one of the important issues is yet to be decided."
As for the guerrilla's demands to take part in Colombian politics, Urdaneta says that the group is looking to negotiate "on equal terms with the state."
Urdaneta believes that President Santos is using the peace negotiations in order to increase his own power, just "like [Venezuelan President Nicolás] Maduro did with the enabling laws."
He adds that Colombian law does not exempt FARC members from serving time, nor does it provide seats in Congress to any particular group that doesn't participate in the regular electoral process.
[adrotate group="8″]
New Minister for Post-Conflict
Colombian President Juan Manuel Santos designated Rafael Pardo, a former candidate for mayor of Bogotá, as the new Minister for the Post-Conflict.
Pardo, who came in second place, will now be in charge of designing and coordinating policies and programs related to the post-conflict after the deal with the FARC is sealed.
On Twitter, Santos explained that Pardo "has all the skills to assume this important responsibility."
Pardo served as former President César Gaviria's Defense minister (1991-1994) and as Labor minister during Santos's first term, between 2010 and 2014.