EspañolLinguistic expert Rosa Amelia Asuaje authored a report that was key to sentencing Venezuelan opposition leader Leopoldo López to 14 years in prison. But now she claims that Judge Susana Barreiros manipulated her testimony to arrive at a false conclusion.
In an article published in the Venezuelan daily Panorama, Asuaje said she never asserted that López called a mob to set the Prosecutor's Office on fire, and that Barreiros added "her own opinion" to the report.
"I'm still wondering how Judge Barreiros could say in her ruling (page 263) that I accused Mr. López of setting fire to the headquarters of the prosecution and security forces. Those who have had access to the ruling and my statements (riddled with transcription errors) would have never read that I said that the Attorney General's Office was the 'prosecution headquarters' nor that the Body of Scientific, Penal and Criminalistic Research was a 'security body.' Furthermore, and this is the most important point, I didn't have any evidence to affirm that," she wrote.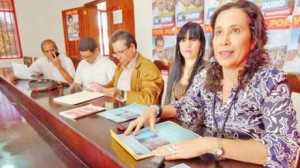 She also admitted that her use of conditional wording such as "could have" or "would have" in the speeches did not please the prosecutors, who wanted a more precise language that directly incriminated López.
Asuaje claimed she received no compensation for her analysis of López's speeches. After her testimony in court, she and her family received all sorts of accusations and threats, she wrote.
In February, when the trial against López was still underway, the defense team argued that Asuaje's report invalidated the prosecution's case because she said during a hearing that the opposition leader did not call for violence but rather for a "peaceful demonstration within the limits of the Constitution."
Asuaje's article comes days after Prosecutor Franklin Nieves, a member of the prosecution team, fled Venezuela and called López's trial "a farce."
Nieves said Asuaje received orders from the head of the Prosecutor's Office's Department of Common Crimes, Nelsón Mejías, to write a report "just like the Attorney General's Office wanted."
Abuses after The Trail
Leopoldo López's wife, Lilian Tintori, has insisted that guards violate her human rights whenever she visits her husband in the Ramo Verde military prison. Female military officers strip her of her clothes, including underwear, and make her "jump and crawl," she told El Universal.
Hoy me volvieron a desnudar. Nuevamente denunció que las requisas son violatorias de nuestros DDHH

— Lilian Tintori (@liliantintori) November 1, 2015

"Today they stripped me naked again. These searches are human-rights violations."
Me metieron en el cuartico de la requisa y me mandaron a quitarme la ropa interior. Violan nuestros #DDHH

— Lilian Tintori (@liliantintori) November 1, 2015

"They put me in the searching room, and they told me to remove my underwear. They violate our human rights."
"It has happened several times, and every time I leave Ramo Verde I talk with my lawyers and describe the episode with the exact date and time. This is registered and the mistreatments are filed before the United Nations, the Inter-American Commission on Human Rights, and the Office of the Ombudsman," she said.
Tintori added that the Venezuelan police "records what happens" when she visits the prison.
On Sunday, November 1st, Tintori also claimed that López was in solitary confinement and that his privacy of correspondence was constantly violated.