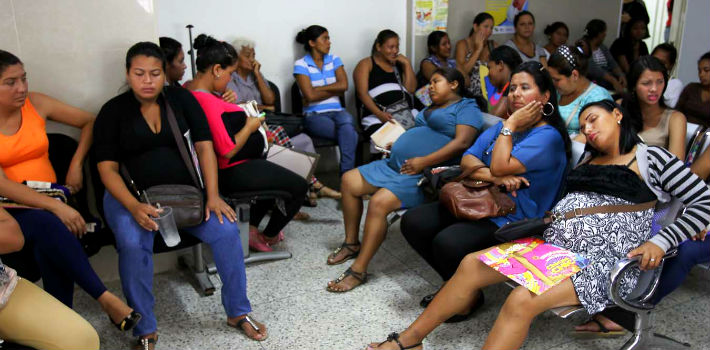 EspañolBirth-control products have all but vanished from Venezuela. A mere 15 percent of the normal supply remain available, according to Freddy Ceballos, president of Venezuela's Pharmaceutical Federation. With prices skyrocketing for the few available in stores, Venezuelan women are resorting to drugs for other purposes, risking their health with dangerous substances.
On July 26, Ceballos also told Venezuelan outlet Sumarium his deep concern over the fact that distributors cannot assure when the drugs will be available again. Because of tight foreign-currency controls, they depend exclusively on government quotas to purchase US dollars with which to import goods.
"Laboratories don't have the raw materials to produce the medication, and most products are imported," explained Carlos Meza, who works at a drugstore and believes the government's delays in assigning dollars to drug companies are to blame.
The shortages that started six months ago affect both birth control pills and condoms, bringing upon three major health public issues in Venezuela: unwanted pregnancies, teen pregnancies, and the spread of sexually transmitted diseases.
Dulce María Blanco de Figallo assures that in Campo Alegre, where she owns and operates a pharmacy, "pregnancy rates have increased 50 percent, and these numbers are similar across the country." Campo Alegre is a low-income area in Aragua state's capital, Maracay.
Coupled with a lack of birth control, Venezuelan women also must face an ongoing scarcity of disposable diapers and baby formula.
#LoMásRT EnZulia #18JL Madres protestaron por escasez de fórmulas lácteas, pañales y medicamentos pediátricos. pic.twitter.com/XuWbnyRclv

— TVV Noticias (@TVVnoticias) July 19, 2015

"Mothers protest the shortage of baby formula, diapers, and children's medication."
Debts Owed to Providers
In June, Ceballos said the Venezuelan state held a US$3.5 billion debt with international pharmaceutical providers. The problem was not one of distribution but rather of supply, he assured, while pointing out  shortages of medication across the board had reached 70 percent throughout the South American nation.
He explained that Venezuela imports between 40 and 60 percent of all finished pharmaceutical products, and whatever is produced domestically also depends on imported components.
This is the same situation plaguing the food sector. On Monday, July 27, union representatives alerted that delays in the allocation of dollars would aggravate shortages of tuna, wheat flour, and rice.
Data from the Venezuelan Industrial Confederation (Conindustria) shows that the Venezuelan government owes approximately US$10 billion to the private sector.
Pablo Baraybar, who serves as president of the Venezuelan Chamber of Food Industries (Cavidea), added that "we have not received any payments so far this year. If the government pays up, firms could increase production by 32 percent." Debt owed to Cavidea affiliate companies alone adds up to US$1.4 billion.
The head of Cavidea criticized the Maduro administration's decision to import finished goods instead of raw materials, a decision that would bolster local industries. "Every dollar invested in importing finished products could be used to produce five times as many food products," he argued.
In an interview with the PanAm Post, Aquiles Hopkins, president of Fedeagro, also attacked the government's policy to prioritize finished goods. He claimed there may be entrenched interests at play.
"Why does the government prefers to import finished goods instead of giving Venezuelans the tools so that we can produce them?" Hopkins said.