EspañolOn Tuesday, July 14, Venezuela's comptroller general barred former legislator María Corina Machado from holding public office for a year. The ban on this leading opposition figure comes after the Democratic Unity Roundtable (MUD) coalition announced she would be among its candidates for the December 6 legislative elections.
The General Comptroller's Office issued a press release conveying the decision. As the clock ticks, she has 15 days to request a reconsideration, or she can take it up to the Supreme Court within the next six months.
During a press conference on Wednesday, Corina Machado said the government was accusing her of failing to account for food vouchers received during her tenure as congresswoman, among her tax returns — but  Machado claims she never received them.
Actúan como los dictadores que son; que se preparen, nosotros vamos a actuar como la mayoría que somos.

— María Corina Machado (@MariaCorinaYA) July 14, 2015

"They behave like the dictators they are; they should be ready, we are going to act as the majority we are."
This is not the first time that an opposition candidate has been disqualified from holding public office ahead of Venezuela's legislative elections.
On July 6, the General Comptroller issued a similar decision against political prisoner Daniel Ceballos, whom the MUD also nominated as a candidate to represent Táchira state at the National Assembly.
Former Governor of Zulia Manuel Rosales also sought to become a congressman in December, but the General Comptroller's Office imposed on him a seven-year ban.
Covert Electoral War
"If they [the government] want to disqualify them, let them do it. But we are not going to disqualify our colleagues," MUD Secretary Jesus "Chúo" Torrealba said when rumors emerged of the dismissal. At least six other candidates remain at risk of being disqualified.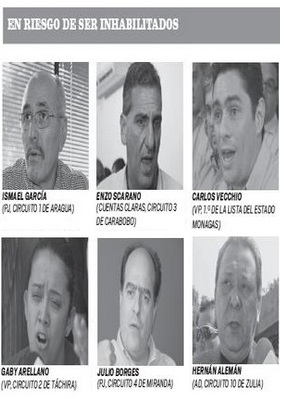 MUD officials were aware they might have to face this tactic. In March 2014, the Chavista majority at the National Assembly stripped Machado of her seat, after she attended the summit of the Organization of American States in Panama to denounce the regime crackdown on student protests. Furthermore, the Venezuelan attorney general indicted her in December for allegedly conspiring to assassinate President Nicolás Maduro.
In November 2014, Venezuela's Supreme Court accepted a request from the Prosecutors's Office to investigate Congressman Ismael García, for allegedly defaming Hugo Carvajal, the Venezuelan general sought by the US Justice Department for drug trafficking.
Enzo Scarano, the former mayor of San Diego, Carabobo, placed under arrest following the 2014 anti-government demonstrations, is also at risk of being disqualified. On June 10, the National Assembly passed a resolution asking the Attorney General's Office to launch a probe into allegations that Scarano threatened an employee of the General Comptroller's Office.
Another ideal target is Congressman Julio Borges, whom the National Assembly President and Chavista strongman Diosdado Cabello accused of leading a coup against President Maduro.
One of the candidates for Monagas state, Carlos Vecchio, may too be included in the black list. He fled Venezuela in 2014 after a court issued an arrest warrant for allegedly inciting violence and conspiracy.
Student leader Gaby Arellano has similarly been indicted for her alleged involvement with "destabilizing plots." She has not been banned from running yet, but her name has yet to be blacklisted.
Hernán Alemán is another opposition legislator in peril. In 2011, the Comptroller General's Office already banned him from holding public offices for one year.
More Obstacles
Among other unfair tactics denounced by the opposition, the National Elections Council (CNE) changed rules concerning women participation after the opposition had already held their primaries.
In an unexpected move, the electoral authority decided that 50 percent of candidates for the upcoming legislative elections must be female, or at least 40 percent in special cases.
The opposition deemed it a "Chavista maneuver," because the CNE waited after their primary elections to pass the gender-equality regulation.
And these are not the only obstacles the opposition will need to overcome. Recently, Carabobo Governor and Chavista strongman Francisco Ameliach publicly said the MUD should be regarded as a political party but is not legally registered as such with the CNE.
"The government is eying a path to prevent the MUD from participating, but we are looking a way around it," said Tomás Guanipa, general secretary of the opposition First Justice Party and member of the MUD coalition.
Though Venezuelan law compels the CNE to be an impartial institution, frequent reports have showed that separation of powers no longer exists in the South American nation. Therefore, the opposition is on the lookout for new attacks from the electoral body.