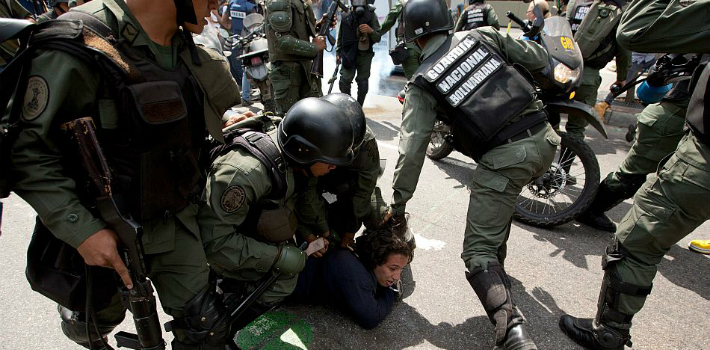 EspañolOn Monday, June 29, the UN Human Rights Committee began its periodic review of Venezuela's human-rights compliance.
A group of NGOs have brought a challenge before the United Nations based on studies conducted by independent experts who monitor political and civil rights in Venezuela.
Attorney General Luisa Ortega Díaz served as head of Venezuela's 35-member delegation, which denied that the government violates human rights. However, at least 30 NGOs presented research that contradicts this claim.
Criminal Penalties for Free Expression
During questioning, National Telecommunications Commission (CONATEL) President William Castillo testified that the state respects the media and guarantees the right to information.
Castillo said censorship does not exist in Venezuela, yet independent data shows that at least 1,000 web pages have been blocked, and dozens of media outlets have been shut down or pulled off the air. International media outlets Infobae and NTN2 are not available to Venezuelans via cable service or internet.
"Venezuela is victim of internet attacks," Castillo said in defense of the government's block on certain websites. "We constantly receive offensive messages on our public platform."
"We have blocked 924 unique links from Dolar Today, because they promote aggressive campaigns against Venezuela," he said, adding that any country that feels its laws are being violated would do the same.
However, Carlos Correa of the Espacio Público NGO testified that the Venezuelan government does not guarantee the right to public information, and said the courts protect the official who denies it.

https://twitter.com/espaciopublico/status/615959619706454016/
"The politicization of the judiciary and its consequences was a concern for the commissioners of #ONUVzla."
During the proceedings, the Venezuela Institute for the Press and Society (IPYS) requested that the United Nations urge the Venezuelan government to eliminate criminal penalties for defamation and libel, and to help establish a system of media that is equitable, free, plural, and autonomous.
In addition, they asked that Venezuela comply with international standards on free speech and the right to information and cease criminalizing acts of free expression..

https://twitter.com/fanzinero/status/615624673024430085/
"Luisa Ortega Díaz denied while in Geneva that she has received complaints over the harassment of NGOs. Read the letter that contradicts her."
The IPYS reports that between 2005 and 2014, Venezuela conducted 42 criminal proceedings against journalists, media, and human-rights organizations.
In 2013, the government of Nicolás Maduro arrested Lourdes Alicia Ortega Pérez, 53, for expressing her dislike of government authorities on Twitter. Her account, @Ulilou, had 12 followers, and she followed 39 people.
The tweet she was investigated for was posted on March 8, 2013, in response to a tweet from @douglirodil, who asked how Hugo Chávez died. Ortega replied: "I don't know, but he's a wax doll now."
Alleged Torture and Abuse of Power
Ligia Bolívar, of the NGO Foro por la Vida (Forum for Life), stated that "the advances in the Human Rights Declaration are being threatened by regressive laws, and the lack of seperation of powers."
Lilian Tintori, wife of opposition leader and political prisoner Leopoldo López, testified on Tuesday before the UN Human Rights Commission, and presented cases in which the Venezuelan government violated the fundamental rights of Venezuelan dissidents.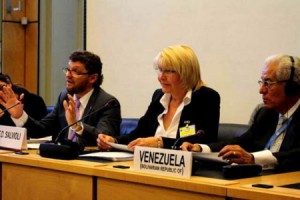 She pointed out that the UN Working Group on Arbitrary Detentions, and the Office of the High Commissioner and Special Rapporteur, ruled that López's incarceration is a violation of international rights.
The case of Judge María Lourdes Afiuni, who was also detained for political reasons during the Hugo Chávez administration, was also a topic of discussion before the Human Rights Commission. Afiuni's trial is still ongoing, and the judge remains subject to measures that restrict her movement.
During her testimony before the committee, Ortega Díaz denied that Afiuni had been a victim of torture and mistreatment. However, Nigel Rodley, a renowned law expert, criticized the attorney general's statements: "It seems to me that this behavior is not consistent with the position of attorney general, nor with the norms of the United Nations."
Afiuni has claimed on several occasions that she was raped and sexually abused during her time in prison. Afiuni's lawyer, Thelma Fernandez, accused Attorney General Ortega Díaz of presenting a false document to the UN committee, in which Afiuni purportedly attested to never having been raped or tortured during her incarceration at the National Institute of Feminine Orientation.
"It's horrible that an official at this level comes before an organization like the United Nations to present proof of something that does not exist. This will be brought before the appropriate committee," Fernandez stated.