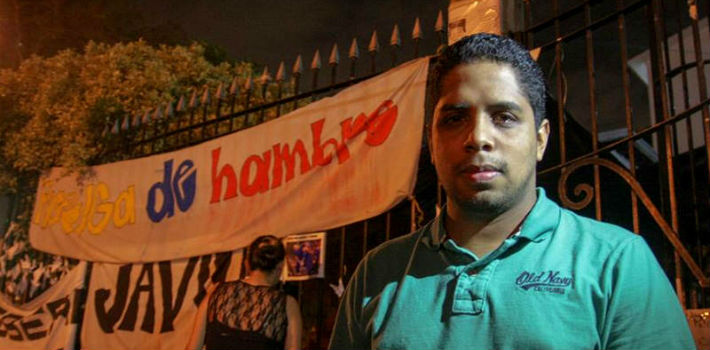 EspañolOn Tuesday evening, June 23, Venezuelan opposition leaders called an end to their weeks-long hunger strike, after authorities released two political prisoners, Gerardo Resplandor and Douglas Morillo, who were arrested during anti-government protests in early 2014.
In the end, over 100 Venezuelan citizens joined the hunger strike launched by opposition leaders Daniel Ceballos and Leopoldo López in solidarity, demanding the government end its harassment of dissidents, release all political prisoners, and set a date for this year's legislative elections.
Earlier on Tuesday, López declared a successful end to his 30-day strike, after the National Electoral Council (CNE) set a date of December 6 for the polls.
According to Alfredo Romero, executive director of the Venezuelan Penal Forum, Resplandor spent 13 months and 21 days in jail. Meanwhile, authorities detained Douglas Morillo for 1 year and 59 days, without a formal trial against him. With their release, the number of political prisoners in Venezuela decreases to 75, 29 of which were arrested in connection to the 2014 demonstrations.
Finalmente en libertad luego de 1 año y 59 dias en prision Douglas Morillo. Seguira sus estudios y muy pronto contraera matrimonio.

— JOSE VICENTE HARO (@JOSEVICENTEHARO) June 24, 2015

"Douglas Morillo finally released after 1 year and 59 days in prison. He will continue with his studies and get married very soon."
Hunger Strike Success
Gonzalo Himiob Santomé, lawyer and director of the Venezuelan Penal Forum, told the PanAm Post that the hunger strike was crucial for the release of these prisoners. He says that coupled with the constant pressure placed on international bodies, the protest succeeded in finally drawing the world's attention.
Himiob explains that there are over 2,000 people facing criminal charges for protesting against the government of Nicolás Maduro, and the courts have yet to rule on 95 percent of those cases.
He says records show some of those detained have been "unfairly and regrettably" forced to admit things they did not do under false pretenses — promises of freedom that never materialized.
"It is important that despite the joy we feel over these releases, which are conditional, that we remain focused on what remains to be done, particularly for those who have delicate health situations," Himiob says.
He adds that the Venezuelan Penal Forum has given the Ombudsman's Office a list of names of all those who have been "unjustly detained," with emphasis on prisoners whose health has detoriated, such as Ángel Contreras, Andrés León, Nixon Leal, and Gerardo Carrero.
Andrés León is reportedly in critical condition, while Ángel Contreras has attempted suicide on four occasions, twice in just the last week. Another prisoner, Ronny Navarro, is in need of psychiatric care after being held in solitary confinement, says Himiob.
"In the case of Andrés Leon, he was supposed to be part of this small group of released prisoners, but this has not materialized so far. The government must remember that they are solely responsible for the health and lives of all those who are deprived of freedom."
In March, prison guards at SEBIN headquaters in Caracas found political prisoner Rodolfo "The Aviator" González dead in his cell. After spending 11 months at the SEBIN prison, authorities threatened to transfer González to a jail for common prisoners. The Aviator reportedly told other prisoners on various occasions that he would kill himself before he could be transferred. Although the Attorney General's Office announced an official investigation into the case, its results were never disclosed.
Himiob says justice in Venezuela depends "on the political or circumstantial conveniences of those in power." He insists the Maduro government should release all political prisoners, and says the Penal Forum has requested all charges against them that have no legal foundation be dropped.
Criminalizing Activists
In the same vein, Himiob tells the PanAm Post that activists and human-rights defenders in Venezuela are perpetually harassed. He says most are attacked through the state media, but that the government has begun taking legal action against many human-rights activists.
"The government has launched investigations against the directions of various NGOs for alleged acts of terrorism.… We have also been identified as 'conspirators,'" he says. Himiob insists that all of the government's accusations are false, and that his only goal is to defend human rights.
"A court recently ordered a wiretap on the Penal Forum's phone lines, and even the phones of one of our directors, Alfredo Romero, and his wife. That is how the government keeps harassing us. So far, they have not done anything beyond that, but they brand us as criminals in the media."