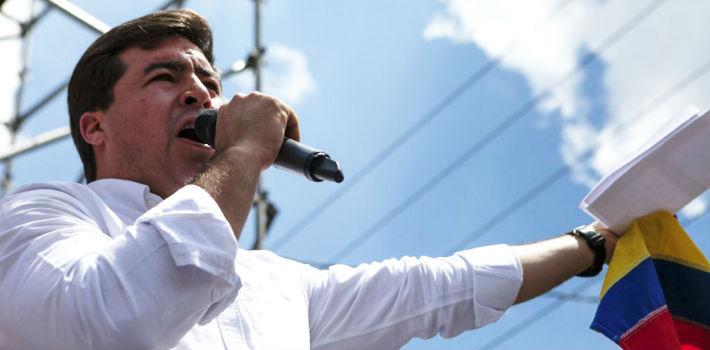 EspañolOn Thursday afternoon, after a 20-day hunger strike that left him at the point of collapse and weighing only 57 kilos, Venezuelan political prisoner Daniel Ceballos decided to end his protest.
Ceballos, the former mayor of San Cristóbal, Táchira State, informed his wife Patricia Ceballos via phone, who relayed the news on Twitter. Ceballos is to publish a letter he received on Thursday from Monseñor Diego Padrón, a representative of the Catholic Church, whom with Ceballos was communicating from prison.
However, there is as yet no word on the 74 other Venezuelans currently participating in the hunger strike.
The strikers had hoped to pressure the Venezuelan government to announce the date of this year's parliamentary elections, free political prisoners, and cease the persecution of dissidents.
However, on Wednesday, Juan Carlos Gutiérrez, defense attorney to López and Ceballos, announced that both would be willing to cease the strike if the liberation of the other political prisoners could be arranged.
Venezuelan President Nicolás Maduro and other senior officials have yet to comment on the situation of the hunger strikers.
UN "Seriously Concerned"
Also on Thursday, Stéphane Dujarric, spokesman for United Nations Secretary-General Ban Ki-moon, told press that the multilateral organization continues to follow the human-rights situation in Venezuela "intently."
In regards to the hunger strike which began outside of the UN headquarters in New York City, the spokesman stated that the Office of the High Commissioner on Human Rights "is seriously concerned with the legality and the conditions of those who have been detained as a result of exercising their right to the liberty of expression, as well as their right to peaceful protest."
Prior to Ceballos's announcement, young activists participating in the hunger strike from New York stipulated that they wouldn't stop until certain demands were met:
Antonio Rivero, a retired general of the Venezuelan Army, also joined the protest in front of the UN headquarters in Manhattan. Rivero fled the South American country in 2014, facing charges of inciting "conspiracy" during anti-government protests last year.
Rivero, a prominent leader within the opposition Popular Will (VP) party, faces similar crimes to López, who has already served 16 months behind bars without a full trial.
Arbitrary Arrest
On Thursday morning, police arrested a VP councilor when they discovered him outside of the National Electoral Council, reportedly preparing to begin a hunger strike.
El Nacional reported that after local councilors assembled at the location, a group of officials insulted them and the Bolivarian National Guard (GNB) took away Councilor Rada.