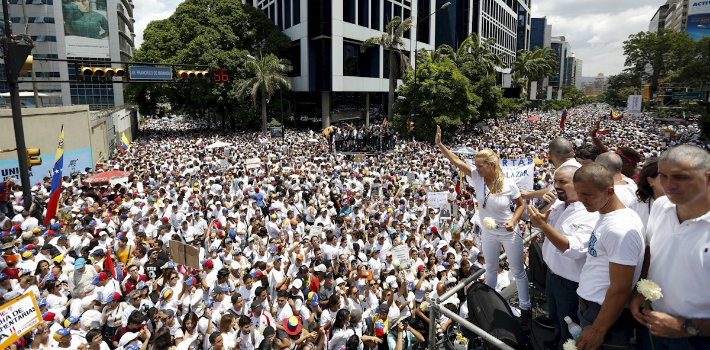 EspañolOn Wednesday, the Democratic Unity Roundtable (MUD) coalition — made up of the majority of Venezuela's opposition parties — announced a wave of peaceful protests to call for the freedom of political prisoners, and demand that Venezuela's National Electoral Council (CNE) set a date for this year's parliamentary elections.
In a press conference, the MUD claimed that CNE Director Tibisay Lucena was responsible for the health and lives of those opposition leaders who have now marked over 10 days on hunger strike, calling for the government to announce the date of polls, and confirm that they will be held with the presence of international observers.
"If they don't want to name the date, it's because they don't want an election," Popular Will (VP) leader Freddy Guevara told reporters.
MUD Secretary General Jesús Torrealba emphasized that the demonstrations will be peaceful. A nationwide march on Thursday will center on an assembly outside the CNE's office in Caracas.
On Friday, the MUD will convene international press to explain the importance of international observation. Torrealba signaled that he will reveal "striking" information concerning the CNE's alleged lack of impartiality.
On Saturday, churches across the country will host activities to draw up a petition to be delivered to Pope Francis, demanding that President Nicolás Maduro free all political prisoners. The petition drive will continue through the night until Sunday at all churches that have the necessary security conditions to stay open.
The petition is timed to coincide with the pope's reception of Maduro on Sunday, under the aegis of a conference organized by the UN Food and Agriculture Office (FAO) to be held in Rome between June 6 and 13.
Back in Venezuela, Sunday will see a "huge national mobilization, house by house," in which the leaders of all opposition parties will spread the message of the "political, economic, and social crisis that the country is facing," and the government's repressive stance towards criticism.
Then, on Monday June 8, another press conference will evaluate the activities carried out thus far. On the following day, a further national mobilization will take place "in solidarity with the mayors assaulted by the government," in relation to the recent removal of the mayor of Guasdualito, Apure State.
Global Alarm
Venezuela awoke on Wednesday to growing alarm over the situation of the opposition leaders on hunger strike. Five students have joined the voluntary fast begun by Leopoldo López and Daniel Ceballos, bringing the total to 17.
Former mayor of San Cristóbal Daniel Ceballos has been relocated to a dangerous high security prison after beginning his hunger strike 12 days ago. López joined the protest two days later, followed by Raúl Emilio Baduel, Alexander Tirado, and Deivis Oliveros — the latter young activist currently being held in the headquarters of the Bolivarian Intelligence Service (SEBIN) — and 12 more opposition figures.
The government's response thus far has been silence, while the UN Office of the High Commissioner for Human Rights registered its concern for the deteriorating health of the prisoners in a communiqué. The international agency made specific reference to the case of Ceballos, demanding that the authorities permit and guarantee him access to his relatives and lawyers.
The commissioner meanwhile demanded that Venezuela free all political prisoners: "We call once more on the Venezuelan authorities to guarantee that all those detained for exercising their fundamental right of freedom of expression and assembly be freed without conditions and without delay."
Time is Running Out
While the Maduro administration has made no mention of the ongoing protest, the health of those on hunger strike is entering a rapid decline.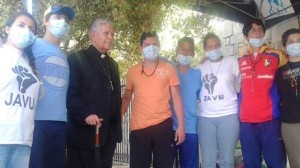 Alberto Maldonado, a VP member for Táchira State, reported on Tuesday that Ceballos has lost over 12 kilos.
Patricia de Ceballos, his wife, told press that she has been unable to see him since Saturday. His parents meanwhile revealed that their son has been ingesting sugar in water since Sunday, and has been left on a mattress on the floor, with temperatures reaching over 38 degrees Celsius.
Lilian Tintori, López's wife, reported on Tuesday that the VP leader has lost five kilograms, while his lawyers confirm that he is showing severe signs of deterioration.
In Wednesday's MUD press conference, Tintori reported that both Ceballos and López had been subjected to torture in the preceding hours, and that their guards "are not looking after them."
Attorney General Luisa Ortega Díaz instructed the prosecutor responsible for López's case on Tuesday to provide him with medical attention, following a petition filed by his lawyers the day before.
Congressman Julio Cesar Rivas, also on hunger strike, reported that several of his companions were suffering from low blood pressure, and that one of them repeatedly lost consciousness on Monday night.
Tintori meanwhile detailed that SEBIN officers had "cruelly" thrown sewage water on those currently on hunger strike outside a church in Caracas.