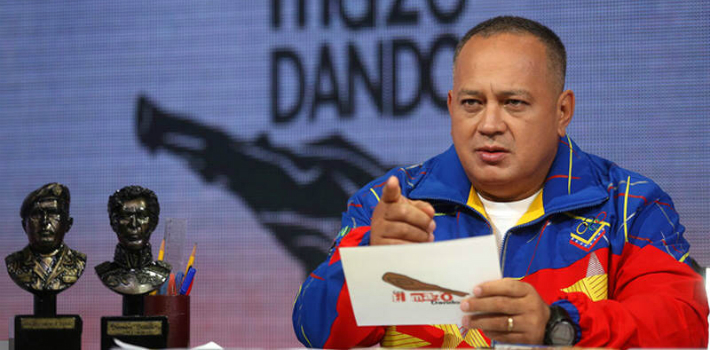 EspañolTwo Venezuelan human-rights NGOs have filed a formal complaint against National Assembly President Diosdado Cabello over an alleged illegal breach of private emails.
Provea and Public Forum filed the complaint with the Attorney General and Ombudsman Offices on Thursday, May 28, and say they expect a response from the Public Ministry within 15 days.
The complaint stems from the airing of private communications between members of the NGOs on the May 13 edition of Cabello's nationally televised program Con el Mazo Dando (Giving It the Hammer).
No National Assembly legislator or journalist can intercept communications, much less publish them.
The NGOs demand to know whether a judge authorized the breach: "If there is no court order to intercept the communications of Provea and Public Forum, we request an investigation into Diosdado Cabello for violating Article 48 of the Venezuelan Constitution," the document reads.
Inti Rodríguez, head of research at Provea, told the PanAm Post that Cabello illegally obtained and disseminated private conversations between Provea's general coordinator Rafael Uzcátegui and Public Forum's Carlos Correa as they planned a tour to "strengthen bonds with the region's human-rights organizations."
Rodríguez insists the only way to access those emails would have been through each NGO's internal email system, and condemned Cabello's "harassment" of human-rights organizations in Venezuela.
"Both the United Nations and Inter-American Commission on Human Rights rapporteurships are aware of this incident," he said, and urged Ombudsman Tarek William Saab to speak out.
Blatant Violation of the Law
Jose Vicente Haro, a Venezuelan constitutional lawyer and human-rights advocate, assured the PanAm Post that Cabello has committed a crime: "He is not allowed to intercept communications, much less make them public."
Congressional immunity does not grant legislators a pass to violate the Constitution or spy on others.
Haro says Venezuelan law only allows a court to issue such an order within the scope of a criminal investigation. Furthermore, there must be a clear motive, or a request from the Public Ministry, explaining why an individual's privacy must be breached.
"No National Assembly legislator or journalist can intercept communications, much less publish them. If there is a court order, the recordings must be kept in the court's case file as part of a criminal investigation. Audio, emails, or videos cannot be shown or made public."
Haro argues Congressional immunity does not grant legislators a pass to violate the Constitution or spy on others. "Only the Public Ministry through criminal investigation units, designated policemen, and the corresponding court can intercept communications."
As for the punishment for an illegal breach, Haro says it depends on the judicial actions the plaintiffs carry out. In the case of a criminal complaint, charges could lead to a prison sentence.
If the defendant is a congressman, plaintiffs must first request the Public Ministry conduct an investigation. If investigators determine there is enough evidence to move forward, prosecutors must then ask the Supreme Court to strip the congressman of his parliamentary immunity so that he may be prosecuted in court.
Aggressive Rhetoric
Carlos Correa says Public Forum has received complaints from over 40 journalists and human-rights activists, who say their private communications have been breached in order to intimidate them, in just the last few months.
Mariengracia Chirinos, free press director at Venezuela's Press and Society Institute, told the PanAm Post her organization conducted a study of Cabello's comments on his TV program from October 3 to December 3, 2014. They found that during that period, 165 people and organization were the target of "an aggressive discourse and a policy of criminalization."
Between January and May 2015, Chirinos says Cabello increased his attacks, and directly targeted 10 individuals and organizations.
Chirinos argues that Cabello takes advantage of his air time on national television and arbitrarily singles out dissidents, political and social activists, NGOs, and journalists.
The National Assembly president gets help from a network of informants known as "cooperative patriots," who pass on private information about the individuals he chooses to target during a special segment on his show called "Los Mazazos" (Hammering It Out).
The free-speech advocate believes Cabello's threats then become implicit orders against those targeted. As an example, Chirinos cites the case of Mónica Villamizar, an Al Jazeera correspondent whom Cabello labeled a US spy in January 2015. Villamizar was forced to leave the country after Cabello disclosed the journalist's personal information and detailed her movements around the capital.
As for the lawsuit Cabello filed against several Venezuelan journalists in April, Chirinos recalls that the assemblyman said on his show that the judiciary would "probably forbid them from leaving the country." Only days later, a judge obliged the request.
While the National Assembly president seeks damages against those media outlets he argues have caused "grave harm" to his "reputation and honor," Cabello may soon be forced to confront his own allegations of illegality over the airwaves.