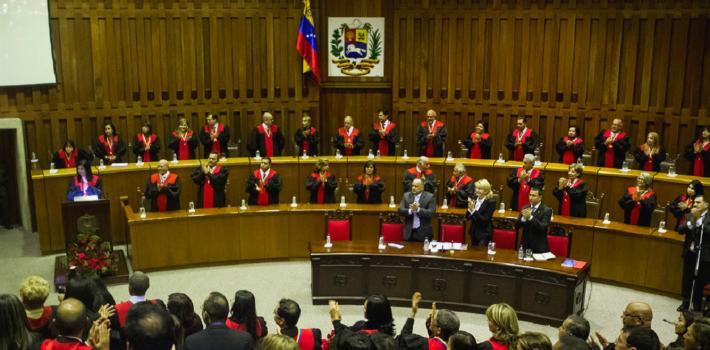 EspañolVenezuela's Supreme Tribunal of Justice (TSJ) has shown its support for the National Assembly (AN) President Diosdado Cabello, following recent international media reports indicating that US authorities are investigating him as the presumed head of the Los Soles narco-trafficking cartel.
Scarcely 24 hours after the Wall Street Journal published an article recording extensive evidence that the DEA and US judicial bodies are investigating senior Venezuelan officials for their ties to organized drug crime, the TSJ reported that it wouldn't be carrying out investigations into the allegations, asserting that it supported Cabello for "his enormous sacrifice and achievements."
The TSJ, Venezuela's highest court, has the duty of administering national justice in an impartial manner, and declaring whether or not charges against any public official have merit. On Wednesday, May 20, it found that "there are underlying factors abroad, instigating actions to discredit Venezuelan institutions."
As a result, the tribunal rejected "the continued conspiratorial aggressions against the Venezuelan state, consisting of baseless accusations which have as a fixed, visible object those authorities that exercise responsibilities legitimately such as the president of the legislative power."
As such, the TSJ supported Cabello without mentioning any possibility of opening and investigation to ascertain the truth or otherwise over the claims put forward by the Wall Street Journal, Spanish daily ABC, and other media outlets.
Instead, in a statement of support for the senior government official, it argued that "such claims, linked to murky interests, repeat and encourage undue media suggestions that try to describe situations that aren't supported in any truthful or possible basis, and which don't fall within the national judicial orbit or have any legal nature. As we know, allegations lacking truth carry punishments outlined in national law."
Venezuelans have argued that the "immediate" reaction of the judicial body "is further evidence that in Venezuela there's no independence of the public powers."
"Strange, absurd, and grave," were the words used by criminal lawyer Alberto Arteaga to describe the TSJ's support for Cabello. He denounced that the tribunal has "taken sides" to support the number-one figure in the governing Socialist Party (PSUV) after President Nicolás Maduro.
"It deals with the highest court of the republic called to resolve legal conflicts in an impartial way, and it shouldn't take sides in any way … it doesn't fall to the TSJ to support Cabello … it isn't, or it shouldn't be, a political body," he added.
Information is a Crime?
According to US media, as well as Cabello, current governor of Aragua State Tareck El Aissami; National Guard Commander Néstor Reverol and General Luis Motta Domínguez; and Industry Minister José David Cabello (the AN president's brother) are all in the sights of US prosecutors.
On May 20, the New York Times — which has previously published opinion articles by Cabello and Maduro in 2014 and 2015 respectively — confirmed the news reported by ABC in January and the WSJ this week: "The investigation, which involves allegations of money laundering and trafficking, is being led by the Drug Enforcement Administration and is focused on one of Venezuela's most powerful politicians, Diosdado Cabello."
"If tomorrow these people that accuse me present a single item of proof, then condemn me," Cabello said in a speech to the National Assembly. Maduro meanwhile warned: "whoever messes with Diosdado Cabello messes with me," and said he would begin a "national and international campaign in support of Diosdado and Tareck [El Aissami]."
Diosdado similarly threatened those national broadcasters that republished the news implicating him in drug trafficking: "To all those media outlets that reproduced the story, we'll see you in court." Cabello has already brought legal action against dailies Tal Cual and El Nacional, as well as web portal La Patilla.
The bloc of government congressmen in the National Assembly also delivered a petition to the Attorney General's office to ask it to pursue the legal claim of defamation made by Cabello. While any formal hearing is yet to begin, judicial authorities have already prohibited 22 newspaper and media managers from leaving the country as a result of the claim.
Arteaga described the sanctions against independent Venezuelan media outlets as "crazy."