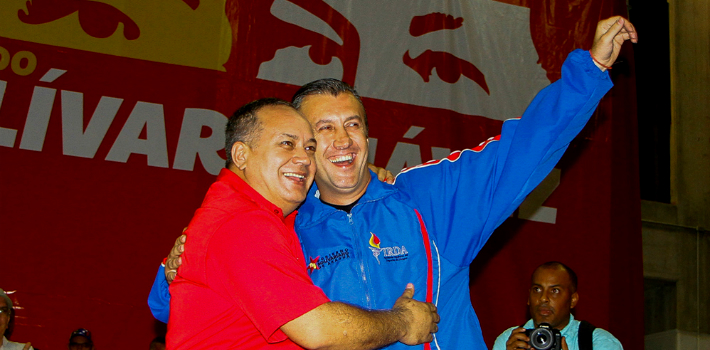 EspañolAn article published Monday by the Wall Street Journal claimed that Venezuela has become a global center for cocaine-trafficking, after judicial sources confirmed that National Assembly President Diosdado Cabello is under investigation for allegedly being a narco-trafficking kingpin and the leader of Venezuela's Cartel de los Soles. The report echoes claims made by Spanish daily ABC in January.
Juan Forero and José de Córdoba developed the report, which indicates that major narco-trafficking groups operate with the consent and even outright complicity of the Venezuelan authorities.
They reveal that Cabello; Aragua State Governor Tarek El Aissami; National Guard Commander Néstor Reverol; Industry Minister José David Cabello; and General Luis Motta Domínguez are all facing investigations over alleged ties to organized drug crime.
Forero told the PanAm Post that Venezuela's economic situation, widespread insecurity, and rivalries within the government have prompted increasing numbers of sources to flee to the United States, receiving asylum in return for collaborating with narco-trafficking investigations.
How did the report come about?
We wrote several articles on Hugo Carvajal, he really interested us, because it was the first time that a senior official in the Venezuelan government had charges against him and it became public. In the United States particularly delicate cases are often sealed. In this case, US prosecutors made it public once they thought they already had Carvajal and that they were going to extradite him, but it didn't happen.
Another issue was [Cabello's former bodyguard] Leamsy Salazar; we contacted people who knew about this case, about [former Iragua State Governor] Rafael Isea, and other government officials who were in the Venezuelan government but are now helping with investigations.
Are they reliable sources?
We contacted people on the official side who confirmed the investigations; we spoke with people they recruited to help them get informants, deserters, and former officials. We contacted people in exile, academics that write about narco-trafficking, and lawyers that represent narco-traffickers, who confirmed what we were denouncing in this article.
We based it on interviews and documents concerning the different cases of narco-trafficking in Venezuela.
What does it mean for Venezuela to be a presumed global center of cocaine trafficking?
It means that Venezuela is highly important in the entire chain of production and sale of cocaine. They don't produce cocaine there; that's something that happens in Colombia, in Peru, or Bolivia. Colombian cocaine and coca basically go to the United States and pass through Venezuela. The big mafia groups that are bringing cocaine to the United States are in part based in Venezuela.
Colombian narco-traffickers found a country where they could operate in a much easier and flexible way, and with more freedom than in Colombia. They know that in Venezuela, they can work with the army, the National Guard, the police, and senior officials.
Are you expecting any kind of legal reaction by the Venezuelan government or Diosdado Cabello?
We'd love to interview Cabello and other officials, but it's very hard for them to talk to independent media.
The information that we published is true; it's based on very serious work. What we're simply doing is reporting the news, speaking with sources linked to the investigations. It's the role that the media should have in democracy.
This took a long time to edit: there were lots of changes, lots of lawyers who revised it, who took out things that we couldn't say. In the United States, the First Amendment protects us as journalists; this is part of free expression and key for the North American democracy.
When did your investigation begin?
After the Carvajal case and finding out about the information given by Leamsy, we began to do interviews. We traveled to various countries, including to Europe to gather information. It was a wide-ranging job that involved various journalists.
When did they begin investigations in the United States?
These investigations began a long time ago. I recall that in 2008 the Treasury Department linked various senior Venezuelan officials with FARC, but they told us that investigations have accelerated in the last two years under the Maduro government. They explained that because of the crisis in Venezuela — the economic situation, insecurity, and rivalries within the government — there are people looking to leave the country and are ready to cooperate.
A prosecutor told me that with Chávez it was very difficult to get informants, but now it's much easier. In fact, there are so many, that now you have to be very cautious about the information you accept.
Why do the prosecutors and the DEA collect evidence and never make it public?
There are sealed cases, which only come to light when the [US] Americans believe that they've got enough to extradite the people they're looking for; they don't want them to know about the investigations they're doing.
There's no doubt that those being investigated know about it; in fact, they attribute it to the United States trying to destabilize Venezuela. The Venezuelan government says that it's an order from Obama, but it's not like that.
The prosecutors are independent; they're not controlled by the government. They're doing things very calmly. What they want to do is resolve cases in order to be able to arrest the people they're investigating.
Could the United States take steps to shut down this alleged narco-trafficking network?
It's very difficult; you're not dealing with any old case. You're dealing with investigating leaders and senior Venezuelan officials of a government that has declared itself an enemy of the United States. And I don't think there will be a lot of options to make arrests once there are definitive results for these investigations.
Could there be any kind of intervention in Venezuela by the United States as a result of these investigations?
I don't think there's the possibility of intervention in Venezuela; it's a judicial issue that has to do with prosecutors and courts. If the Venezuelan government doesn't want to cooperate, there's nothing they can do. It's still developing; we're not saying that there are charges against these officials; what we're saying is that there are investigations into them. It could be that the cases are sealed, I think they are, but I don't have that information.
Do you think Chávez knew about the situation, and that's why he didn't leave the presidency to Cabello?
They told us that it was impossible that senior Venezuelan government officials, including Chávez and Maduro, weren't informed about what was going on.
What do you think about Cabello's demand of Venezuelan media?
I believe that you have to respect the media. What Diosdado Cabello has to do is demonstrate that the information is false: he ought to speak with the media, give information, and explain his point of view, and this isn't happening. It's censorship.