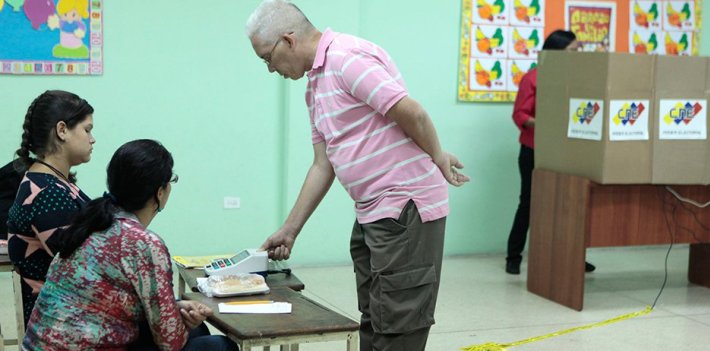 EspañolOn Sunday, May 17, the Venezuelan opposition carried out its primary elections ahead of a national parliamentary vote due to take place in late 2015.
Justice First (PJ), led by former presidential candidate Henrique Capriles — who lost to Hugo Chávez in 2012 and current Venezuelan President Nicolás Maduro in 2013 — came in first, followed by the Popular Will (VP) party headed by political prisoner Leopoldo López. Turnout almost doubled that of 2010.
Despite the fact that Venezuela's National Electoral Council (CNE) still hasn't announced when the legislative elections will be held, 543,000 people voted to choose the opposition candidates who will square off against Chavista candidates for the 167 seats of the unicameral National Assembly.
Opposition forces picked 42 candidates in 33 of Venezuela's 87 electoral districts. The remaining 127 candidates were chosen by consensus within the center-left Democratic Unity Roundtable (MUD) coalition leadership, which brings together PJ, VP, and other opposition groupings.
José Luis Cartaya, MUD's electoral commission president, announced the first results.
Key highlights were the victory of former mayor and current political prisoner Daniel Ceballos in Táchira's fifth district, and that of Enzo Scarano — a former mayor who also shared cells with Ceballos and López in Ramo Verde prison — in Carabobo's third district.
The opposition parties that garnered the most popular support were PJ and VP, with 11 and eight candidates respectively. Democratic Action (AD) won six, A New Era (UNT) five, and Cuentas Claras three candidates. Copei, Radical Cause, Advanced Progressive, and other parties achieved one candidate each.
MUD's Executive Secretary Jesús Torrealba said on Sunday they would officially nominate both the 42 elected and the 125 consensus candidates within 72 hours.
Leading opposition figures such as María Corina Machado, Julio Borges, and Henry Ramos Allup are now set to run in the upcoming elections. Torrealba had previously announced in March that Leopoldo López and Antonio Ledezma — the imprisoned mayor of Caracas — would be considered for the consensus candidates list.
Media Blackout
When announcing the first results on Sunday, Cartaya said "it seemed impossible to carry out primaries in this difficult situation, but we succeeded in organizing a peaceful, democratic, and transparent election day without incident."
Torrealba meanwhile reported that the Maduro administration had "maliciously" intervened in the elections, orchestrating a "media blackout among the official and domestic press." He called the coverage of the event "scarce."
Medios q son d todos y hoy estan secuestrados por el Regimen cubriendo nuestras primarias. Q se vayan acostumbrando https://t.co/KjUNkX3Sx2

— Jesus Chuo Torrealba (@ChuoTorrealba) May 17, 2015

"Media outlets that belong to all Venezuelans were kidnapped today by the regime to hide our primaries. They'd better get used to it."
Despite surpassing the 2010 primaries turnout of 316,000 voters by a wide margin, organizers acknowledged that participation was not as huge as they had hoped. Venezuelan daily El Nacional reported that polling station members in several districts blamed poor promotion of the vote.
Many Venezuelans had no idea an election was taking place. In downtown Caracas, hundreds lined up outside state food distributor PDVAL, just across the road from the polling station.
The opposition not only had to contend with limited press coverage but also counter a campaign waged by the government to discredit the elections.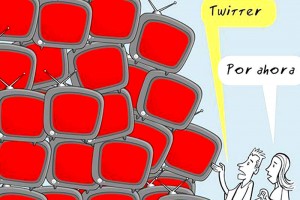 Chavista leaders told several media outlets that the polls were a "scam" because they had not been extended nationwide to all districts. Government supporters also criticized the decision not to put all candidates to a vote.
During the voting, a two-hour mandatory TV and radio show covering events from the ruling PSUV party overshadowed coverage of the elections. National Assembly President Diosdado Cabello and Assemblyman Pedro Carreño insulted and mocked opposition leaders on air.
An Unexpected Visit
On Sunday, an international team of monitors from the Union of South American Nations (UNASUR) "unexpectedly" arrived to follow the elections. Torrealba labeled the UNASUR team "a provocation from the National Electoral Council (CNE) … not only because the visit is untimely, but also because UNASUR doesn't have the technical capability to monitor elections, before, during, and after."
The MUD's international affairs representative Ramón Guillermo Aveledo asked the UNASUR delegates to demonstrate their "impartiality," and said that no one from the CNE had informed them of the international organization's presence at the primaries.
El Nacional reported that the monitors only visited five polling stations in the Venezuelan capital. "They looked at the voting stations and left. They said nothing to the press".
UNASUR's team was led by Carlos Von Adamek and Marcio Antonio Boscaro, both officials from Brazil's Supreme Electoral Court.