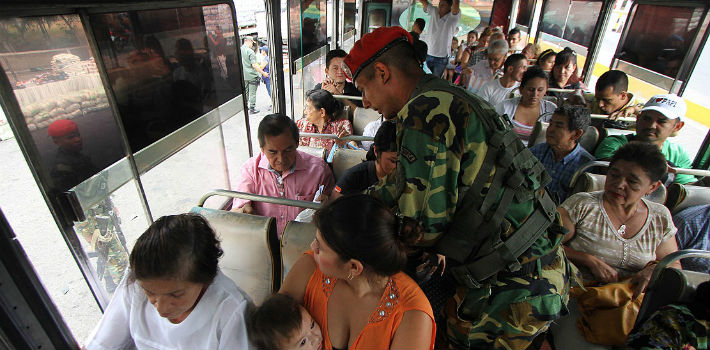 EspañolThe Venezuelan authorities are responsible for various forms of inhumane and degrading treatment while deporting Colombian citizens, journalist Daniel Salgar revealed in a May 11 exposé in Colombian daily El Espectador.
Salgar claims Venezuelan immigration officials violate the deportees' human rights, and that cruel treatment, limited access to food and water, and abuses against minors are daily realities along the Colombia-Venezuela border.
The Bolivarian National Guard (GNB) allegedly steal, mistreat, and ignore deportation laws by kicking out Colombians residing legally in Venezuela.
Venezuela's Aliens and Migration Law guarantees foreigners the right to a defense: it compels the government to open an administrative procedure with clear deadlines so plaintiffs can present their arguments without haste, aided by an attorney. However, the anecdotes collected by the Colombian reporter demonstrate the Venezuelan government's legal neglect.
"I entered the country legally on March 12 with the stamp that allows you to stay for 90 days. I have entered and exited the country like this for years. Now the chief of [migration service] SAIME told me it didn't matter," Abel Antonio Gutiérrez, recently deported from Venezuela, told Salgar.
"They arrested me and didn't even allow me to talk. The GNB insulted us, told us we Colombians came to steal and leave Venezuelans without food. They took us to the border in buses, guarded as if we were criminals. The worse part was being deported despite meeting the legal requirements," he added.
The article tells a similar story with Marlene Ayola, from Cartagena, who had been living in Venezuela for 36 years. A cleaning lady, she had adopted a young Venezuelan who is now 15. The GNB took away her residency ID that expired last year and deported her without her son.
According to Colombian migration authorities, from January to March 24, 2015, the Venezuelan government deported 1,389 Colombian citizens — doubling last year's figure for the same period.
Mounting Xenophobia
Crisis-level shortages of basic goods in Venezuela has left the national government scrambling to find an easily identifiable culprit. It seems to have settled on the story that scarcity is due to food being smuggled out of the country to Colombia.
After visiting Venezuela in February, Colombia's former President Andrés Pastrana said that Colombians are discriminated against when they try to buy foodstuffs. "When they find out a Colombian is waiting in line [at a Venezuelan supermarket] they throw him out," he claimed.
In January, local media in Venezuela reported that the GNB prevented foreigners from shopping at grocery stores. "They're not accepting passports or residency cards," María Fernández told press outside a supermarket. Officers reportedly kicked Colombians out of lines "because allegedly they're bachaqueros," black-market resellers.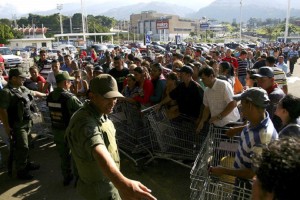 Juan Carlos Tanus, spokesperson for the Association of Colombians in Venezuela, said his fellow nationals are alarmed over increasing xenophobia. "When security forces, the police, check the IDs of people waiting in line at supermarkets … they take Colombians to SAIME offices and start an administrative procedure that can end up in their deportation."
In February, Venezuelan Congressman Walter Márquez denounced that the GNB had brutally beaten up over 200 Colombian immigrants, a reality "that is tolerated by Colombian border authorities, including consular officials."
On Friday, January 23, in the Venezuelan border city Pedro María Ureña, four GNB officers severely injured Cristian Villegas, a Colombian citizen who had been arrested during an anti-smuggling raid.
"Cristian Villegas's case is emblematic, because it's not an isolated incident. It has become a policy of the Venezuelan government. There is a serious violation of human rights there due to the abuse of power and disproportionate use of force," Márquez said.
Eduardo Delgado, a councilman from the western city of San Cristóbal, similarly asserted that if a Colombian is found near the border with medicines or basic products, "they're treated as smugglers and have their human rights trampled on."
"Colombians are being xenophobically persecuted. They're the scapegoats used to explain away the economic crisis in Venezuela," Delgado lamented.
Colombia "Twiddling Thumbs"
At the beginning of April, Colombian Senator Jimmy Chamorro demanded explanations from Foreign Minister María Ángela Holguín over the government's silence on the large number of deportations. Colombia is "twiddling its thumbs" to avoid "angering the government of Venezuela," he argued.
On April 6, the Foreign Ministry along with Colombian Ombudsman Jorge Armando Otálora sent a letter to Tareck William Saab, Venezuela's ombudsman, asking that the rights of Colombians facing migration problems be respected.
"It's important that protocol and international humanitarian legislation be respected during these deportations, as well as human rights," Otálora stressed.
In response to the media and political pressure, incoming Foreign Minister María Ángela Holguín told a Senate commission on Wednesday that she is to meet with her Venezuelan counterparts to firm up a deal on creating a joint deportation commission to support those being returned to Venezuela.
Holguín nevertheless tried to downplay the severity and scale of the deportations, emphasizing that other countries routinely deported foreign nationals, and saying that many Colombians welcomed returning to their home country and families.