EspañolIf you want to teach at a Venezuelan university, you can look forward to a starting salary of US$34 per month. With such rock-bottom compensation, the professors' national union is condemning the crisis and threatening to bring charges at the international level.
"This situation is going to be reported … at the Assembly of Rectors of the Americas, at UNESCO, and at the International Labor Organization (ILO)," Keta Stephany, spokesman for the Federation of University Professor Associations of Venezuela (FAPUV), told press on Tuesday, May 5.
Stephany lamented a "dramatic" salary situation, as well as the lack of materials needed to run laboratories needed for the scientific "training of professionals."
On Monday, professors of Venezuela's Central University (UCV) held a 24-hour strike to protest the salary crisis. The walkout followed an announcement by President Nicolás Maduro on May 1 that the minimum wage will be increased by 30 percent.
The pay hike for low earners means that the basic salary will become 7,421.6 bolívares ($39) in July, leaving the income of many education professionals below the minimum wage, with a new professor earning approximately $34. Only senior professors will earn more than the minimum wage.
The Maduro administration appears to be paying particular attention to soldiers' pay checks, however. Maduro also announced that the Bolivarian Armed Forces (FANB) will see salaries rise by 75 percent, following soon after personnel levels were increased by 45 percent in October.
The UCV Association of University Professors (APUCV) released a statement slamming "government policy to increase the minimum wage without making general salary increases, damaging all workers' incomes."
"These policies have particularly affected professors, to the point where the salary of a senior educator in 2001 was 13 times the minimum wage, and today it's just 2.73 times," the statement added.
The association argued that low-paid professors earned less than $34, with the majority of educators earning "under $70 a month." The UCV body also compared the situation of Venezuela to the Latin American average for higher education staff, who reportedly earn "around $5,000 per month."
"This is illegal, and constitutes disrespect and mistreatment towards universities and teachers," it concluded.
The University of Los Andes (ULA) and The University of Carabobo (UC) are also set to join protest measures.
"Deaf" Government
UCV Director Cecilia Garcia Arocha, also the president of the Association of Venezuelan University Rectors, reported that the Maduro administration is yet to respond to the complaints of university teachers.
"The UCV approved a document in which we outlined the adequate wages for professors … we gave it to the Ministry of University Education and to date the salary table is yet to receive any answer," Garcia said.
Orlando Alzuru, president of the Venezuelan Teachers Federation, meanwhile lamented that "there are professionals with master's degrees and PhDs who are earning less than the minimum wage. The sad truth is that the government has forgotten about us."
FAPUV's Stephany similarly reported "a situation of government deafness."
Brain Drain
A general economic crisis is affecting universities, students, and professionals across the country. On Monday, May 4, Carabobo University Dentistry Students protested outside their faculty after their course was suspended.
Students reported that the degree had been axed over a lack of materials, tools, and maintenance, with only one of seven radiology units functioning.
Many professors have had to invest less time in teaching and more in looking for resources and income outside of the classroom. APUCV Director Samuel Pérez argued that many health professors were leaving full-time teaching to work in private practice, while social scientists are turning to other job possibilities.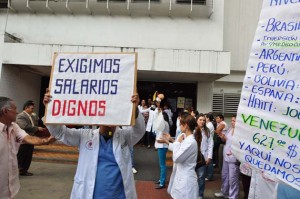 Venezuelan doctors and nurses are also paid below minimum wage.
"A new graduate doctor earns under 5,500 Bs. and a specialist 6,000 Bs. for six hours of work, so many of our colleagues are quitting hospitals," Fernando Guevara, secretary of the Anzoategui Medical School, told press.
The Venezuelan Medical Federation recently reported that at least 13,000 doctors have emigrated from Venezuela in recent years in search of greater job opportunities abroad.
Sociologist Iván de la Vega indicated in February that over 1.4 million people have emigrated from Venezuela in the last 20 years, with the highly educated making up the highest proportion of emigrants among any Latin-American country.
"We are losing our most valuable resource: the intellectual resources" of scientists, technicians, doctors, and other professionals, de la Vega concluded.
Translated by Orlando Avendaño. Edited by Laurie Blair.