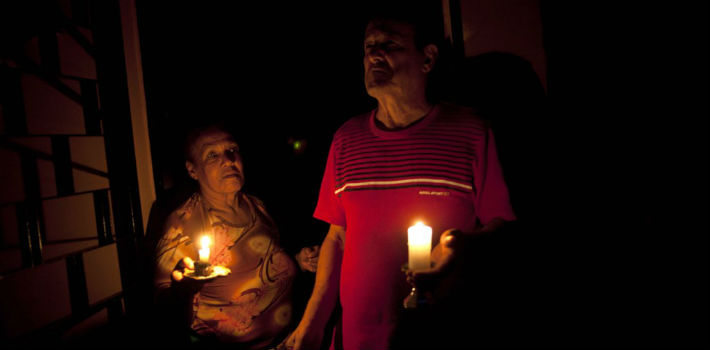 EspañolOn Tuesday, April 28, the Venezuelan government implemented a plan to ration electricity that reduces the working day of public institutions and forces some private companies to generate their own power — despite Energy Minister Jesse Chacón's recent claim that the country's power service had been "normalized."
According to Vice President Jorge Arraza, the new energy-saving scheme is necessary due to a heatwave, the "industrialization of capitalism," and perpendicular rays of sunlight, all of which have reportedly produced an increase in demand, threatening the "stability of the electrical system."
Some public-sector workers will now only work for five and a half continuous hours, and the government will regularly inspect companies to verify that they are using their own electric plants to generate power at "peak times" — from midday to two in the afternoon, and from six in the evening to 10 at night.
The public sectors of education, health, food production and distribution, drinking water, electrical energy, the hydrocarbon industry, citizen security, police, and waste collection are all exempt from the auto-generation measures. Also free from inspection are the tax and customs services, public transport agencies, the postal service, state telecoms agencies, government media outlets, and public banking services.
"Sabotage" Claims
The moves to restrain energy consumption follow a series of severe power cuts that contradict regime claims to have the country's electricity needs under control.
On April 28, multiple areas of the Sucre neighborhood, Caracas, were plunged into darkness on repeated occasions. Two days prior, eastern parts of the capital also suffered outages. The interior of the country has endured both scheduled and unexpected power cuts throughout the first quarter of the year.
On April 20, the authorities announced the arrest of Luis Vásquez Corro, president of the Electrical Committee of the Lara College of Engineers, after he reported: "if in the forthcoming days it doesn't rain upstream of the Guri dam, all the turbines of this hydroelectric system, which supplies energy to a huge part of Venezuela, will have to be turned off."
The engineer also complained that "the government hasn't had the will to take the precautions of repairing all the country's thermoelectric plants to activate them in any emergency, meaning that some 5,000 megawatts will be out of service."
According to Interior Minister Gustavo González López, Vásquez's arrest was designed to disprove his warnings of a possible national blackout. On April 21, the engineer was released.
While the officials of the central government have blamed the latest shortages on a heatwave and increased demand, in 2010 it claimed that a rogue iguana was responsible for leaving 10 neighborhoods of Lecherías, a city in eastern Venezuela, without power for 20 hours. In 2012, the authorities attributed power cuts to the natural weather phenomenon El Niño, while in January 2015 the government began to blame outages on "deliberate sabotage."
Víctor Poleo, vice minister for energy during the government of Hugo Chávez, told El Estímulo that despite Venezuela having 31,000 megawatts of electrical potential, only 18,000 are currently available to meet demand.
"Around 13,000 are unavailable due to lack of maintenance and replacement parts, or worse still, fuel scarcity, meaning refineries have serious problems in producing," Poleo explained, using unofficial data, as the government hasn't issued energy figures since 2010.
Elio Palacios, secretary to the Federation of Electrical Workers for Caracas, Vargas, and Miranda, indicated in March that electricity rationing could be put in place in April if there were no rains.
El Estímulo argues that official opacity about the country's energy situation has prevailed since 2009, when the country went through severe electrical shortages amid low levels at the Guri hydroelectric reservoir, low output at thermal power plants, and insufficient capacity in power lines for transmission and distribution.
Evidence of government mismanagement surfaced on April 14 last year, when a video circulated on social media of the Eastern Highway in Carabobo State fully lit up by street lamps and floodlights in the middle of the day.
Last One Out, Turn the Lights Off
After taking up his post as energy minister in April 2013, Chacón told press: "If in 100 days we haven't achieved anything, I'll tender my resignation." Two years later, the minister argues that significant progress has been made.
Journalist and political analyst Manuel Malaver published on Wednesday analysis in which he argues that Chacón "didn't solve the electricity crisis, but rationed it."
The Venezuelan government "decided to divide up or ration the goods or services that it initially maintained" after "testing and experimenting" with the electricity supply," Malaver explains. He brands the latest energy saving plan "another step towards Cubanization and socialism, that will only translate into more harm and humiliation for the people."
In March, former Vice Minister for Energy Nervis Gerardo Villalobos and former Vice Minister for Electrical Development and President of the defunct firm Caracas Electricity Javier Alvarado Ochoa were among those discovered to have taken part in illegal activity within the energy sector, including money-laundering via European banks.