EspañolRafeal Isea, the former governor of Venezuela's Aragua State for the ruling United Socialist Party of Venezuela (PSUV), has joined a DEA witness protection program, according to his successor, Tareck El Aissami.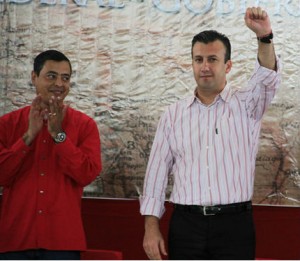 El Aissami, who was a close colleague of Isea, described him on Friday, April 17, as a "bandit and a traitor" for having fled to the United States to collaborate with Washington on charges against Venezuelan officials.
"Isea is a refugee in Washington in exchange for offering worthless information against Venezuela," the governor said, claiming that he informed former President Hugo Chávez of corrupt activities by Isea, but he asked him to "stay quiet."
"I wanted to make a serious complaint. Over two years I always kept quiet because commander Chávez told me when he sent me here: I'm removing one of my sons as a traitor, you as another son can't fail me," El Aissami added.
In September 2014, Attorney General Luisa Ortega Díaz asked Interpol to put out a red alert for Isea, who faced an arrest order for alleged corrupt activities.
On September 17, 2013, Panamanian diplomat Guillermo Cochez reported via his Twitter account that Rafael Isea Romero had handed himself over to US Drug Enforcement Administration (DEA).
Isea rapidly responded via the same medium: "If it were true that I spoke with the DEA, there would already be official confirmation. Has anyone seen such confirmation? It doesn't exist, because it never happened."
"End of speculation!" he added. "What I will do is take up my studies again after 10 years of a revolutionary interlude and dedicate more time to my family.… I don't trade my ideals nor my principles, like the sad opposition Venezuelan is trying to make people believe through spreading lies."
The former state governor's Twitter account is currently protected.
Isea is being investigated by the Aragua State government (now presided over by El Aissami), the region's legislative council, and the national Attorney General's Office for the paralysis of five state infrastructure projects and the absence of US$58 million and EUR$9 million.
Textbook Corruption
On Monday, April 20, Venezuelan journalist Sebastiana Barráez also reported via her Twitter account that a judge has issued an arrest warrant for former government official Major General Hebert García Plaza on charges of "embezzlement in the acquisition of three ferries."
La jueza 10 de control del AMC, Nahilu Sánchez doctor orden de aprehensión contra el mayor general y ex ministro Hebert García Plaza.

— Sebastiana Barráez (@SebastianaB) April 21, 2015

"Judge Nahilu Sánchez issued an arrest warrant for the former minister, Major General Hebert García Plaza."
Barráez explained that García Plaza — who headed up the ministries responsible for food and aquatic transport, as well as being in charge of the Greater Body for the Popular Defense of the Economy (OSDPE) — is currently not in the country. The judge in charge of the case has requested that Interpol issue a red alert against García Plaza, who was fired from his post in September 2014.
During his time as director of OSDPE, García Plaza promised to "purify" Cadivi, the state body formerly used to issue currency reserves to importing business, "from corruption and finish with ghost companies" used in corruption schemes. He soon became the principal driver of judicial proceedings against businesses found guilty, according to the government, of "usury" and "speculation."