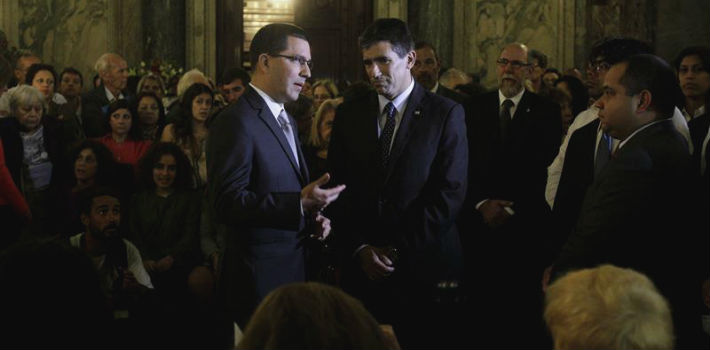 EspañolUruguay has offered to give Venezuela food in exchange for oil, the Uruguayan government reported on Thursday, after Vice President Raúl Sendic met in Montevideo with his Venezuelan counterpart Jorge Arreaza.
Sendic explained that Uruguay has to "establish a permanent flow of trade and exports" with Venezuela, because "there's little availability of money in this country." As a result, Montevideo is to offer exports of rice, dairy products, and chicken in exchange for Venezuelan petroleum.
According to a press release by the Uruguayan presidency, both vice presidents agreed to apply "a program of commercial and energy issues to advance in bilateral negotiations."
The declarations made by Sendic would appear to contradict the statement made by Venezuelan President Nicolás Maduro in January 2015 that "Venezuela has enough money for the country to continue as normal."
Arreaza also claimed after Thursday's talks that "Venezuela has energy resources for all of Latin America," adding a positive spin that the new Caracas-Montevideo alliance "seeks to boost the social movements, peoples, and cultivators of both nations."
In 2005, Uruguay signed a Energy Integration Agreement with Venezuela, establishing subsidized prices for crude and a 15-year financing agreement, which has since been renewed annually.
In January 2015, Venezuela made the financing scheme more flexible, permitting Uruguay to pay for only 25 percent of the delivered fuel within 15 years, and to pay for another 50 percent with foodstuffs.
Crude Oil for Food
In an attempt to ameliorate the shortage of basic products in Venezuela, Caracas has established commercial deals with various countries involving the swap of food for crude.
Venezuela, formerly a leading exporter of coffee, is currently subscribed to a deal with Nicaragua exchanging barrels of oil for sacks of coffee beans.
In the last three months of 2014 alone, Venezuela imported almost 70,000 sacks of Nicaraguan coffee, more than any other country. The purchases were made under the Petrocaribe Agreement, through which Venezuela sends subsidized petroleum to its political allies in exchange for basic goods.
In February 2015, Maduro also signed a deal with the Caribbean nation of Trinidad and Tobago, through which Venezuela delivers crude and asphalt in exchange for toilet paper, refined gasoline, and machine parts from the neighboring twin islands.
In 2014, Venezuela and Argentina signed a similar "swap" of basic products for oil. The details were firmed up under the aegis of the second presidential summit of the Community of Latin American and Caribbean States (CELAC) in Havana, Cuba.
Then-president of state firm Petroleum of Venezuela (PDVSA), Rafael Ramírez, said at the time that "the mechanisms of petroleum that we have in force between both nations will become an instrument to bring products to Venezuela and thus satisfy the needs of our people, in the face of the problems that we have in some areas … through these petroleum deals, we're targeting areas like food, agricultural machines, and pesticides and chemicals, among others."
"Sabotage" and Empty Shelves
Nevertheless, the results of these deals are yet to be reflected on the shelves of the Caribbean nation which, after 16 years of the Bolivarian Revolution, has to import 70 percent of the food that it consumes. In 1999, by contrast, Venezuela was able to meet 70 percent of national demand through domestic production.
On Friday, April 16, business leaders and analysts met to denounce the risk of a food crisis in Venezuela. Economist Asdrúbal Oliveros signaled that a situation of "growing chaos" would worsen in the coming months as scarcity becomes more pronounced, imports increase, and inflation accelerates.
President of research firm Datanálisis Luis Vicente León meanwhile indicated that household levels of scarcity, at 26 percent on average, is lower than the commercial shortfall, due to individuals stocking up on supplies to insure themselves against future empty shelves in supermarkets.
León nevertheless reported that the next quarter will see worsening shortages due to "the errors in economic management during a crisis."
The National Federation of Livestock Producers (Fedenaga) also raised fears over the shortage of meat products in the country. Fedenaga President Carlos Albornoz argued that the supply of this vital source of protein would only diminish in the coming months. He cited price regulation policies, which sometimes serve to set price tags per unit lower than production costs.
Vice president of the Confederation of Agricultural Producers Associations (Fedeagro), Aquiles Hopkins, also reported that cereals will become ever scarcer. "The reserves aren't enough, due to the fall in national production," Hopkins noted, attributing the drop in harvests to the lack of fertilizers and machine parts.
Maduro has meanwhile denounced an "economic war" and blamed the owners of private enterprises for the problems facing Venezuela. Last week, he threatened to "turn the revolution against all those who sabotage it" and promised to prosecute those "who continue to dedicate themselves to impeding the supply [of goods]."
Jorge Roig, president of national chamber of commerce association Fedecámaras responded to Maduro's comments by saying that he hoped "that said sanctions would also be applicable to those public companies that were expropriated and are the first to fail to produce."
Víctor Maldonado, executive director of the Caracas Chamber of Commerce, Industry and Services, meanwhile argued that those firms expropriated by the Venezuelan government have been "completely ruined."