EspañolAs tensions between the United States and Venezuela heightened this week, international organizations and political figures have added their voices in support or condemnation of one side or the other.
On Tuesday, March 10, the US Congress praised the decision of President Barack Obama to impose sanctions on seven Venezuelan officials alleged by Washington to be behind human-rights abuses against Venezuelan citizens.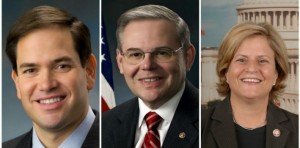 Senators Marco Rubio, Robert Menéndez, and Ileana Ros-Lehtinen — who have recently been prohibited from entering Venezuela — described Obama's executive order as a good first step in punishing the "wave of repression" emanating from the government of President Nicolás Maduro towards the Venezuelan opposition and civil society. The trio insisted that many more individuals should receive sanctions, including Venezuelan Defense Minister Vladimir Padrino López.
The Cuban government of Raúl Castro meanwhile issued a statement showing its "unconditional support" for the Maduro's administration after the new US sanctions were applied.
Castro described Obama's statements as "arbitrary and aggressive," arguing that they were reprisals for measures adopted by Maduro "in defense of his sovereignty in the face of interfering acts by the governmental authorities of the US Congress." According to Cuba's official daily Granma, Fidel Castro also sent a letter to the Venezuelan president congratulating him on his "brave and brilliant speech against the brutal plans of the United States government."
Ernesto Samper, secretary general of the Union of South American Nations (Unasur), described the sanctions imposed by the United States as likely to "radicalize enmity" between the two countries amid "an already polarized situation in Venezuela."
According to Unasur, both the US executive order and the response of the Venezuelan government "don't contribute to cooling and clarifying the current [diplomatic] climate."
"Anti-Imperialist" Crackdown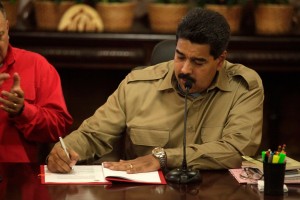 On Monday, March 9, Venezuelan President Nicolás Maduro responded to Obama's announcement of sanctions, saying that he would ask the National Assembly to pass a law allowing him to take measures "against imperialism."
Elsa Cardozo, an international-relations expert and columnist with Venezuelan daily El Nacional, told the PanAm Post that Venezuela is "deploying the thesis of an international conspiracy," and that Maduro's government is likely to use the sanctions as an excuse to pass laws repressing internal dissent — thus affecting the Venezuelan opposition more than the United States.
Venezuelan political scientist Ennio Cardozo agreed, saying in an interview with the PanAm Post that new powers granted by the National Assembly would allow the president to imprison anyone considered to be "pro-United States." Cardozo raised fears that that Maduro's response will give rise to "disproportionate rulings which will further limit the freedom of civil and political rights in Venezuela."
For the political analyst, if Venezuela really wanted to take sanctions against Washington, it could have long done so by halting the sale of oil to the United States.
Hemispheric Tensions
Ennio Cardozo, a professor at Venezuela's Central University, suggested that "it suits Obama to show a more decisive government and portray the United States as an influential country within its neighborhood," but noted that the sanctions could "risk the ground" Washington has gained in improving relations with other regional countries.
Nevertheless, he explained that the links between human-rights violations and senior Venezuelan government figures implied by the sanctions would prove damaging, especially when added to Venezuela's deteriorating economic situation.
Venezuela's dire financial straits, he added, would likely make it refrain from taking measures against the United States, as "it doesn't suit Venezuela to have commercial problems with its principal provider of fresh currency reserves."
Cardozo explained that Obama's government felt "growing pressure" from the US Congress to apply new sanctions in the face of the "accumulating impunity" of the Venezuelan government.
He added that measures passed by Maduro in response to the initial announcement of US sanctions in December 2014, which prohibited four US congressmen from entering Venezuela for promoting the Venezuela Defense of Human Rights and Civil Society Act, were a particular spur to Obama's application of sanctions.
The university professor believes that the US government feels it has "strengthened relations in the hemisphere" and can thus afford the risk of issuing sanctions.
Targeting Threats
According to a press release issued on Monday by the White House, the United States has between 20 and 30 sanctions programs in force against various countries based on similar declarations of emergency to that announced with regard to Venezuela.
In recent years, the United States has declared states of emergency in countries such as Ukraine, South Sudan, the Central African Republic, Yemen, Libya, and Somalia.
Cardozo added that Obama's executive order shares a similar appearance and motivations to a 1995 law which created the Specially Designated Narcotics Traffickers List (the "Clinton List"), which sanctioned foreign officials for crimes threatening US security. However, in this case, narco-trafficking offenses are replaced by corruption, violence, mistreatment of the opposition, and impunity for repressive acts.
A source from the Treasury Department explained to BBC Mundo that sanctioned individuals are considered a "threat" to the health of the US financial system, and thus constitute a problem for national security.
As such, Cardozo explained that the sanctions taken by the United States aren't designed to affect the Venezuelan people, but are directed against seven officials that the Obama government considers to be "threats."