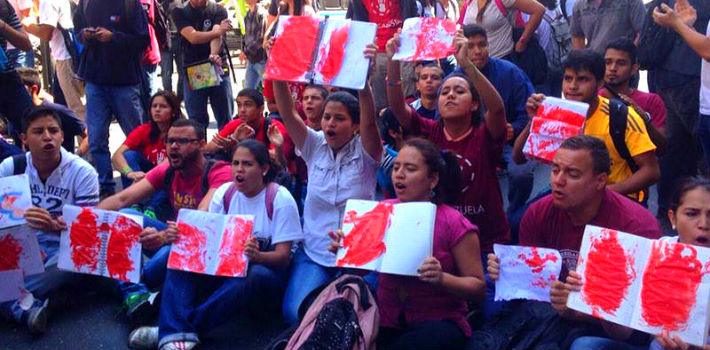 EspañolThe police killing of 14-year-old Kluiverth Roa on Tuesday in San Cristobal, Táchira, has shocked the nation of Venezuela. Students across the country have taken to the streets in protest, criticizing President Nicolás Maduro and his attempts to justify the killing.
Attorney General Luisa Ortega Díaz reported that authorities have arrested 23-year-old National Police officer Javier Osías Mora Ortiz and charged him with homicide, misuse of a weapon, and violation of international covenants and conventions.
Thabata Molina, a reporter with the PanAm Post, confirmed on Wednesday with the Criminal, Penal, and Forensic Investigation Agency (CICPC) that it was a rubber bullet from a 12-gauge shotgun that fatally wounded Roa.
In a televised speech on Tuesday, President Maduro condemned the killing, but qualified his comments by suggesting the police had been provoked by a group of demonstrators.
Rafael Uzcátegui, general coordinator of local human-rights NGO Provea, told the PanAm Post that he believes the president acted irresponsibly in trying to justify Roa's murder, and blamed Maduro for the increased levels of conflict in the country in recent times.
For Uzcátegui, Roa's murder is a consequence of the violent discourse emanating from the Venezuelan government and its attempt to delegitimize a portion of the population. Criminalizing protests will only result in greater incidents of violence, says Uzcátegui.
The Provea representative believes it is in the government's interest to polarize the country ahead of the coming parliamentary elections. Uzcátegui says the shortage crisis Venezuelans have suffered through the last six months had united the public against the president, but "senior analysts have advised Maduro to push for a re-polarization of the country."
Seven Killed in Seven Days
The killing of Kluiverh Roa has raised the death toll in Venezuela to seven youths in a single week, all similarly killed by a shot to the head.
On Wednesday, February 25, residents of Caracas reported a National Police officer shot and killed 18-year-old Jefferson Pérez.
On February 17, authorities recovered the bodies of Andes University students José Daniel Frías Pinto (20) and Julio Alejandro García Adonis (22) in Zulia State. According to the mayor of Mérida, Carlos García, police had arrested the students during a protest, but had not been seen since.
On February 19, police in Táchira found the body of Jhon Barreto Ramírez (21), a student at the National Experimental University of Táchira (UNET). On Saturday, February 21, authorities in Catia (Caracas) recovered the bodies of student activists Yasmir Tovar (22) and Luis Aranyi García (21).
Violence against Children
On Wednesday, February 25, the Venezuelan nonprofit Cecodap published a study titled Somos Noticia (We Are News), which reported a 32-percent increase in cases of institutional violence against children and adolescents in 2014, compared to the previous year.
The study claims that assaults and abuses of power by officials from state-security agencies resulted in the deaths of more than 100 adolescents in 2014. The NGO notes there were a total of 238 cases of institutional violence against young people in 2014, 31 of those cases involving children, and the rest adolescents.
112 adolescentes y 4 niños mueren por agresiones de funcionarios de cuerpos de seguridad. #HomicidiosNNACecodap

— Cecodap (@cecodap) February 25, 2015

"112 adolescents and 4 children died at the hands of state-security forces."
Protests across Venezuela
On Wednesday, students from universities across Venezuela protested the police killing of Kluiverth Roa. They demanded justice and the immediate repeal of Resolution 8610, which authorizes police to use deadly weapons during demonstrations.
After several hours of protests at Los Andes University (ULA) in Mérida, students reported three protesters had been injured: one purportedly wounded by a bullet to the leg, and another from buckshot.
Two students from ULA, located in the heart of Trujillo state, were detained for hours without treatment to their injuries from shotgun pellets.
In Maracaibo, Zulia State, police arrested 90 people, including 20 under the age of 18, during protests at Rafael Belloso Chacín University, where one injury was reported.
Protestors in Tachira burned cars and clashed with security forces. Uzcátegui said he received reports of demonstrations in eight cities across Venezuela.
Estudiantes de la UC se concentraron este miércoles para repudiar la muerte de joven en Táchira. pic.twitter.com/vsULXqSAnc

— Gran Valencia (@GranValencia) February 25, 2015

"UC Students gathered Wednesday to protest the death of a child in Táchira."
Law professors from various universities across Venezuela issued a joint statement in which they criticized the use of lethal force to disperse demonstrations. "Clearly, the Venezuelan government plans to face the crisis with escalating repression, terrorizing citizens, limiting their freedoms, and preventing them from exercising their fundamental rights."
The Union of South American Nations (UNASUR) also released a statement Tuesday addressing their concern over recent events: "The General Secretariat of UNASUR regrets the death of the Venezuelan student, Kluiverth Roa, and reaffirms the willingness of UNASUR to find a democratic and peaceful solution to the tense situation experienced by our brother country."
The General Council of Student Representatives of the Andrés Bello Catholic University urged authorities to fully investigate the deaths of their fellow students, and called for authorities to respect human rights and end impunity.
Translated by Michael Pelzer. Edited by Guillermo Jimenez.