EspañolWednesday, February 18, marks one year since the Venezuelan authorities imprisoned Leopoldo López, opposition leader of the Popular Will (VP) party.
López is charged with crimes related to the protests that rocked the country between February and May 2014, and remains in solitary confinement in the Ramo Verde military prison. Also jailed for political reasons is Daniel Ceballos, the former mayor of San Cristóbal, Táchira State, Daniel Ceballos.
López handed himself into the authorities following the issue of a public warrant for his arrest on February 12, 2014, in the wake of clashes at the Venezuelan attorney general's office that left three dead and dozens wounded. Judicial hearings since then, according to his defense team, have been plagued with irregularities.
On Wednesday, his wife, Lilian Tintori, asked Venezuelans to dress in white to commemorate the situation facing López and the country since his emblematic arrest one year ago. Representatives from the opposition Democratic Unity Roundtable and civil-society organizations gathered in Caracas's plaza Brión, the location of López's last public statement before turning himself in to the authorities.
Various public figures also showed their support for the peaceful demonstration called by Tintori, among then former Colombian and Chilean Presidents Andrés Pastrana and Sebastián Piñera, Venezuelan singer Ricardo Montaner, and governor of Miranda State and 2013 presidential candidate Henrique Capriles Radonski.
"Abuses" in Trial
One day after handing himself in, López was brought to a "Mobile Court" — a bus stationed outside the gates of the Ramo Verde prison — and charged with inciting violence, conspiracy, damage to property, and arson.
In June 2014, judge Adriana Lopez Orellana ruled the jailed VP leader would stand trial and confirmed his ongoing pretrial detention, which by that point had extended to some four months.
On September 10, an official inspection into the attorney general's office found that no fire had taken place on February 12 as alleged, leading to the dismissal of this particular charge.
However, López still faces 142 items of evidence against him, with only one in his favor. His legal team claim that judges have admitted all of the prosecution's evidence while rejecting almost all of that submitted by the defense.
On January 21, 2015, Leopoldo López's lawyers reported that the prosecution had taken the principal evidence in his favor, transcripts and recordings of his public speeches, and incorporated it in a report by linguistic expert Rosa Amelia Asuaje claiming that the opposition leader's speeches incited violence through subliminal messages.
January's trial was held behind close doors, contrary to Venezuelan law, with several members of López's family denied entry. On January 30, the judge expelled the father of the accused for trying to record the hearing.
On February 10, López's defense complained that judges had banned international observers from attending the hearings. Defense attorney Juan Carlos Gutierrez argued that restricting public access to the court violated the right to due process, and claimed that the trial was "completely invalid because of multiple abuses."
On February 18, Venezuelan daily El Nacional published an exclusive video of López's hearing, recorded with a hidden camera:
Torture Claims
Lawyers and relatives of López and Ceballos have complained that the authorities have perpetrated a series of psychological and physical tortures against political prisoners.
On July 29, 2014, US human rights attorney Jared Genser reported that detainees had been subjected to arbitrary solitary confinement without sunlight for 23 hours a day over three months.
In October 2014, Tintori and Patricia Ceballos, the former mayor's wife, claimed that prison officials had thrown bags of human excrement inside their cells.
On February 13, 2015, Tintori reported that a military commando unit forcibly entered her husband's cell, using blowtorches and angle grinders to melt the bars, and subsequently ransacking its interior.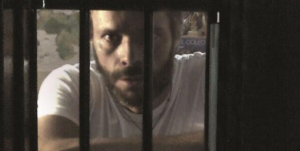 On Saturday, February 14, it emerged that that López had been sent to a punishment cell where he is to remain for 15 days.
Tintori has repeatedly alleged that López has been denied family visits. "In the 12 months Leopoldo has been imprisoned, they didn't let us see him for six and a half months. The children were crying at the gate but the military wouldn't let us pass," Tintori told NTN24.
International Condemnation
On Wednesday, February 18, Spain's Popular Party (PP) and Socialist Worker Party (PSOE) called for Leopoldo López's freedom through a formal statement in Congress. PP deputy Cayetana Alvarez de Toledo urged the Spanish government to take "all relevant initiatives" via the European Union and international organizations to obtain the immediate release of the opposition leader.
In September 2014, the UN Working Group on Arbitrary Detention, also called for López's release, a request reiterated by the UN High Commissioner for Human Rights and the Committee against Torture.
In November of the same year, Amnesty International urged the government of Venezuela to comply with the UN's multiple recommendations.
In December 2014, the European Parliament also called for Lopez's release. European Union (EU) member state representatives backed a resolution on the "persecution of the democratic opposition in Venezuela," urging the Venezuelan government to come into line with the UN rulings.
López also received the express support of former regional political leaders Sebastián Piñera, Felipe Calderón, and Andrés Pastrana.
On February 5, Irwin Cotler, a lawyer who was instrumental in the release of former South African President Nelson Mandela, announced his plans to join López's defense team.
Translated by Michael Pelzer. Edited by Laurie Blair.