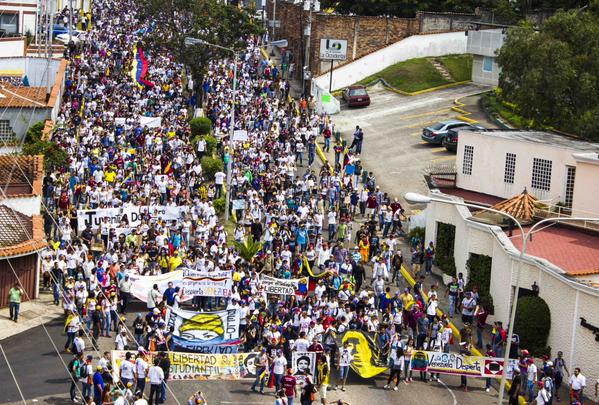 EspañolOn Thursday, February 12, Venezuelan citizens took to the streets once more in at least 19 cities across the country, marking the anniversary of four months of the nationwide protests dubbed 12F that claimed the lives of 40 people in 2014. Demonstrators demanded justice for those killed, and the release of dozens of political prisoners. Police arrested at least 26 people over the course of the day.
One march in San Cristóbal, Táchira State, ended in violent clashes with security forces. Protesters in the western city marched on the seat of the local citizens' rights ombudsman to call for the release of jailed opposition figures, and the annulment of a resolution issued in late January which critics claim allows the armed forces to use lethal force, including live ammunition, to quell demonstrations.
Upon arriving at their destination, marchers found a cordon of state and National Police (PNB) bolstered by the National Guard (GNB). Officials said that they let two protesters enter the building to deliver a written statement of demands, but the situation turned sour only minutes later. Protesters began to throw heavy objects, and security personnel responded by launching tear gas canisters. Táchira State Governor Vielma Mora later told press that police had arrested 11 people.
Caracas: Commemorations and Chaos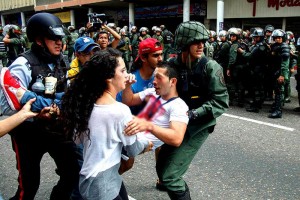 In Caracas, a group of young people decided to march to the San Pedro church to attend a commemoration mass for those killed on February 12 last year: Bassil Dacosta, Juan Montoya, and Robert Redman. However, PNB and GNB officers barred their way.
As the marchers were denied access to the church, the priests leading the mass came out to hold the ceremony with them. The students formed a "human cordon" around them to prevent clashes.
A second group of marchers convened by the Resistance group issued a statement distancing themselves from the opposition coalition Democratic Unity Roundtable and the government student organization. "We advance without any political leader. Only the youth," it read.
Later in the day, another mass was held in honor of Dacosta in the church of the Candelaria district. Unlike the ceremony at San Pedro, however, the event resulted in 15 arrests, the burning of debris in the streets of eastern Caracas, and the use of tear gas by security forces.
The Great Hall in Venezuela's Central University was meanwhile host to representatives from multiple universities who joined to pay tribute to the victims and to those still in prison, and to lay the groundwork for future demonstrations to call for their release. Many students present criticized the government for ordering the closure of Metro stations citywide, arguing that the move was designed to prevent protesters from joining demonstrations.
In other regions of the country, marches went off without violent incident, although hooded protesters in Carabobo attempted to set up barricades and burn tires in the streets.
Reprisals against López and Ceballos
On Friday, February 13, a year after opposition leader Leopoldo López briefly went into hiding before turning himself in to authorities five days later, his wife Lilian Tintori announced via Twitter that a group of soldiers had ransacked her husband's cell in the Ramo Verde military prison.
ALERTA: comando militar irrumpe violentamente celdas de @leopoldolopez @Daniel_Ceballos Destrozaron sus celdas! RT Por favor!

— Lilian Tintori (@liliantintori) February 13, 2015

"Alert: military commandos violently broke into the cells of @leopoldolopez @Daniel_Ceballos. They destroyed their cells!"
In a press conference, members of López's Popular Will (VP) party detailed how the unit had broken down the bars to López's and Daniel Ceballos's cells with blowtorches and angle grinders, subsequently smashing up their interiors. The pair were left shaken but unharmed.
Only a day previously, Tintori had reported a similar event. While demonstrations were taking place nationwide, 36 hooded, gun-toting officers bearing Military Intelligence Directorate (DGCIM) insignia burst into López's and Ceballos's quarters.
Tintori claimed that the operation was "commando style," and accused the prison director Colonel Homero Miranda of being behind the raid.
The authorities claimed that it was a routine search operation, but López's wife highlighted that neither attorneys from the Public Ministry nor state ombudsman officials were present to guarantee the safety of the prisoners. In the face of repeated complaints about the illegality of the raid, the soldiers withdrew, but reportedly threatened to return: "Tonight we're coming back with everything, so get ready."
Following the threat, Tintori spent part of the night outside the Ramo Verde prison to monitor her husband's situation, although she received no information from prison authorities.
ALERTA: Estamos a las puertas de Ramo Verde y no nos dejan constatar que pasa con Leopoldo pic.twitter.com/Ne1PE6B2tH

— Lilian Tintori (@liliantintori) February 13, 2015

"Alert: we are outside the gates of Ramo Verde and they will not let us find out what has happened with Leopoldo."
On Friday, before being informed of the subsequent raid on her husband's cell, Tintori held a press conference to call for a peaceful protest on Wednesday, February 18, dubbed "See Venezuela in White," to mark the first anniversary of López's arrest.
Tintori called on people to write a message of peace on a white garment or piece of cloth and put it on view in buildings, offices, the streets, or their own clothing. "From this February 18, we'll see Venezuela in white, at peace, for Bassil Dacosta, for the fallen, for political prisoners, against scarcity and injustice," she told reporters.
The protests that began on February 12 and continued for four months left around 40 dead, over 3,000 people injured and arrested, of whom 60 people still remain behind bars.
Translated by Laurie Blair. Edited by Guillermo Jimenez.