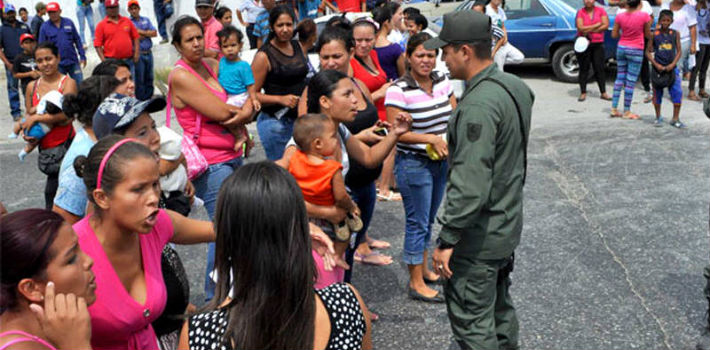 EspañolLining up to buy basic goods in Venezuela is no longer just a daily routine: it has also led to a new, creative way of making money. Local media have reported various new examples of entrepreneurial spirit amid the scarcity, including families setting their children to work as a "passport" for people to hire and use to skip lines.
On Thursday, it came to light that that many Venezuelan parents are bringing their kids to stores to "rent out" their talents for tantrums. Police or military officials guarding the entrance to thinly stocked supermarkets then feel obliged to let parents carrying crying babies past. Apparently wailing newborns are in particularly high demand, whose skill in helping their "parents" skip the line can fetch their real family up to US$2 a time.
Ruth Palma, president of the municipal council for children's rights in Girardot, Aragua State, said on Thursday that there are several legal norms that punish those who use their children as "tools," including the loss of custody and up to three years in jail.
Shopper Nohami Guzmán meanwhile told local daily El Siglo, with her baby in her arms, that she'd brought him to the line for several reasons, not least because she had no one to look after him. "This is a quicker way to get in, and we have some privileges in the lines," she said. "And whenever I go to buy diapers they always ask me for the birth certificate," the young mother added.
Others have similarly said that they need to bring their children in order to buy diapers. Palma, however, has claimed that this is false, saying that shoppers need only present birth certificates. She added that between December 2014 and January 2015 some 70 children were separated from and later returned to their parents as a result of chaotic supermarket lines in her neighborhood alone, one of two districts that comprise Maracay (pop. 400,000), the capital of Aragua State.
Adding Injury to Insult
There have also been cases of women risking their health of their unborn children while waiting in line for scarce products. Venezuela's La Verdad reported on Friday that a woman 36 weeks pregnant suffered a miscarriage while waiting in line for hours at Maracaibo, Zulia state.
Shoppers told how Maigualida Gutiérrez began to complain of abdominal pains after spending several hours waiting to enter the supermarket, whose personnel called for medical assistance.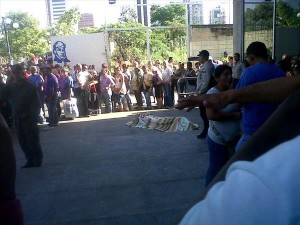 In another incident in June 2014, 57-year-old Leopoldo Pineda suffered a fatal heart attack while waiting in line outside a government-run Bicentenario store in Carabobo State. Pineda had left his house at dawn to secure the number that would allow him to buy milk, but when he reached the store, he felt dizzy and collapsed.
Bystanders reported that the stress and discomfort of waiting in line since dawn had brought on Pineda's death. In Venezuela, shoppers routinely talk of "surviving" lines, which have often been host to disturbances and scuffles in the struggle to buy basic goods.
"Scavenging" for Profit
On Thursday, February 5, El Universal reported that across the country, but particularly in Caracas, thieves circulated in vehicles nearby supermarkets with long lines, scoping out potential marks. Once shoppers eventually reemerge with their precious cargo of basic goods, the robbers swoop in to strip them of their purchases and even their personal belongings.
According to the paper, a mass attack on shoppers took place outside the Makro store in Turmero, also in Aragua state. Store staff divided the waiting crowds into two lines, with one for those who were paying in cash. Minutes later, several thieves arrived on motorbikes, seizing the money of everyone waiting outside.
Another form of "scavenging" is to become a "line professional," with many waiting in line to later sell on the products they purchase.
Venezuelan President Nicolás Maduro has complained of a "professional line mafia who handle lots of money," describing individuals waiting in line who collaborate with store personnel to generate rumors about the arrival of the most in-demand products.
Últimas Noticias similarly featured a recent news item about line professionals, revealing that they earn between US$3 and $6 a day. A source explained that his clients were "people who don't have the time or need to wait in line. They have their own lives going on, and can afford to pay someone." Several restaurant owners have also reported hiring an employee exclusively to wait in line to secure the products they need for their menus.
Meanwhile, street vendors rent chairs and stools for around US$0.05 an hour, sell cold drinks and food to cater to the needs of those waiting in line.
Translated by Laurie Blair. Edited by Guillermo Jimenez.