EspañolIrwin Cotler, the Canadian lawyer who served as defense counsel to former South African President Nelson Mandela, is to offer his services to jailed Venezuelan opposition leader Leopoldo López, he announced on Thursday, February 5. Cotler told press that he will soon travel to Caracas to verify López's situation, incarcerated in the Ramo Verde military prison since February 18, 2014, and work ad honorem for his release.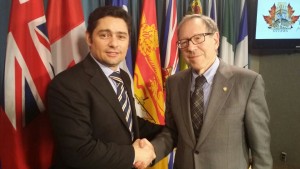 The news was welcomed by the national coordinator of López's Popular Will (VP) party, Carlos Vecchio, during his visit to Ottawa and Montreal. Vecchio told reporters on Thursday that he'd met with Cotler to finalize details about his participation in López's legal team.
Cotler, a former justice minister and attorney general of Canada, previously called on the government of President Nicolás Maduro to free López in December 2014, in an act carried out by the Canadian parliament to commemorate the first anniversary of Mandela's death. Cotler signaled that he would take up the international cause for the opposition leader's release in the face of "injustice."
Cotler, a renowned expert in international law and human rights, has also previously served as a legal counsel to Jacobo Timmerman in Latin America and Muchtar Pakpahan in Asia, as well as several other well-known political prisoners. In 1986, he represented Natan Sharansky, imprisoned in a Soviet gulag for Jewish activism.
Vecchio joined members of Popular Will's international wing to participate in a forum at Montreal's McGill University, also holding meetings with several politicians to talk about Venezuela's economic and human rights situation. He received the backing of Canada's Green Party, Elizabeth May, who joined the Liberal and Conservative parties in calling for the release of political prisoners in Venezuela.
Venezuelan Attorney General Luisa Ortega Díaz revealed on Thursday that López's father was ejected from a hearing for allegedly filming proceedings without authorization using a pair of adapted glasses. When he was discovered, he handed the spectacles to an English official waiting outside in Caracas's Palace of Justice. Díaz stated that the Venezuelan Foreign Ministry would seek an explanation from the British government for the diplomatic official's involvement.
López was arrested in February 2014 after being accused of conspiring to overthrow the government, in the wake of a student protest in Caracas that led to a wave of demonstrations over three months leaving 43 dead, according to government figures. Several human-rights organization such as Human Rights Watch and Amnesty International denounced abuses allegedly committed by official and irregular security forces.
https://www.youtube.com/watch?v=b_oxcNjiT08
López has since been declared a political prisoner by the UN Working Group on Arbitrary Detention and the Committee against Torture, as well as the European Parliament. However, the opposition leader still faces up to 16 years in jail for allegedly instigating a riot, damaging property, planning arson, and membership of an illicit criminal group.
His lawyers and family have reported that prison authorities isolate López up to 22 hours per day, as well as violating his other fundamental rights. Two weeks ago, former presidents of Chile and Colombia Sebastián Piñera and Andrés Pastrana were prevented from visiting him during a trip to Venezuela.
New Diplomatic Incident Emerges
On Wednesday, February 4, president of the Venezuelan National Assembly Diosdado Cabello accused the Canadian ambassador to the South American nation, Ben Rowswell, of "intervention in internal affairs," after the diplomat issued human-rights awards to local human-rights NGOs critical of Maduro's government.
According to Cabello — who was recently accused of narco-trafficking by his former bodyguard Leamsy Salazar — Rowswell is an "expert in electronic warfare." The ambassador's awards, backed by the Canadian government, went to long-standing director of human-rights NGO Provea Marino Alvarado, and to Marco Ponce of the Observatory for Conflict, which records every protest reported by Venezuelan media. Also recognized was Alfredo Romero, director of the Venezuelan Penal Forum, which has defended the hundreds of people imprisoned after the 2014 protests for free.
In a national televised broadcast, Cabello claimed that Alvarado "has problems with his Colombian nationality," that Ponce "published a report defaming the country," and that Romero "pays the protesters in dollars and defends everyone who plots [against the government]."
For the moment, neither the Venezuelan government nor the Canadian authorities have commented on Cabello's accusations. On Wednesday, Maduro told supporters at a rally of the existence of an "international conspiracy" to overthrow him lead by US Vice President Joe Biden.
Rowswell has previously been targeted by José Vicente Rangel, a journalist and one of Chavismo's most prominent supporters, who accused him of seeking to overthrow the Venezuelan government. Eleven months after his arrival to Venezuela, Rowswell confirmed with the PanAm Post via Twitter that the Venezuelan government is yet to confirm his appointment as ambassador.
Asked whether he had any reaction to Cabello's accusations, he directed the PanAm Post to embassy's Twitter account, @embcanvenezuela, in which he signaled that "since 2009 the [human-rights] prize contributes to an open, informed, and respectful dialogue about shared values." Rowswell also tweeted that "the dialogue about human rights is too polarized. We need to extend the discussion to all sectors," and that he perceived "many opportunities to do so, to which I will commit my embassy to doing."
#TBT @benrowswell "Diálogo sobre DDHH está demasiado polarizado. Necesitamos extender la discusión a todos los sectores" #sehabladdhh

— Canadá en Venezuela (@EmbCanVenezuela) February 5, 2015

"The dialogue about human rights is too polarized. We need to extend the discussion to all sectors."
On his biography page, Rowswell highlights his specialization in conflict resolution and political stability. A graduate in international relations from Stanford University, he has previously served Canada in Kandahar and Kabul (Afghanistan), Iraq, and Somalia.
Pedro García Otero contributed to this article.
Translated by Laurie Blair. Edited by Guillermo Jimenez.