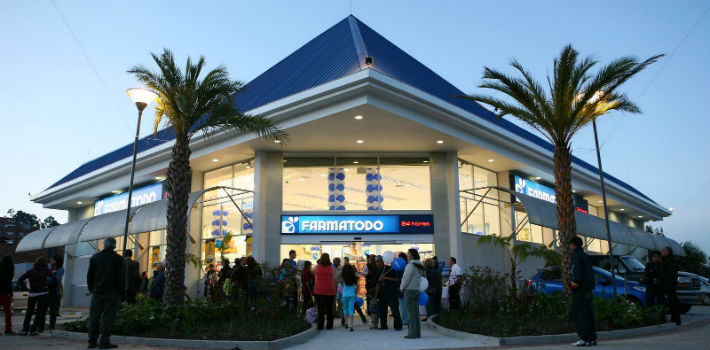 On Sunday, February 1, Venezuelan President Nicolás Maduro called for the arrest of the leaders of pharmacy and foodstuffs chain Farmatodo. The charge: allegedly "conspiring to create shortages of products," and Maduro announced moves to nationalize the chain.
Maduro's measure, however, received a swift condemnation and rejection from representatives of the country's commercial and industrial sectors. They counter that the president himself is responsible for worsening Venezuela's economic situation.
Farmatodo, the largest national pharmacy franchise, has been in operation for 96 years, and employs over 8,000 people in 167 stories.
Alejandro Feo La Cruz, a legal adviser to the Carabobo State Chamber of Industry and director of the Feo La Cruz & Associates legal firm, told the PanAm Post that Maduro's announcement was "arbitrary" and "not in line with the law," as the directors of Farmatodo "have committed no crime."
La Cruz explained that the long lines outside one store that sparked the government's complaint were due to a lack of qualified staff available: "We know nowadays that employees only show up when they feel like working, because the government's labor law which prevents them from being fired."
He claimed to be confused by the government's professed aim of attracting foreign investment when, in his view, "the few who were thinking about investing are now fleeing as a result of measures like these."
Victor Maldonado, executive director of the Caracas Chamber of Commerce, said in an interview that Maduro's government "keeps insisting on a bad diagnosis" and is "seeking enemies where there are none."
Maldonado told the PanAm Post that the arrest of the Farmatodo directors was a "violation of the rights of property and the right of citizens to be presumed innocent until proven guilty."
"The government has claimed that it's Farmatodo's fault that lines are forming outside of its stores, but this is not proof. If it were, you'd have to arrest everyone who has a business and take them to the political police for questioning," he said. "There are lines both in the private and the public sector."
For Maldonado, the government has to realize that the lines are only a symptom of a failed economic policy.
Risky Business
The head of the chamber of commerce argued that the arrest of key business figures without due process would create a chilling effect for those previously considering doing business in Venezuela.
"It shouldn't be that the most risky profession in Venezuela should be business or industry. It shouldn't be that everybody who trusts in Venezuela and wants to invest should run the risk of arbitrary arrest," he said.
Maldonado added that that the country needs to respect property rights and judicial stability, and make the government's commitment towards free commerce clear.
Jorge Roig, president of Fedecámaras, the umbrella organization for local chambers of commerce, also criticized Maduro's moves against Farmatodo.
Farmatodo 96 años apostando al país, mientras que maletineros se roban los recursos del país.

— Jorge Roig Navarro (@jorgeroig) February 2, 2015

"Farmatodo: 96 years supporting the country, while thieves steal its resources."
Prominent opposition leader Henrique Capriles Radonski spoke out against the presidential announcement and showed his support for business leaders.
Farmatodo ha sido ej de esfuerzo privado exitoso,las consecuencias van +allá de esa cadena,estamos hablando de acabar con lo poco q queda

— Henrique Capriles R. (@hcapriles) February 1, 2015

"Farmatodo has been an example of successful private enterprise. The consequences of this will be far-ranging; we're talking about finishing off the little that remains."
Likewise, former National Assembly deputy and prominent critic of the government María Corina Machado took to social media to highlight the "unconstitutional" nature of Maduro's announcement.
Maduro,en su desesperación,comete grave e inconstitucional violación a la propiedad privada e incrementa riesgo de crisis humanitaria

— María Corina Machado (@MariaCorinaYA) February 2, 2015

"Maduro, in his desperation, is committing a grave and unconstitutional violation of private property and increasing the risk of a humanitarian crisis."
Fingerprint Rationing
In August 2014, Farmatodo joined Locatel (another major national chain, with outlets in Colombia, Central America, the Caribbean, and Florida) in following government calls to impose a biometric system in their stores, the first private-sector chains to do so.
The system — colloquially dubbed captahuellas or "fingerprint capture" — was designed to regulate the sale and purchase of products and foodstuffs, by requiring a fingerprint scan before a sale could be made. Shoppers were also unable to buy items from a list of 23 products more than once a week, including razors, diapers, deodorant, and washing detergent.
On January 27, Vice-President Jorge Arreaza met with the management of Farmatodo, Locatel, and the smaller chain Farmahorro, who signed a letter guaranteeing the supply of medicines and other products.
But, scarcely five days later, President Maduro denounced Farmatodo for blocking the sale of its goods and fomenting lines through techniques such as putting only a few of its cash registers into action. The premier criticized the chain's owners for blaming employees for the lines.
Maduro's solution: to incorporate Farmatodo outlets into his "system of secure food supply" as part of his so-called Misión Alimentación (Nourishment Mission).
Farmatodo issued a press release stating that its legal department were examining the case, and that its management had been "invited to give evidence" to the state intelligence service.
Venezuelan daily El Nacional reported that police had arrested Farmatodo president Pedro Luis Angarita, institutional relations manager Gonzalo Azuaje, and the regional manager.
Fedecámaras president Jorge Roig stated that Farmatodo's executive president and another senior manager were still under arrest at the Bolivarian Service of National Intelligence (Sebin) while five other individuals had been released.
The problems of shortages and lines wouldn't appear to apply to Farmatodo alone, however. At the beginning of 2015, the Venezuelan Pharmaceutical Federation reported medicine shortages of up to 60 percent in Caracas, and 70 percent in the interior of the country.
Editor's note: this story is developing, since government agents have now also occupied stores.
Translated by Laurie Blair. Edited by Fergus Hodgson.