EspañolThe testimony given by Leamsy Salazar — a former security official to late Venezuelan President Hugo Chávez — suggesting several senior figures within the Venezuelan government are involved in money laundering and drug trafficking has resulted in a range of counter-accusations from Venezuela.
But Salazar's history reveals him to be a prominent Chavista insider, and his testimony joins that of several previous senior officials in linking government functionaries to a range of criminal activities.
According to local news source ABC, in December 2014, Lieutenant Commander Salazar requested permission to take leave to get married and leave the country for his honeymoon. Salazar, formerly the bodyguard of Chavista number two Diosdado Cabello, visited several European countries, and finally Spain. With the backing of the US Drug Enforcement Administration (DEA), he received permission to enter the United States, and on Monday, January 26, flew from Madrid to Washington to give evidence about his former charge.
Salazar, who has a son from a previous marriage, has expressed hope that President Nicolás Maduro will not take reprisals against his family and relatives in Venezuela.
In response to the military chief's incendiary testimony against him, Cabello, president of the National Assembly, and vice president of the ruling United Socialist Party (PSUV), accused the one-time confidante of Chávez of having "infiltrated the government years ago."
Chávez's Seal of Approval
Although Salazar always kept a low profile, Chávez himself once highlighted his importance in his weekly televised address Aló Presidente, describing him as "a humble, great, marine." After Chávez had been temporarily ousted from power in April 2012, Salazar took to the roof of Caracas's Palacio Blanco to wave a Venezuelan flag, signalling Chávez's return two days later. It soon became one of the emblematic images of the Bolivarian Revolution.
As Salazar answers questions in a New York court, he becomes the highest-ranking active official to flee Venezuela and give evidence against the Chavista regime. Born in Caracas in 1974, he entered the Naval Academy in 1998, becoming a marine infantryman and later posted to the Punto Fijo naval base on the Paraguaná peninsula.
Once Chávez came to the presidency in 1999, he decided to staff his honor guard with the most outstanding, young military officers. Salazar thus joined Chávez's security detail, also occasionally serving as his personal assistant.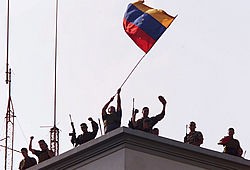 After widespread strikes in 2002 prompted elements of the military to force Chávez from power, Salazar returned to the academy to take a course in special operations. In 2006, during a parade in Maracaibo, Salazar was chosen to jump out of a helicopter into the water and offer a marine explosives demonstration.
When Chávez came to congratulate Salazar for the display, he recognized him and requested his transfer back to the Miraflores Palace, the seat of the presidency, which Chávez occupied until his death in 2013.
However, instead of passing into the service of the current president, Nicolás Maduro, Salazar began to work for Diosdado Cabello.
Not the First to Give Evidence
Salazar is the fifth instance of a Venezuelan soldier or official leave the country to testify against the government under DEA protection.
In April 2012, Eladio Aponte Aponte, a magistrate with the Supreme Justice Tribunal (TSJ), told a US court about alleged connections between senior government officials and drug trafficking, suggesting links between the regime and notorious trafficker Walid Makled.
The judge alleged that the illegal operations were directed by former Defense Minister Henry Rangel Silva, General Cliver Alcalá, and Diosdado Cabello.
Aponte also gave testimony against his fellow TSJ judge Luis Velásquez Alvaray, who fled the country in 2006. From Costa Rica, Velásquez in turn alleged that a war between drug cartels was taking place among the Venezuelan military elite, highlighting the Soles cartel as being led by senior army generals.
Walid Makled also claimed that he issued General Silva a monthly payment in order to sell his merchandise freely throughout the country. However, Makled didn't present evidence against Silva.
In September 2013, retired lieutenant Rafael Isea, a former governor of Aragua State, journeyed to the United States ostensibly for postgraduate study in Washington. However, Venezuelan daily El Universal revealed that he was giving information to the DEA.
On July 24, 2014, former judge Benny Palmeri Bacchi was arrested in Miami; in return for confessing to charges, he avoided extradition to Venezuela, and later became a key witness in a case also involving former judicial official Rodolfo McTurk and former intelligence chief Hugo Carvajal Barrios. Carvajal Barrios was arrested in Aruba when the US government made public call for his extradition over his links with drug trafficking and Colombian rebel groups.
 Audio Clip Backs Up Narco Claims
On September 9, 2013, the Venezuelan opposition broadcast an audio recording apparently featuring the presenter of TV program La Hojilla Mario Silva.
The audio clip further linked Diosdado Cabello with peddling influence over the government for money, and other crimes sanctioned under Venezuelan law.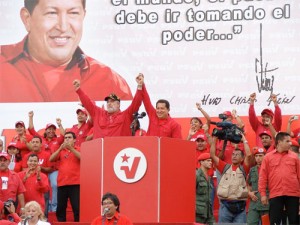 While the presenter denied the veracity of the broadcast, the Public Ministry (MP) verified that it was his voice. Once the clip was disseminated, Silva decided to retire from television, claiming that he had left for Cuba to deal with family difficulties.
Although the Venezuelan opposition requested that the content of the recording be discussed in the National Assembly, the same body under Cabello's direction, the motion was ignored.
Like Salazar, Silva was a faithful adherent of Chávez, who considered him a friend. In 2008, Chávez nominated him as the PSUV candidate for the governorship of Carabobo State.