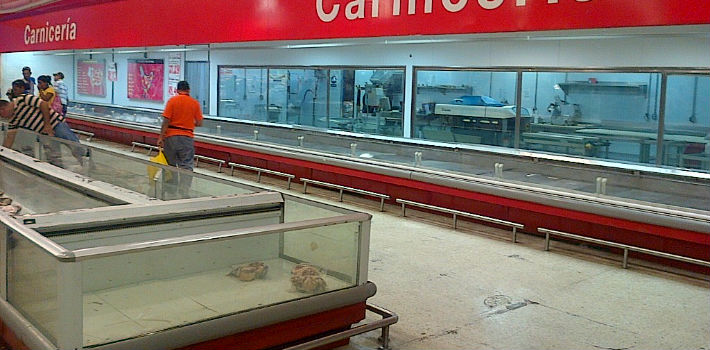 EspañolAlthough a new year is usually accompanied by delays in supply for local businesses in Venezuela, this year residents are experiencing new heights of scarcity.
The reaction from angered residents has been heard around world, as they have taken to social media to post pictures of empty grocery-store shelves under the hashtag #AnaquelesVaciosEnVenezuela (empty shelves in Venezuela).
The online protest has swelled in recent days, despite a ban in place against photographing the empty shelves at various supermarket and pharmacy chains, both public and private.
Empleado de @Excelsior_Gama "si tomas otra foto te mando a meter preso". Puse la queja. Censura es nueva regla. pic.twitter.com/YFICPcyBEG

— Oliver Laufer (@OliverLaufer) January 2, 2015
"@Excelsior_Gama employee: 'If you take another picture, I'll send you to jail.' I placed the complaint. Censorship is the new rule."
Support for the protest within Venezuela has even come from those typically Chavista sectors. On Sunday, digital media outlet Aporrea critized President Nicolás Maduro over the "scandalous shortage" at the state-run supermarket in Caracas. The Gran Abasto Bicentenario de Plaza Venezuela itself even published photos of the empty shelves, despite the ban.
"The Bicentenario is empty today: no meat, no chicken, no nothing. President Maduro, we, the people, need to see things to support you; if not, we cannot do anything," a customer told Aporrea.
Initially, Vice President for Food Security and Sovereignty Carlos Osorio said empty shelves at the beginning of the year are "normal." Once word of the protests spread, however, the national government announced it would shut down its Abasto Bicentenario network of stores until January 10, to "check inventory."
Regular customers of the Bicentenario, like Ana Acosta, were surprised to hear the news of the market's closing: "No wonder there was no line to get in."
But Vicente Pérez, a farmer and executive director of the Confederation of Agricultural Producers in Venezuela (Fedeagro), confirmed with the PanAm Post that a number of variables coincided for a "bit of an extreme" situation. He said the sales channel of any type of food product tends to be emptied in January, but in the past there was sufficient planning for the most basic items.
Regular customers … were surprised to hear the news of the market's closing: "No wonder there was no line to get in."
Pérez points to logistics problems, with few transport units available. They have been held up by a shortage of lubricants, auto parts, and spare parts. He also says there is a lack of inputs for agriculture, including chemicals, fertilizers, and seeds.
There may be enough maize and rice, he says, but agribusinesses have to wrestle a lack of packaging, industrial inputs, and many raw materials needed to bring the final product to retail outlets.
Nonetheless, on Tuesday, January 6, the Venezuelan government reacted to these events and resumed talks with companies in the household and personal-hygiene sectors. The meeting, with representatives of private companies such as Procter & Gamble and Colgate Palmolive, took place to promote the "Plan for Integral Economic Recovery," announced by Nicolás Maduro on December 30.
In addition, they met with executives of the Excelsior Gama Supermarkets network to evaluate the installation of a Biometric System — fingerprint machines. Food Minister Yván Bello announced that the measure would reduce the high number of people who purchase daily in the store.
Since October, the incremental installation of fingerprint readers has begun in supermarkets throughout the country. They are there to stop what officials view as excessive consumption, and to prevent buyers from reselling on the black market.
Apparently, however, these initiatives have failed. Queues, shortages, and fights to acquire basic necessities continue. Customers of the Makro wholesale store located in Los Teques, Miranda, brawled with each other to buy washing powder and diapers.
The PanAm Post published a feature article on the role that queues play in the life of Venezuelans in December 2014.
Una señora que llevaba cuatro bolsas de leche en polvo fue arrollada por la turba. Ya en el piso le arrebataron lo que había comprado.

— Alfredo Meza (@alfredomeza) January 7, 2015
"A lady carrying four bags of powdered milk was run down by the mob. Once on the ground, they snatched what she had purchased."
Malnutrition Rears Its Ugly Head

Oscar Meza, director of the research division of the Venezuelan Teachers Federation (CENDAS-FVM), decries not only social unrest, but dissatisfaction with the crisis measures taken by Maduro's administration.
Meza said to the PanAm Post that the situation means serious damage to the daily diet of an average Venezuelan citizen: "We are talking about essential items, those that supply protein, minerals, and energy necessary for people to have a healthy life."
The CENDAS director argues that of 58 basic and essential food items, at least 33 percent of these were absent from the shelves in 2014. That includes powdered milk, chicken, beef, margarine, sugar, corn oil, cheese, wheat and corn flour, coffee, mayonnaise, and yellow cheese.
To Meza, Venezuelans have just had to accept patience as part of their daily lives: "people queue and go out to hunt for food; adaptation has been the dominant theme."
In a special report carried out by El Nacional, Maritza Landaeta-Jiménez, a member of the Bengoa Foundation, said that the Venezuelan diet now depends on what "they can get."
"If they get cornmeal one week, they will eat arepas three times. If they have chicken, they divide it so that it bears more. Venezuelans are eating pasta with just the smell of chicken, and the nutrients that come in it are not enough."
Nixa Martinez, president of the Venezuelan Dietetics Association, also told the local newspaper that healthy-food options are limited. She argues that nutritional deficiencies have increased infections in vulnerable populations such as children and the elderly.
No Light on the Horizon
Fedeagro representative Pérez says fertilizer prices, in particular, will continue to drive up prices: "A bag of urea, for example, basic fertilizer for agriculture, can be purchased at 90 Bs. [but] possibly it will be soon be 250 Bs. plus freight."
In previous years, he says, seed contracts had already been signed by this time, but there has yet to be progress this year. He points to the dollar shortage and restricted access to foreign currency as the underlying barrier to crucial imports.
Then there is insecurity. Pérez says this complicates the transfer of goods to their final destination. The union must overcome roadblocks, extortion from police officers, and "pay vaccines" to protect the products they are selling.
The "vaccine" is the illegal bribe in kind, bolívares, or even in dollars to receive protection from criminal groups. Those who do not pay must face the consequences and lose the "immunity."
When Available, Beyond Reach
CENDAS director Meza notes that according to his latest report, released in November, the basic food basket stood at 15,809 Bs.per month (US$90) — equivalent to four minimum wages for a family of five.
Unfortunately, he foresees a price increase of up to 150 percent in 2015, and for context he says one should keep in mind that approximately 50 percent of the labor force do not have formal employment: "The crisis is getting to Venezuelans' 'pit of the stomach.' We'll see how far hunger, malnutrition, and need can continue with the submission and adaptation of citizens."
Translated by Rebeca Morla. Edited by Fergus Hodgson.