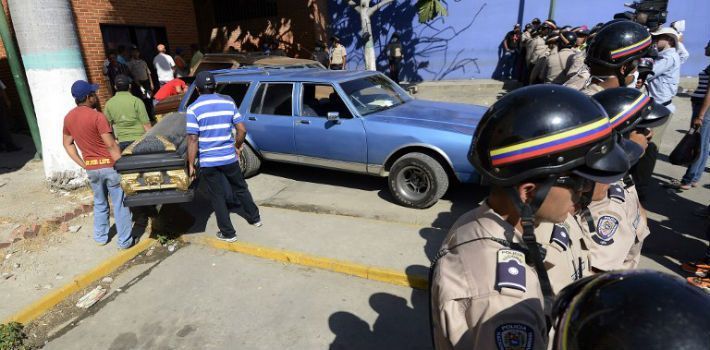 No one escapes Venezuela's increasing wave of violence. Civilians, sportsmen, models and even high-ranking politicians have all been victims of murders and armed robberies, according to the latest data from the Venezuelan Violence Observatory (OVV).
The local NGO reported on December 29 that 24,890 people were killed across the country in 2014. The figure, equivalent to 82 violent deaths per 100,000 people, makes Venezuela the second most violent country in the world after Honduras, on an estimated 104 per 100,000 people.
December saw 523 corpses admitted to Caracas's public morgue — the capital's most violent month in 2014. Forty-eight-year-old Celina García became the last reported victim of violence just 30 minutes before the New Year, in the upscale neighborhood of Sabana Grande, when a stray bullet hit her in the back.
Carl Herrera, the first Venezuelan basketball player to make the US NBA league and current coach of local team Gigantes de Guayana, became another high-profile victim. On Saturday, December 20, Herrera was entering the crowded El Agua restaurant, on Margarita Island, when thieves shot him twice.
Witnesses explained that the two thieves then proceeded to rob diners inside the restaurant. On Monday, the team's Twitter account announced that Herrera, who received bullets to the forearm and lung, was out of immediate danger.
Ratificamos que esta es nuestra cuenta oficial y DT. @carlh1107 esta totalmente fuera de peligro, ya salio de Unidad de Cuidados Intensivos

— Gigantes de Guayana (@gigantesguayana) December 21, 2014
"We repeat, this is our official account and coach @CarlH1107 is completely out of danger. He's left the Intensive Care Unit." Venezuelan NBA player Carl Herrera made a lucky recovery after being shot by robbers.
According to Venezuelan newspaper El Universal, Herrera had received death threats on Twitter in the days before he was shot.
Another incident took place on Sunday, December 28, when second-division Gran Valencia F.C. goalkeeper Franmig Borges was stabbed while heading to a training session.
Por suerte, la herida no tocó el hígado. Su recuperación tardará, como cifra mínima, tres meses.

— Daniel García Vargas (@DanielGarciaGol) December 21, 2014
"Luckily, the wound didn't reach his liver. He'll take at least three months to recover."
Life and Death in the City
Although President Nicolás Maduro has launched a series of programs to try and curb violence, the results have yet to be seen.
On May 2013, the government announced the Safe Motherland Plan, assuring Venezuelans the Bolivarian National Guard (GNB), the Bolivarian National Police (PNB), and local law enforcement officers would cooperate to "maintain security, peace, and the good life."
Since officials fail to offer a breakdown of the causes of death, it becomes impossible to determine which categories were included or excluded from the final tally.
However, their joint efforts appear to have been insufficient. In Business Insider's November 2014 list of the 50 most violent cities in the world, five were from Venezuela.
Nevertheless, on December 22, the head of the PNB, Manuel Pérez Urdaneta, boasted that his officers had overseen a 26 percent reduction in homicides in 2014 compared with the previous year.
Thabata Molina, a Venezuelan journalist focusing on crime and police reporting, told the PanAm Post that Caracas saw only a 3 percent reduction in violent deaths from 2013 statistics.
In 2014, some 5,059 violent deaths took place, including homicides, suicides, and car accidents. This information has to be gathered and monitored unofficially; the national government "has refused to divulge" the amount of bodies entering morgues since 2005, said Molina, who calls for more details behind official data.
She argues that since officials fail to offer a breakdown of the causes of death, it becomes impossible to determine which categories were included or excluded from the final tally.
Molina recalled widely-publicized killings such as that of Venezuelan actress Mónica Spear and her husband, both murdered in January on a Carabobo highway, and the assassination of local councillor and former head of police intelligence Eliecer Otaiza. The journalist noted that the Chavista government tried to spin Otaiza's murder as politically-motivated, despite investigations revealing the official's death was simply due to rampant violence.
Getting Away with Murder
Crime in Venezuela has become more violent and widespread due to the climate of impunity, argues Molina. Of all crimes committed in 2013, 97 percent went unpunished.
For the journalist, criminals in Venezuela are well aware of the judicial system's inefficiency and "know that the probability of paying for their misdeeds is decreasing."
Roberto León Briceño, director of the Venezuelan Observatory of Violence (OVV), illustrated that from every 100 homicides in the country, only eight or nine have their authors apprehended. "We're talking about a 91 percent impunity rate," he noted.
Kidnapping has gone from being a crime committed against high-income populations to one now affecting the middle class.
Researchers from all seven state universities making up the OVV expressed concern over how formerly safe regions of the country have now become the battleground of armed gangs and criminals that harm and extort its citizens.
In the same vein, analysts observed how kidnapping has gone from being a crime committed against high-income populations to one now affecting the middle class. Small and medium-sized firms in sectors such as transportation, commerce, and construction have been the targets of extortion rackets, demanding a regular payment just to be allowed to operate.
On October 28, several Venezuelan civil society organizations decried the rise in violence, impunity, and violence before the Inter-American Commision on Human Rights (IACHR). Liliana Ortega, head of the human rights NGO Cofavic, made the situation clear: "Venezuela is the only country in the world where the homicide rate has been increasing steadily since 1995."
Ortega stated that 80 percent of the official 189 investigations into violence connected to February-June student protests "had stalled."
"The only way to face impunity is through transparent and credible investigations that send out the message that these crimes won't be tolerated by the Venezuelan state," she added.
She called the confirmation of Attorney General Luisa Ortega Díaz in her post as an "insult to all Venezuelans" that hoped for justice. "This lady has a record of increasing impunity rates, so the message is that the government has no intention of improving the situation," the activist concluded.
Mounting Unsolved Cases
Officials within the Maduro administration only contribute to the rampant impunity enjoyed by those who deal in violence. On October 29, Interior and Justice Minister Carmen Teresa Meléndez Rivas awarded the Francisco de Miranda Order to Jonathan José Rodríguez Duarte, the army sergeant who on February 12 was photographed shooting protesting students as part of a ministerial escort.
Rodríguez Duarte had been tipped for the honor by former Minister Miguel Rodríguez Torres, a high-ranking official removed by Nicolás Maduro earlier in October. Yet Meléndez Rivas confirmed the award, despite official forensic investigations determining that the military officer had clearly opened fire on demonstrators.
Also brutally killed in 2014 was five-month pregnant Venevisión sign language interpreter Adriana Urquiola. Yonny Eduardo Bolívar Jiménez, a known criminal, murdered Urquiola on March 23 during a night protest in Nuevos Teques, Miranda. Bolívar Jiménez carried identification certifying him as a Bolivarian National Police commissioner and impersonated a senior official. He fled after the killing, later admitting to local newspaper El Nacional that he had unintentionally shot Urquiola.
In December, lawyer and human rights activist Rafael Narváez called upon Attorney General Ortega Díaz to explain the lack of judicial action by the Public Prosecutor's Office.
Narváez presented grim statistics about the government's crackdown on 2014's protests: over 40 dead, 900 wounded, 2,000 on parole, and 3,007 arrests without a judge warrant.
The activist published reams of evidence that police had attacked protesters, showing how 330 National Guard officers were responsible for naked aggression towards civilians. "Nothing is known about the ongoing investigations into the deaths of Adriana Urquiola, Basil Da Costa, Jimmy Vargas, Génesis Carmona, Robert Redman, and Geraldine Moreno's deaths," Narváez added, listing just a few of those killed in the violence.
For Thabata Molina, the problem is simple: the Venezuelan government simply has no interest in implementing serious long-term preventive measures to address crime, even if it had the capacity to do so.
Translation by Daniel Duarte. Edited by Laurie Blair.