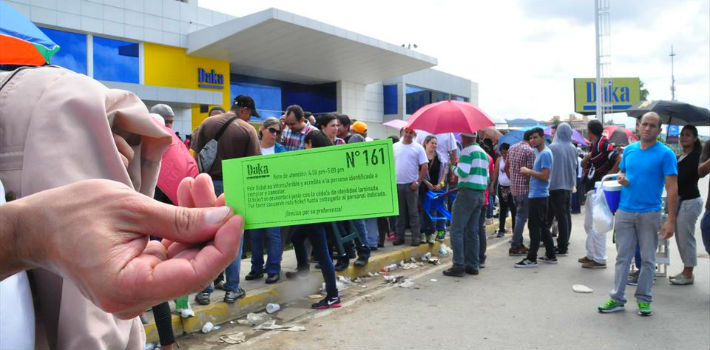 EspañolAs President Nicolás Maduro forges ahead with 21st-century socialism, new Christmas traditions are emerging in Venezuela. Huge queues of people waiting to buy supplies or gifts are only the most visible symptom.
Citizens face worsening scarcity every day, and the lines are getting longer. Luis Vicente León, director of Datanálisis, said at the end of November that seven out of 10 shops in Caracas lacked basic goods at government-regulated prices. In August, the scarcity of basic supplies nationwide rose to some 70 percent, and prices were up by 63 percent.
Meanwhile, the Venezuelan Pharmaceutical College revealed in October that 70 percent of pharmacies nationwide lacked necessary medication.
Clothing shops have also been affected by shortages and government price controls. On December 10, the government minister responsible for pricing, Andrés Eloy Méndez, charged the childrens' clothes shop EPK with allegedly violating the law by setting "speculative" prices between 19 and 60 percent higher than those permitted.
As a result of the prosecution, long lines appeared outside the chain, as people sought to buy clothes at a "fair price," and fulfill the tradition of wearing brand new clothes to receive the baby Jesus.
Virginia, from Araujo, who joined shoppers in the line, said that she'd visited EPK a few days before without being able to buy the clothing needed to dress her four grandchildren, due to exorbitant prices. "We're going to take the opportunity to see if there really can be a fair price for these goods," she told Noticias 24 Carabobo.
On December 12, in the city of  Puerto Ordaz (Bolívar State), shoppers waited in line for 14 hours — and fought among themselves — to buy foodstuffs in an Abasto Bicentenario, a government supermarket.
Morela Mora arrived in the queue at 6 a.m. with her 70-year-old wheelchair-bound mother. "This is the most degrading thing. There were people throwing punches, and I almost had to fight the guard because we wouldn't join the line outside in the sun," she said to Correo del Caroní.
This is how you buy food in Venezuela.
The Struggle for "Fair" Prices 
This year saw a revival of an episode from Christmas 2013 known as El Dakazo. In November 2013, Maduro's government obliged the electronic appliance sector to cut prices by up to 77 percent, causing demand to skyrocket and many products to disappear shortly before Christmas. This run on prices brought with it looting and other serious assaults on private property in the main urban centers of the country.
On November 21, 2014, an official program regulating the sale of domestic appliances began, called Mi Casa Bien Equipada, or "My Well-Equipped Home." Goods such as fridge-freezers, washing machines, and televisions were sold at cut-price rates in public and private outlets.
Many took up positions outside said outlets: goods were available on a first come, first served basis. Winding queues and improvised shelters outside shops like Daka, Traki, and Mercados Bicentenario became an everyday sighting.
Queuing customers complained that some were selling places in the line for prices approaching 3,000 Bs. (US$16, in a country where the minimum wage is $26.80 per month, according to the free-dollar exchange rate). Shops were said to receive at least 200 people a day.
The lines also made other sections of the population unhappy. Residents of several zones in Carabobo State (178 kilometers from Caracas) were affected by an increase in vehicle traffic and insecurity. A week after the improvised encampments outside shops began, unknown hooded assailants under cover of darkness threw firebombs at those on guard outside Daka in the neighborhood of Naguanagua.
Although none were hurt, local media reported a confrontation between police and the attackers. Following the attack, numbers which allocate a place in shop lines are now handed out in other outlets on the far edge of the city.
Employment Down, Queues Up
Damiano Del Véscovo, President of Carabobo State's Chamber of Commerce (Fedecámaras) warns that Venezuela is facing stagflation, with five to six times greater scarcity than the international average, and a 4 percent fall in GDP.
The Chamber calculates that national productivity is at 40 percent of capacity due to the loss of investment, judicial insecurity, and the difficulty of obtaining foreign currency reserves. "Our production has been in free fall, roughly since the year 2011," Véscovo tells the PanAm Post.
According to his statistics, the last 10 years in Venezuela have seen the loss of almost 4,000 businesses and up to 213,000 employees from all sectors, to the point where almost 5 million people now work in the informal economy.
For Véscovo, confiscations of private property carried out by the executive in 2013 have caused private investment to evaporate. At the same time, the government hasn't regulated the use of dollars in the private sector effectively, instead dedicating itself to importing products highly subsidized by a "fictitious dollar." He believes that the economic situation encourages citizens to invest in goods, only to later sell them at higher prices thanks to increasing scarcity.
Véscovo also explains that, in the face of inflation and low interest rates offered by banks, Venezuelans try to protect their money by selling on the most sought-after products. This, he suggests, takes place in all sectors of the national economy: electronic appliances, auto parts, medicines, clothing, shoes, and raw materials, among other areas.
Datanálisis figures further reveal that 65 percent of those waiting in line for both public and private stores are buying products to resell. "They're in the business of buying regulated products and then selling them on the street. This creates price distortions and causes products to disappear off the shelves. It's out of control," argues Luis Vicente León.
Happy New Year
Víctor Maldonado, Director for the Caracas Chamber of Commerce, Industry and Services, told the PanAm Post that the outlook for 2015 is bleak, as petrol prices have fallen by 38 percent since June, catching the government with a budgetary deficit and reduced foreign currency reserves.
From the beginning of November, the government announced an increase in the minimum monthly salary to 4,888 Bs. (US$26.80 on the "free" market), representing an increase of 45 percent from 2014. However, the Central Bank announced in its latest report in September that year on year inflation will reach 63.4 percent. Even these figures are optimistic. According to the Cato Institute's Troubled Currencies project, inflation will close 2014 at 178 percent.