EspañolManuela Picq is a Franco-Brazilian journalist and human-rights activist who, after being arrested in Ecuador last August while taking part in demonstrations against President Rafael Correa, was then deported to Brazil. She is still not allowed to return to Ecuador, where she lived for more than eight years and married Carlos Pérez Guartambel, an indigenous leader.
She says that Ecuadorian police officers beat and kidnapped her at the time of her arrest. On November 27, Ecuador's Foreign Ministry confirmed its decision to deny Picq's appeal, thus preventing her from returning to Ecuador once again.
In an exclusive interview with the PanAm Post, Picq, who currently resides in Germany as a guest scholar of the Free University of Berlin, spoke of her two-month legal battle with the Ecuadorian authorities.
After your deportation, the last thing we heard on your case was that Ecuador denied your request for a Mercosur visa, without any further details. Can you tell us what happened?
A Mercosur visa is normally approved within 48 hours. No formalities are required; it is almost automatic, given that it is a bilateral agreement between the Mercosur countries and Ecuador. Under the agreement, all citizens of Mercosur can easily travel to Ecuador, and vice versa.
They took three weeks to respond to my request. They denied the visa without interviewing me, nor did they justify the denial. We made an appeal to the Ecuadorian justice system, because they did not follow due process.
Ecuador's government had two or three months to respond, but it was only last week that they sent a document that says nothing. It lists all relevant Ecuadorian laws, but it denies my visa again making no claim and without charging me of any crime.
What will you do now? When do you think you will be able to return to Ecuador?
We are talking to the Inter-American Commission on Human Rights (IACHR). They are already aware of my case, because I sent a letter to them in early September; they have a dossier of my situation. What we will do now is request precautionary measures, because we have exhausted every judicial instance in Ecuador.
Moreover, in the next two weeks we will ask Ecuadorian authorities to recognize the ancestral marriage between Carlos [Perez Guartambel] and me, in order to apply for a family visa. Since Ecuador is a multinational country, it should recognize our marriage.
Now that they have repeatedly refused to grant me an individual visa, we will activate the family jurisdiction, because [in my case] there is a family breakdown. However, I doubt that they are actually going to give me a visa since they arbitrarily took it away. They never followed any rules, so I don't think that the government will suddenly start obeying the law.
We have the legal documents ready, but since the government has delayed this process as much as they can, I don't think we'll have news for the next three months.
[adrotate group="8″]
There are still many unresolved questions on your case. First, we saw several policemen beat you during the demonstration. Then, the government released a video in which you assert that you were never mistreated. Is that video real?
The police dragged Carlos and me down the street, and they beat us with their batons. Then, we were separated and I was taken to the Interior Ministry. I spent the night in the hospital, because I had lost vision in my left eye. I also had many head injuries and bruises on my back and shoulders.
I was abducted the whole time by the police, because they didn't let me go to the hospital where I wanted to go, which was that of the San Francisco University (USFQ), where my colleagues were waiting for me. I was always under police custody, they didn't even allow my lawyers to see me.
When I was detained in the Carrión detention center, one of the policemen who attacked me told me that a media outlet wanted to interview me. It seemed very strange to me that, while they didn't allow me to see my lawyers, they would allow me to speak to the media. They insisted, so I agreed to do a quick interview.
Several policemen were around me, and they asked me before the interview began: "You're not being mistreated, are you?" I felt very intimidated because I was alone, imprisoned, under their supervision, and they were telling me to say that I was being treated well.
The video was edited and released. In the end, the camera was not from a media outlet, but from the Interior Ministry's communications office. I couldn't watch it until I got out of jail.
What this video shows is how this government systematically manipulates information. They constantly transform people's actual words through multimedia productions. Correa's Communications Law and his Citizen Link program have given the government more power to do so, for instance on radio stations.
What would you say is the main reason why Ecuadorian authorities are doing this to you?
I think there are two reasons: first, it is a political vendetta against Carlos. Deporting his partner is another way to punish him for his political activism. But long before being his partner, I was a journalist, and I wrote some texts that the government finds inconvenient.
I write for Al Jazeera since 2011. I've shown this government's hypocrisy with the Yasuní case at an international level. I also wrote about the government's gender violence in the case of [Jorge] Glas Viejó, and about the impunity in the case of a man who raped an 11 years-old girl and made her pregnant. Nothing ever happened.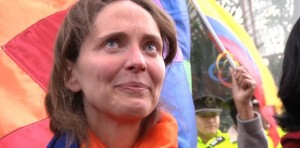 Therefore, there is an accumulation of discontent with me, and with my journalistic writings. The police had been coming to my house for more than a year, investigating where I lived.
Getting rid of me was very convenient for them, as they have been wanting to silence other journalists such as Martín Pallares, Roberto Aguilar, Bonil. This context led to my deportation.
Regarding Ecuador's current situation, what do you think about the constitutional amendments promoted by the government to approve indefinite reelection in the country?
Mauricio Macri's victory in Argentina gave me some hope, because I think [Latin American] presidents are finally realizing that they don't have impunity, that there is some cost to pay for their political repression.
In Ecuador, we see that there's no money, so the government can't buy people anymore as they used to. And there's an increasingly strong, relatively united social movement that aims to end authoritarianism. However, we have a government that concentrates power, since neither the judiciary nor legislative branches are independent. Nor is the National Electoral Council.
So, if we put all this together, we can see that the basic principle of democracy is not there. The upcoming election is very dangerous, and that's why it's so important for international observers to monitor the electoral process in 2017.
It should also be noted that the University Claude-Bernard Lyon 1 will award President Correa a Honoris Causa doctorate in the next few days, during his visit to Paris for the COP21.
I have already sent a complaint to the institution for this, because we know that there's repression at the national level. Although the entire international human-rights community has denounced this, some universities still use their pseudo power of science to legitimize violent governments.