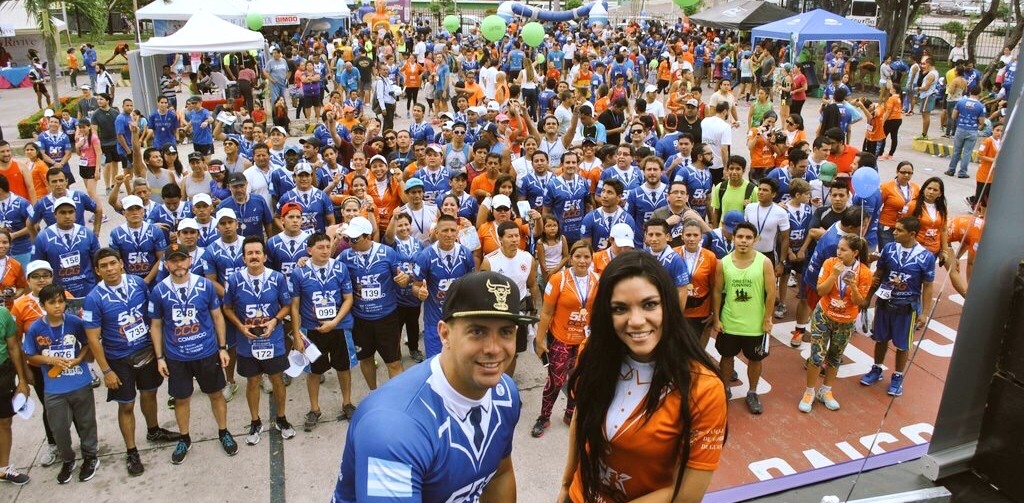 EspañolRoughly a thousand people gathered around the Guayaquil Chamber of Commerce (CCG) on Sunday, November 22, to take part in the 5k race #CorroLibre (Run Free), which was held for the first time.
Teams included high school students and employees of different Guayaquil companies. They gathered to run for a cause that the CCG began promoting 126 years ago as one of the cornerstones of Ecuador's prosperity and development: free trade.
Correr es siempre una expresión de libertad. #CorroLibre de la Cámara de Comercio de Guayaquil. pic.twitter.com/TsjfqW6lPf

— Pablo Arosemena Marriott (@parosemena) November 22, 2015

"Running is always an expression of freedom. #CorroLibre by the Chamber of Commerce of Guayaquil."

The city's entrepreneurs were represented in #CorroLibre, the first sports event ever organized by the CCG. The institution also seeks to promote other sports and health initiatives that benefit Ecuadorian workers.
"We identify with free trade, prosperity, and solidarity," the CCG stated in a press release.
According to its organizers, the race's mission was "to run for [the importance of] jobs and families' prosperity." They also sought to raise awareness about free trade and its role in the country's development.
Moreover, they asserted that the CCG is planning to have a new edition of #CorroLibre every year.
"The Starting Point to Come Out of the Recession"
Roberto Villacreses, the CCG's director of Studies and Projects, explained to the PanAm Post that the initiative for this event comes from the institution's commitment to free trade as a source of employment and prosperity.
"This year has been particularly difficult for entrepreneurs. Measures such as safeguards, quotas, and technical restrictions for imports have hit them hard. That is why we went out to run, to send the strong message that we can succeed if we work together and in liberty," he added.
According to Villacreses, the ideas of liberty have evolved in Ecuador in recent years as different organizations have succeeded in promoting the cause. At the same time, many people have become "disenchanted" with President Rafael Correa's statist project. "They now understand that the only way to improve is by having more freedom, and less government," he says.
Villacreses further ensures that a large part of the business community, especially the traders of Guayaquil, "only want the government to provide stability and freedom to start a businesses, to create jobs, and to prosper." He also argued that the constant changes in the country's legislation and the increasing amount of trade barriers are obstacles which Ecuadorian businessmen must face on a daily basis.
"Nearly a thousand people enjoyed an atmosphere of celebration and family entertainment. There were entrepreneurs of all kinds, and ordinary citizens who share our ideals of prosperity. They agree with us that free trade is an excellent starting point to emerge from the current recession, and to lay the foundations on which our development will be built," Villacreses concluded.
[adrotate group="8″]
A Different Way to Promote Liberty in Ecuador
According to Alejandro Varas, a businessman from Guayaquil who participated in the event, the race was "a peaceful and friendly way" to demonstrate the importance of supporting entrepreneurs in the country and to promote the ideas of liberty.
"Many people think that, in order to make a change, one must go to the streets to throw stones and burn tires. But that is not true. This is a much more attractive and fun way to transmit these ideals," he said.
Varas asserted that the CCG has chosen a "smart" strategy to promote economic freedom, in a context in which the Ecuadorian government has increased the number of trade restrictions. "Entrepreneurs are the people keeping the country afloat even if the government says otherwise," he told the PanAm Post.
"What this country needs is to understand that freedom is not only a right, as many people think. The government says that we are free, but they impose very complicated laws on us which do not allow us to act, to do what we want. To be free while allowing others to be free is a value that must be promoted," Varas added.