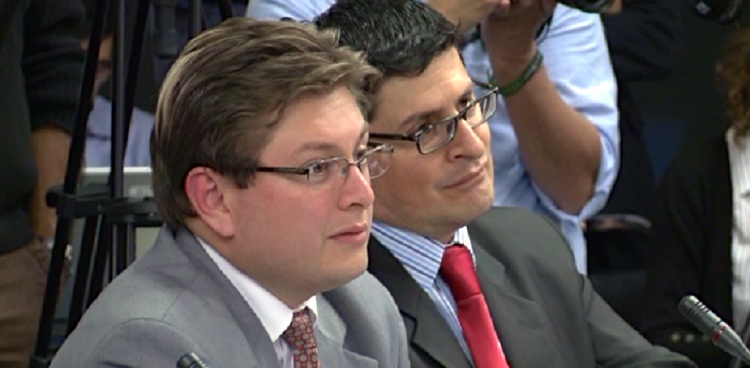 EspañolFundamedios, an Ecuadorian organization that defends freedom of expression, is now the one in need of defense, as it faces state-mandated closure. On Tuesday, September 8, its directors reported that they had received a letter from the National Communications Secretariat (Secom), which informed them of the beginning "of the dissolution process" against the institution.
The Andean Foundation for the Observation and Study of the Media (Fundamedios) was created in 2007 as a platform of support for journalists. It has since monitored and reported on threats to freedom of speech, press, and association in Ecuador.
However, for Secom, Fundamedios has engaged in what they describe as partisan political activities, by sharing content from two blogs with political analysis: State of Propaganda, by the journalist Roberto Aguilar; and Common Sense, which belongs to journalist José Hernández.
Thus, Secom's statement asserts that the organization has "failed to comply with Articles 6 and 9 of its current statutes," as well as "the provisions of [Fundamedios'] Article 37."
Article 6 of Fundamedios' statute stipulates that "the Foundation as such may not get involved in political, racial, labor, trade unions, and religious issues."
Meanwhile, Article 9 states that the institution "is a non-governmental organization with a social character, born as an initiative of professionals and citizens, to promote the dissemination of social development, in all areas … in the media."
In addition, Secom's letter alleges that Fundamedios has violated the "second, penultimate, and final clauses defined in Article 22, formerly Article 26, of the Regulation of the Unified Information System for Social Organizations."
[adrotate group="8″]
This regulation, also known as Decree 16, stipulates that deviations from the objectives and purposes for which a social organization was constituted are grounds for dissolution.
Finally, Secom announced that Fundamedios had 10 days to exercise the right to defense, and to present the "exculpatory evidence it deems appropriate in this administrative process."
A Process "without Rhyme or Reason"
According to César Ricaurte, executive director of the organization, the legal process that Secom has started against Fundamedios has "no rhyme or reason."
In an interview with local newspaper El Comercio, Ricaurte argued that the regulatory agency is not making a distinction between partisan politics and political journalism.
He further stated that the Communications Secretariat, "in an absolutely arbitrary and malicious way," is not taking into account that Fundamedios' specific objectives include monitoring news, training journalists, among other activities the organization regularly does.
"We did not deviate a millimeter from our statutes; we are fulfilling our objectives," Ricaurte added.
For the Fundamedios director, since Secom assumed the administrative control of non-governmental organizations involved in communication, journalism, and information in December 2013, these institutions were placed "on a silver platter in the hands of our primary aggressor."
"Our only crime has been to defend journalism; to monitor and denounce attacks on journalists. That is something Secom deeply dislikes," Ricaurte concluded.
Fundamedios Under Attack
Within minutes of Fundamedios issuing an alert on the process Secom started on Tuesday, the hashtag #FundamediosBajoAtaque (Fundamedios under attack) swiftly became a national trend in social networks.
Civil-society organizations, journalists, political leaders, and ordinary citizens expressed their solidarity with the institution, while condemning what many saw as a new attack against freedom of expression in Ecuador.
Further, Freedom House, a US-based watchdog on freedom and democracy, has condemned the Secom tactic as politically motivated. They rated Ecuador as "not free" in their 2015 Freedom of the Press Index and describe this latest incident as one of many "glaring examples of the government's lack of respect for freedom of speech."
Gobierno quiere cerrar @FUNDAMEDIOS Ahí efectos del Decreto 16 y del "diálogo nacional". Solidaridad con @aIarconsalvador y César Ricaurte

— Luis Eduardo Vivanco (@luisevivanco) September 8, 2015

"The government wants to close Fundamedios. These are the effects of Decree 16 and the 'national dialogue.' Solidarity with Mauricio Alarcón-Salvador and César Ricaurte."