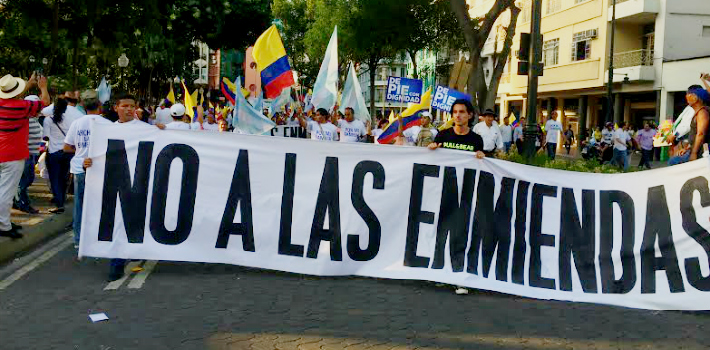 EspañolA diverse coalition of indigenous activists, doctors, union workers, and retirees took to the streets on Thursday across major cities in Ecuador, in one of the largest demonstrations against the government of President Rafael Correa to date.
Although organizers of the massive national strike say their demonstration was meant to be peaceful, local media reported several violent incidents between protesters and police, particularly in the Ecuadorian capital, Quito.
However, as protests heated up, President Correa spent the afternoon surrounded by thousands of his supporters at Independence Plaza in Quito, as part of the "Festival of Youth and Joy." He told his supporters that the "soft coup" underway against his government would fail, and then sang the night away with other public officials.
Guayaquil
Protests in Guayaquil began with demonstrators setting tires on fire to block roads during the morning hours. At around 4 p.m. local time, representatives from various political parties and social organizations gathered at the Plaza del Centenario and marched through 9 de Octubre Avenue while chanting anti-government slogans.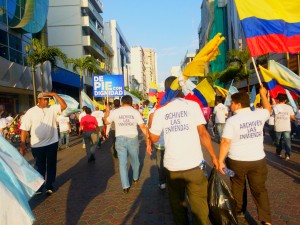 "Yes to democracy, no to dictatorship," the protesters shouted, voicing their opposition to Correa's proposed constitutional amendments, including those that would authorize the president's indefinite reelection.
While a few minor scuffles between groups of protesters and police broke out, no major incidents were reported in Guayaquil.
Quito
In Quito, the day kicked off with indigenous groups from the northern party of the country joining other #13A protesters in Arbolito Park.
Representatives from several civil-society organizations attended the march, including the Confederation of Indigenous Nationalities of Ecuador (CONAIE), the Workers' Central (CEDOCUT), the Kichwa Confederation of Ecuador (Ecuarunari), the Yasuni advocates (Yasunidos), and the Popular Assembly of Quito. Hundreds of other citizens not officially affiliated with any group also took part in the demonstration.
While each group expressed their own particular interests, the indigenous activists focused on demanding the repeal of both the Water Act and Decree 16, the latter of which they say limits the autonomy of social organizations.
Meanwhile, the Yasunidos and other environmental groups demanded a stop to oil-extraction projects in Yasuní National Park and the Cordillera del Cóndor.
"I'm here as a citizen, to support the different sectors, and also for my own reasons," activist Diana Amores told the PanAm Post. Amores says Ecuadorians need to "remind the government that the streets have no owner or manager. When someone wants to be heard, the streets are the place to go, and that doesn't make us coup conspirators."
[adrotate group="8″]
After 4 p.m., demonstrators redirected their march towards downtown Quito, holding posters, flags, musical instruments, and whistles. "Where are you going with so many people" the protesters chanted. "To kick out the criminal!" others answered in kind, as they made their way to Plaza de Santo Domingo.
Opposition legislator Mae Montaño told the PanAm Post that the indigenous activists' protests have resonated with the public, and that the Ecuadorian people "have come together to defend democracy" and reject Correa's amendments.
Unlike the events in Guayaquil, social-media users in Quito reported several violent acts committed by both protesters and police. At Plaza Chica, a group of protesters broke through a police barrier and were pushed back by officers, who fired tear gas into the crowd.
Police allowed demonstrators to continue their march forward to Plaza de San Francisco. Once there, however, officers on motorcycles and horses corralled the protesters with their clubs.

https://twitter.com/gfragac/status/632008600735621120
"Police on motorcycles at full speed heading directly at people without any regard. Minister José Serrano is responsible."
At around 9: p.m., local media reported that the police had arrested several indigenous leaders, including Salvador Quishpe, prefect of the province of Zamora Chinchipe; Carlos Pérez Guartambel, president of the Ecuarunari; and Manuela Picq, Brazilian activist, journalist, university professor, and Pérez's girlfriend.
Pérez and Picq were both wounded and received assistance at the Eugenio Espejo hospital. The free-speech NGO Fundamedios also reported that police have begun the process of deporting Picq.
Demonstrations lasted until 9:30 p.m, when the last group of protesters dispersed after a violent confrontation with police at Plaza de Santo Domingo.
Quishpe claims police brutally beat him before they let him go. In response, indigenous leaders held a press conference and called on their supporters to intensify the protests and continue the national strike in Ecuador.

https://twitter.com/carlosfabbian/status/632031399516745728
"Salvador Quishpe reports being attacked this afternoon."
According to local newspaper El Comercio, police also arrested journalist José Mafla in Otavalo, Imbabura, while he tried to photograph officers arresting another citizen. Mafla faces charges of interfering with police work and obstructing a public highway.
The Ministry of Interior claims that 16 police officers were injured as a result of the protests in Quito, and more than 20 people were arrested. The number of protesters injured, however, is unknown.
Correa's Festival of Joy
During the president's gathering of supporters in Quito, Correa told his followers that the opposition's national strike would not deter him.
"Another of those troublemakers, the leader of Ecuarunari, who is not even indigenous, called for the resignation of president…. These people are only speak nonsense," Correa said, referring to Carlos Pérez.
Correa was also quick to brand the opposition as "hypocrites" for lending their support to indigenous groups.
"Now they [indigenous groups] have the support of that whimsical banker who wants to buy the presidency [Guillermo Lasso]; of the magnate [Álvaro] Noboa, the eternal loser of presidential elections; and of the mayor of the country's main port [Jaime Nebot]. So much cynicism and hypocrisy," Correa said.
"We are facing an illegitimate, undemocratic strategy of attrition and destabilization, to harm a government that is already historic, comrades."
Paz Gómez and Jorge Chuya contributed to this article.