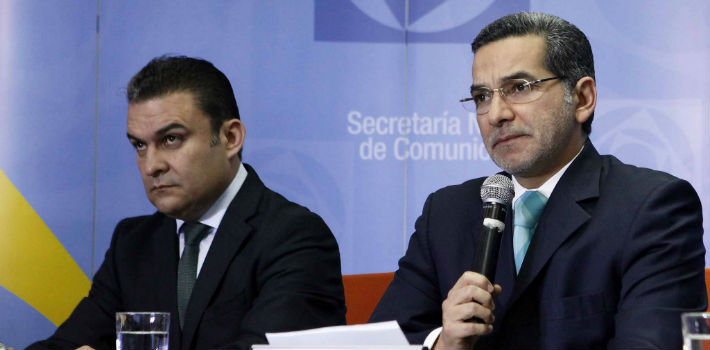 EspañolSocial-media activity in Ecuador, both from the government and from the opposition, has intensified over the last month, as anti-government protests have raged throughout the country.
In the midst of this war of words, the Ecuadorian state has employed two distinct tactics that are worth examining: the airing of private communications on state television (in violation of the Law of Communications), and the diffusion of false information on social networks by senior government officials.
"PelucoLeaks"
On June 24, a video called "The Rebellion of the Pelagatos" began circulating on the internet. "Pelagatos" — or louts — is what President Rafael Correa has previously branded the opponents of his regime.
Also known as "PelucoLeaks," the video shows a series of screenshots from a Telegram conversation, in which a group of people from "the wealthiest families in Quito" allegedly organize one of the many demonstrations that have taken place in the last four weeks.
According to the video's narrator, the group, which includes opposition figures like legislators Andrés Páez and Diego Salgado, and journalists Janet Hinostroza and Bernardo Abad, is determined to "defend their exclusive interests."
The video was not only disseminated through social media but also broadcast on national state television. Ecuador TV aired the video during a "special edition" of its series Desenmascarando (Unmasking).
The program's host claims the people named in the clip "belong to the Quito bourgeoisie," and are behind the "soft coup" that is supposedly being carried out against Correa's government.
However, according to Ecuador's Penal Code (COIP), the broadcast or dissemination of personal data or private communications by any means is expressly prohibited and considered a "violation of privacy." The code stipulates that violations of the law are punishable by up to three years in prison.
Ecuadorian citizens on Twitter have reported that other TV networks seized by the sate, such as TC Television, have also aired these conversations.
TC está pasando conversaciones privadas. Eso no era prohibido por edicto ejecutivo? Qué chucha está pasando?

— Andrés Crespo A (@AndresCrespoA) June 26, 2015

"TC is airing private conversations. Isn't that prohibited by an executive edict? What the hell is going on?"
For Mauricio Alarcón-Salvador, project manager and legal adviser for free speech NGO Fundamedios, Ecuador TV's report employs "a whimsical interpretation of [the conversation's] content, and it brands its protagonists with a stigmatizing discourse, similar to that used by the president."
The expert tells the PanAm Post that is necessary to examine whether or not the video violates the provisions of the Organic Law of Communications.
"If a private broadcaster would have done the same with a conversation between public officers, the Superintendency of Information and Communication would most likely have initiated a legal proceeding over a violation of ethical standards. Will it act in the same way in this case?"
So far, the institutions responsible for regulating media content in Ecuador have not issued any statements on this case.
Misinformation on Twitter
Interior Minister José Serrano, an active user on social networks, reported via Twitter on June 20 that anti-narcotics police had successfully seized 500 kilograms of drugs valued at over US$20 billion.
The minister's tweet included photos of the substance and the alleged drug traffickers that police captured during the operation. However, Serrano's post also inexplicably contained the photo of Santiago Coello, an Ecuadorian businessman, who holds a degree in foreign trade and has no ties to the government.
Within minutes of the post, Coello demanded Minister Serrano clarify his tweet and issue a correction.

https://twitter.com/Santcoca/status/612375583620771840/photo/1
"Minister Serrano, I need you to urgently clarify the following tweet where my image is being used! This is serious! Clarify this!"
Coello told the PanAm Post that to date Serrano has not corrected his post and will pursue legal action "in due course." He says his family lives in constant fear that something will happen to them because of Serrano's misinformation.
"One thing is to post a meme, which may generate either laughs or discomfort, but it is very different to upload my picture taken from my account [without consent], and publish it along with an alleged drug seizure. It clearly reflects the reckless and dangerous intent of the minister towards me and family."
Coello says he is an "honest, responsible, and hardworking" person, and warns that if harm comes to his family, it will Minister Serrano that is to blame.
Alarcón-Salvador believes Serrano has clearly "damaged the image and honor" of a citizen in this case. "What would have happened if the tweet came from a citizen regarding a public officer? More than likely, as it has happened before, the National Intelligence Secretariat would have started an investigation, or a criminal proceeding at their convenience."
The Fundamedios adviser says Ecuadorian authorities are plainly applying a double standard. "On the one hand, there is special protection for public officials, who can do or say whatever they want against citizens without any consequences. On the other, there is a lack of protection for citizens against such actions."
Photoshopped Flip Off
In recent days, Communications Secretary Fernando Alvarado published two photos on Twitter that also generated controversy. The first showed Jaime Nebot, mayor of Guayaquil, allegedly holding up his middle finger in an obscene gesture during a massive anti-Correa march on June 25.
Nebot was able to demonstrate that the photo Alvarado posted was a manipulated version of a picture taken during an event in 2005, in which the mayor marched while holding up a two-finger peace sign. Alvarado later apologized and said he was deceived by another public official, and believed the photo was real at the time he tweeted it.
Después de la marcha d @jaimenebotsaadi para defender su 2%, esta pequeña sin decir nada, desmorona su discurso vacío pic.twitter.com/ORLaTnruaY

— Fernando Alvarado Espinel (@FAlvaradoE) June 27, 2015

"After Jaime Nebot's demonstration to defend his interests, this little girl, without saying a word, makes his empty speech fall apart."
On June 26, Alvarado published a second image, in this case depicting a young girl sitting on a street curb after the same march on June 25 in Guayaquil. Fabio Abad, the photographer who owns the image, later said the picture had no political motivation or intent and requested a correction from the official.
According to Ecuador's Law of Intellectual Property, publishing copyrighted material without consent is punishable by up to two years in prison. Ecuadorian authorities have not commented on the photographer's request, and the image remains on Alvarado's account.