EspañolWipe out tariffs to promote trade, submit indefinite presidential reelection to a referendum, revoke the Media Law, and start a direct dialogue with President Rafael Correa. These are but a few of the proposals announced on July 1 by Ecuador's Libertarian Movement, a free-market group organized in 2005 by "Ecuadorians worried about the country's situation."
The movement's leaders held a press conference on Wednesday in Guayaquil, Ecuador's largest city, to explain to local media what they dubbed "the way out" (La Salida) from the South American nation's economic and political crisis.
"This [plan] will allow us to solve our current and future problems," argued Joselo Andrade, director of Guayaquil's Libertarian Movement chapter.
In 2007, we libertarians warned that the Constituent Assembly endowed with full powers and 21st-century socialism would systematically sever civil, political, and economic freedoms, and concentrate powers in the executive branch. Time has proved us right.

The demonstrations across the country, the widespread discontent with the government's policies, the protests … they leave no doubt that 21st-century socialism was nothing but a mirage based on high oil prices. When that came tumbling down, the government's already small popularity crashed.
They went on to offer "President Correa, the national government, and the whole country" an eight-point program, divided into two main fields.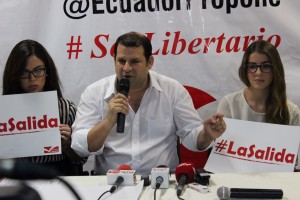 On the one hand, to solve the "political crisis," the Libertarian Movement recommends holding a referendum to avoid indefinite reelections in public offices, repealing the Media Law so Ecuadorians can exercise their right to freedom of speech, and a direct negotiation channel with Correa.
On the other, to address economic issues, they advocate substituting the current social-security system for one "that gives Ecuadorians full control over their savings and money" and the elimination of protectionist measures and tariffs. The libertarians also request that Correa stop "scaring investors away" and instead promote "friendly and special treatment for foreign investment," as well as free-trade treaties with the rest of the world.
"Mr. President, the way out you need more than ever consists of promoting and stimulating savings and trade. Listen to us; every country that has progressed has achieved growth this way," Andrade concluded.
Government Trolls Pounce
On social media, the hashtags #LaSalida and #EcuadorPropone quickly became a trend in Ecuador.
While Ecuadorian authorities have not issued an official response, Twitter and Facebook accounts that support the ruling party began posting images comparing the Libertarian Movement's initiative with the campaign launched by Venezuelan opposition leaders Leopoldo López and María Corina Machado in early 2014.
The posts try to suggest Ecuador's Libertarian Movement is staging a coup through a strategy similar to Venezuela's La Salida that killed 43 people. However, evidence from the Venezuelan protests show the murderers were actually police officers and "colectivos," Chavista motorcycle gangs.
Arianna Tanca, a member of Ecuador's Libertarian Movement, told the PanAm Post the accusations are baseless and that the group will never support a coup.
"We gain nothing from removing the president. That would damage the country even more. We're committed to democracy and that's why, until the 2017 elections arrive, we're proposing 'ways out' of the current economic and political crisis."
For Tanca, "a lot is said about Correa's [mismanagement], but no concrete solutions are being advanced to solve this crisis. This is the reason we are presenting solid and feasible solutions. We need to go from protesting to proposing [solutions]."
The announcement comes amid a series of mass protests against the Rafael Correa administration, which authorities have tried to discredit by labeling them "attempts to destabilize" the country.
On Wednesday evening, Interior Minister José Serrano warned the country during a press conference that the opposition would "attempt a coup" on Thursday. For his part, Correa called on his followers to carry out a counter protest in defense of his Citizen Revolution.