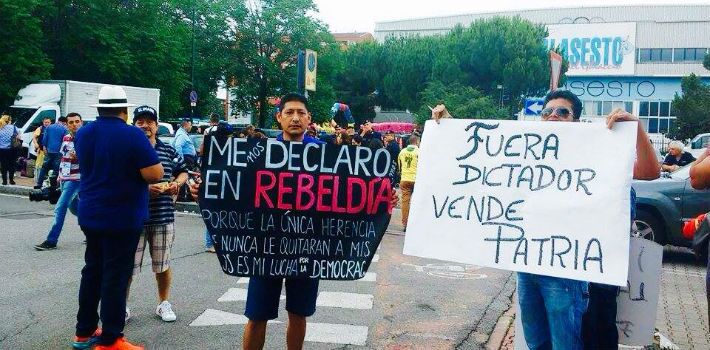 EspañolOn Saturday, June 13, Ecuadorian President Rafael Correa hosted his weekly TV show from a different set: the Ice Palace in Milan, Italy, surrounded by South American immigrants.
While Ecuador experienced its sixth consecutive day of protests under the slogan "Fuera Correa, fuera" (Out Correa, out), Episode 428 of Correa's Citizen Link showed the president surrounded by a cheerful group of followers, applauding and singing The Color of Hope by Diego Torres.
But not everyone in attendance was there to show support. A video which surfaced on social media shows Correa's security detail confronting a group of dissident Ecuadorian immigrants as they held up protest banners, with messages such as "I declare myself in rebellion."
Four men in black suits can be seen make their way through the crowd and attempt to remove the dissidents as they demand their right to protest peacefully be respected.
One of those people confronted by Correa's security spoke with the
PanAm Post
about what happened at the event. The 32-year-old Ecuadorian woman, who asked to be identified only by her initials M.F.Z., has lived in Italy for more than a decade. She says she went to the Ice Palace with her family prepared with posters they'd made previously, but security would not let them enter with the signs.
"At first, my poster wasn't open, but they said I couldn't go in with it for Correa's safety. They took it from me, and threw it away," she says. "When I entered, I realized many people had posters in favor of the president; they didn't have any difficulties. Why did they throw my poster away, but let them go in? This means there is no freedom of speech, and one cannot protest."
After she entered the building, M.F.Z. says she rewrote her protest messages on regular sheets of paper. A young man sitting next to her hid his anti-Correa T-shirt underneath another shirt to avoid being hassled at the door.
"When Correa was walking towards the stage, I lifted my posters, and the man took off his second shirt to show the one with the message. We remained silent the whole time. There were no insults; we didn't talk," she says.
"Once the president took the stage, members of his security detail began to look at us and signal for other security guards to come over to where we were standing. When they got close, I took out my phone and started recording."
"They approached us two or three times. They forced the man to cover his shirt with the anti-Correa message. There was a lot of pushing, especially against him. They tried to get him out of the place, but he refused, arguing that he was protesting in silence, and in a democratic country."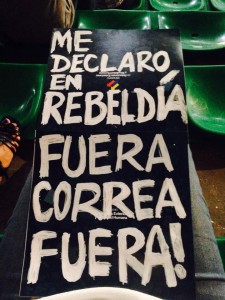 The woman also says Correa's security attacked the group of dissidents, both verbally and physically, despite there being children present. When the protesters decided to leave the area, security ripped up their posters once gain, she says.
According to the witness, roughly 200 people were present at the event, the vast majority there to support the president.
"It is very sad for me to say this, but I've noticed that 80 percent of migrants do not read the news of our country. And if they do read, it is only what the government says. They are not well informed about the reality in the country," she says.
"I returned from Ecuador 15 days ago. I stayed there for four months, aiming to work and to study in the country, but I did not get any of those things."
"My silent protest was due to the lack of democracy that the country is living. I know that four months living there is not much, but I have lived and seen a fraction of what is currently happening in the country, and it caused me much distress," she concludes.
During the event, the president greeted Ecuadorian immigrants in Europe on numerous occasions, and took the opportunity to defend his controversial tax proposals that have been met with massive protests. On Monday, however, Correa temporarily suspended both initiatives, citing a need "to avoid protests and promote a peaceful atmosphere ahead of Pope Francis's arrival."